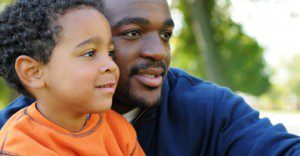 Number 2 – Good Dads Are Physically Present
Most fathers that I speak with understand that they need to financially provide for their children.  Providing is such a well-understood aspect of fathering that often dads are just referred to as a "provider."  In fact, I often tell people that the only way that the government tends to think about dads is in this way.  Alas, while there are a plethora of programs for women focused on maternal health and child well-being, for years, there have been just two for fathers:  the tax code for married fathers and child support enforcement for unmarried fathers.  Basically, from the government's perspective, if a father is paying for his children, then he is a good father.  Interestingly, this viewpoint has spread throughout our culture, with some unfortunate and unexpected consequences, especially for low-income, unemployed, and under-employed fathers.  Some of these dads actually believe that they can't be good fathers and really have nothing to offer to their children if they don't have a paycheck of a certain size.
Prior to working for National Fatherhood Initiative, I spent nearly 20 years in corporate America, and I saw dads who viewed their fathering solely through the "provider" lens.  They would spend countless hours at work—missing key milestones in their children's lives—laboring under the misguided notion that the more money they made, the better fathers they were.  Ironically, their lack of work and family balance was an obstacle rather than a facilitator to their efforts to be good dads.  In fact, National Fatherhood Initiative's research shows that fathers cite work responsibilities as the number one obstacle that hinders them from being the dads that they desire to be.
But, good fathering is less about the "presents" that money can buy than your "presence," which no amount of money can replace.  Kids spell love T-I-M-E and they come out of the womb with an instinctive understanding that time is your most valuable asset.  Let's face it.  Whether you are Jeff Bezos or Bozo the Clown, you only get 24 hours in a day and 365 days in a year.  You can't barter for or buy one second more.
When I first became a dad, I had an epiphany about how important it is for fathers to consider time from a child's perspective.   My oldest son Jamin was just about a year old and I was a new marketing representative in training at IBM.  As part of the training process, several times during my first year, I had to spend about 3-4 weeks away from home taking sales and marketing classes.
After one of these trips, I was pretty amazed at how much my young son had changed in just a few weeks.  Then, it hit me.  Kid time and adult time are very different in a relative sense.  For example, if a baby is just two days old and you miss one day, you have missed 50% of his or her life. For you, one day is just a tiny fraction of your life.  The bottom line is, in a relative sense, when you miss time in your child's life, it means a lot more to them than it may to you.  But, the flip side is also true.  When you give them your time, it means more to them than you may realize.
Given the above, why do so many dads who want to good fathers embrace such a narrow view of what it means to provide?  Well, I believe that it may be due to the limited perspective of Matthew 7:9, which I discussed in the introduction.  In this verse, Jesus asked a group of fathers an interesting rhetorical question.  He said, "Which of you, if your son asked for bread, will give him a stone?" He goes on the say these fathers know how to give their kids good things.
Over the years, I have used this verse often to encourage fathers to be good dads—those who give their children bread—rather than "bad dads"—those who give their children stones.   It's clear this verse illustrates this important principle.  However, in Matthew 4:4, in the midst of his temptation, Jesus says "Man shall not live by bread alone, but by every word that comes from the mouth of God."  In other words, providing a material good is necessary but it's not sufficient.  Good dads, like our good Heavenly Father, do more because they know kids need more.  They need dads who don't just give of themselves.  They need dads who give themselves as well.
Excerpt from Bad Dads of the Bible: 8 Mistakes Every Good Dad Can Avoid. You can order it here. To see the 1st Thing Good Fathers Do, click here.