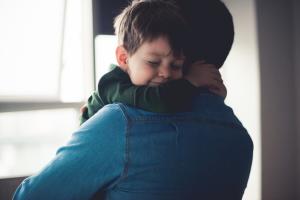 Be honest, when you think of the word "nurture" in the context of parenting, who comes to mind? If you are like most people the answer is "mom." That's understandable because the origin of the word nurture is "to feed or provide nourishment," which, of course, brings to mind the image of a mother breastfeeding her newborn. Also, most of the time when people talk about nurturing it's in the context of mothering. Moreover, parenting is often framed as a "good cop/bad cop" paradigm where mothers nurture and fathers discipline. However, nurturing is not just "women's work." Nurturing entails more aspects than you think and I want to challenge you to think about what it means to nurture in broader terms.
So, what is nurturing? It means supporting and being involved in every aspect of your child's growth and development. In addition, it means that you are in tune with the emotional well-being of your child. You don't "outsource" this to mom. Yes, I know that the emotional world of children, especially as they move into the teen years, can be imprecise, complicated, and messy, but you have to "go there" if you want to be a good dad. Remember, there is no intimacy without vulnerability. And, a father is never more vulnerable than when he is nurturing his child. After all, Malachi 4:6, makes it clear that God's desire is for the hearts of fathers to be connected to the hearts of their children. This can only happen if fathers are nurturers.
The good news is that in the Bible there are countless scriptures where God, as a loving Father, promises to nurture us and meet us at our point of need. For example, Psalm 55: 22 says, "Cast your cares on the Lord and he will sustain you; he will never let the righteous fall." What an excellent example for fathers! When you are vested in the emotional well-being of your children, you sustain them during the very challenging times in their lives.
And there is more good news. You see, fathers can glean some very practical instances of ways they can nurture their children by examining how God the Father nurtured His son Jesus. Below are some good examples:
He listened to Jesus.

In Matthew 6:5-15, Jesus teaches his disciples how to pray by giving them the "Lord's Prayer." Prior to giving them the prayer, he tells them "But when you pray, go into your room and shut the door and pray to your Father who is in secret. And your Father who sees in secret will reward you." Indeed, prayer is a special time when God is listening to us, and based on Jesus' comments, we have blessed assurance that he's "all ears." Good fathers listen to their children.

He protected Jesus.

In his humanity, Jesus was in his most vulnerable state when he was an infant. You may recall that Herod sought to kill Jesus, but he could not because an angel of the Lord told Joseph in a dream to take Mary and the baby Jesus to Egypt. Good fathers always protect their children from physical, emotional, and spiritual harm.

He comforted Jesus.

When Jesus was under great distress because he knew that he would have to die a painful death on the cross, he went to the garden of Gethsemane to pray. Why? Because he found comfort in the presence of God the Father. Indeed, good fathers are comforters for their children.

He met Jesus at his point of need.

Matthew 4:1-11 chronicles the temptation of Jesus. He had just completed fasting for 40 days and nights and he was clearly at his weakest physically. After he resisted all of Satan's temptations, the Bible says that "angels came and were ministering to him." Ministry is all about meeting someone at his point of need, and good fathers always look for opportunities to do this for their children.
Modeling your behavior as a nurturing father after the simple and doable actions above is sure to yield a wonderful return in your relationship with your children. No doubt, because you are more emotionally available, you and your kids will be connected heart to heart.
That said, it's good to bear in mind that there will likely be some unpleasant consequences when a father places a low priority on nurturing. I used to work in finance and, over the years, I have been amazed at how similar some financial concepts are to fatherhood principles. One concept that I have found particularly useful is the notion that dads need to make regular "deposits" into their children's "emotional bank accounts," a concept that the late Dr. Stephen R. Covey discusses in his fantastic book, "The 8th Habit—From Effectiveness to Greatness." After all, chances are one day—like when your daughter wants to date the "wrong" guy or your son wants to taboo his latest girlfriend's name across his forehead—you may need to make a huge "withdrawal." So, I thought it appropriate to end with an imaginary conversation between a father, who failed to "invest" in nurturing, and his teenage daughter.
(Scene—Dad rushes into the lobby of the First National Bank of his 15-year-old Daughter's Heart and quickly approaches her window.)
Daughter: Good afternoon. How may I help you?
Dad: Hi. I need to make a big withdrawal fast!
Daughter: Ok Sir. No problem. Could you please let me see some ID?
Dad: Sure.
(Dad hands her a copy of her birth certificate where he is listed as "Father.")
Daughter: Everything looks in order, Dad. Please wait just a minute while I check your account.
(She turns away from him and checks her computer but then she gets a rather concerned look on her face.)
Dad: Is there a problem?
Daughter: Yes, sort of. I clearly see you opened an account here a long time ago but it doesn't appear to have a sufficient balance for you to make a big withdrawal. When was the last time that you made a deposit?
Dad: Well, I don't remember. I guess it's been a while. You know, I have been very busy working and stuff like that. But, my wife has been making lots of deposits. Seems like every time I turn around she is heading here. Frankly, it's like a daily thing for her. Since we are married, can't I just make a withdrawal from her account?
Daughter: Dad, no you can't because we don't offer joint accounts here.
Dad: Oh yeah…That's right…I remember hearing that. What about a loan? Can I get one of those?
Daughter: I'm sorry…We don't offer loans either. You can only withdraw what you have deposited.
(Dad starts to get a bit upset…)
Dad: Well that just doesn't seem fair! I clearly have an account…And, well, I need to make a withdrawal…Can't you make an exception? After all, I am DAD.
Daughter: Dad. I am sorry…I just can't help you…
(Dad is becoming more upset and starts to raise his voice.)
Dad: Well, doggone it… I am not going to take no for an answer…
(The daughter gets a very frustrated and stern look on her face and she starts to reach under the counter to push the button for security.)
Daughter: As I said, I can't help you. You knew the rules when you opened the account. How can you expect to withdraw funds that you didn't deposit? That's just not the way it works here… All you had to do was make consistent deposits… Even small ones would have been fine because interest—your interest in my life—would have compounded these deposits substantially over time. Taking deposits that don't belong to you is…well, robbery. So, I need to ask you to leave now. Or, do I need to call security?
This post is an excerpt from Bad Dad of the Bible: 8 Mistakes Every Good Dad Can Avoid.