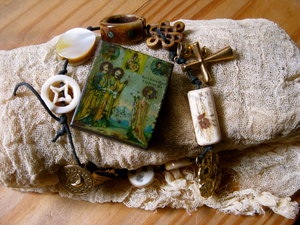 During the past twenty plus years as a facilitator for the feminine spiritual/creative process, I've heard profound stories of heartfelt longing from many women.  The common root of this longing is a desire  to be part of a women's spiritual circle or community.  Women are seeking to know other "sisters" who share a common call… a call to to know God in a deeper and personal way and to offer help and healing to our suffering world.
In the mid-twelfth and thirteenth centuries in Belgium, France, Germany, and the Netherlands women shared a similar longing.  They responded with the creation and establishment of Christ-centered women's communities.  The Beguines were women who  pursued personal spiritual growth and development while remaining independent from the traditional ways for religious women of their day.  Rather than take the veil and vows as nuns of the established Church, the Beguines often pooled their funds to purchase large homes where they could live and work with faithful like-minded kindred spirits. Their communities were self sufficient and the women remained independent and were free to marry.  They were charitable and hard-working as they fed the poor and cared for the sick.
The Beguines were radical revolutionaries for their day.  They were both tolerated and also tormented by Church authorities.  The Beguine way of life provided an alternative to vowed monasticism or life as a "lay-person."  Their middle-way was suspect to many and often seen as heretical.  Beguine life was unique for each community.  There was diversity in the ways the communities functioned while a devout love of Christ and ways of simplicity were central and universal to Beguine spirituality.
The times we are living in are once again inspiring women to gather in community, in new and creative ways. While the contemporary Church and organized religion move through a period of transition, women and men are seeking alternative forms of worship and pathways to spiritual nurturance, fulfillment, and service to others.
With regard to women's communities, we have  Medieval inspiration to draw from, left to us by the Beguines.  Today, women seeking spiritual growth and sacramental celebration are coming together in living rooms, the office place, coffee shops, and community centers.  They gather to share the stories of their journeys, to break bread, to study Scripture and spiritual thought, and to honor one another's gifts and life's passages.  Online women's communities are also forming.  This weaving of global circles of women provides new opportunities for collaboration, study, and service across the planet.
The Beguines were creative and courageous.  They were innovative and imaginative.  Perhaps they are calling to women today… in our dreams.  Perhaps a look at the Beguines' way of life could reopen pathways leading to a deeper relationship with the Sacred.
How will we respond to the invitation?  How might we co-create with the spirits of our medieval sisters?  What new forms of worship, sacrament, and celebration await us if we dare to revisit the past to inform the present?