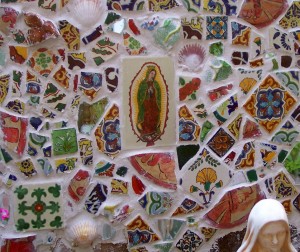 Everyday life often feels disjointed and fragmented, like pieces of a puzzle to be sorted and made into something recognizable. How do we work with the various seemingly disparate tasks, opportunities, challenges, and relationships that constitute our lives? How do we transform the fragments and shards of life's joys, disappointments, passions, and questions into a mosaic reflecting who we are?
The art forms of collage and mosaics become sacred expressions when used to metaphorically describe one's life journey. Both collage and mosaics involve sorting and arranging pieces to tell a story, reflect a pattern, or reveal an orderly arrangement.
For the past fifteen years I've taught a creative process called the Visual Prayer. While you contemplate the various colorful and complex aspects of your life, I offer you the following process as a way to craft beauty and prayer into a visual form… as sacred collages/paper mosaics.
Collaged images inspired by your life's questions, needs, desires, and longings are captured and arranged with focused intention. The placement of each element is made with spiritual awareness. The result is a translation of language from the symbolic imaginal realm into visual prayer.
Magazine images, photographs, and all kinds of printed materials provide the substance for photo-collages/mosaics made from paper… Your intention transforms these simple creations to become visual prayers. Each visual prayer contains a soul story, an embedded symbolic message or metaphor.
Visual Prayer Intention
A visual prayer is a collage made with prayerful intention. You may choose to create a visual prayer for a specific reason such as:
Protection
Healing for yourself or someone else
Healing for a relationship
Expression of joy, grief, celebration, or mystery
Guidance for a particular question or issue
Affirmation
Gratitude
Etc.
Materials and Process
All forms of printed images (magazines, junk mail, copies of personal photographs)
A Glue Stick
A journal of your choosing ( 11"x 14" blank sketchbook works well)
Gather your materials on a table with room to spread them out. Work in silence or with music of your choosing. Light a candle. Offer a prayer for your work as you prepare to begin. Close your eyes and contemplate your intention and focus for your visual prayer. When you feel ready open your eyes and begin looking through the magazines page by page. Tear or cut any image that holds an energetic charge for you. It may be a positive or negative charge. Images that strongly repel you might be as important as those you are attracted to. Shadow material is only that which has not yet been exposed to the light so it may be explored. Surrounding the shadow image with positive imagery is a way to encourage healing and transformation.
When you have collected a workable amount of images you are ready to begin arranging them into a visual prayer. You may choose to work on poster board (your original work can be color copied and reduced later to be pasted in your Visual Journal) or you may choose to work directly onto then pages of the journal from start to finish.
Begin gluing your pieces to the surface you have chosen. Paint, pastels, or colored pencil, may be added to the finished piece.
When you have completed your visual prayer you may feel inspired to write a poem or record your thoughts in your journal. Title your visual prayer and note the date. You may also make color copies of your visual prayer in a variety of sizes.
Visual Prayer Journal Reflection
The following list of suggestions will help you to explore your collage in depth, the way one examines symbology in a dream to extract the meaning.
Journal with a particular image(s) within your collage. Ask the image a question with your dominant hand and respond as the image with your non-dominant hand.
List questions that arise from the overall theme or story within the collage. Use the questions as journal prompts to take the experience to a deeper level.
Make color copies of your collages and reduce them to a size that will fit in your journal. Use your visual prayer journal as a place to write poetry, stories, or reflections inspired by your collages/paper mosaics.
Note any recurring symbols you choose and use these as inspiration for poetry or a journal entry.
The visual prayer journal is a spiritual/creative process to enjoy throughout life's journey. Take the fragments and shards of your life and create a visual prayer. Watch the blessings emerge!