The sculpture you place in your garden is your signature on nature.
Anonymous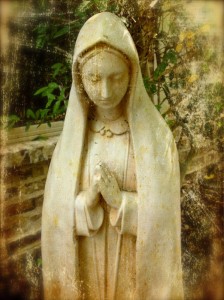 Garden accoutrements seem to be displayed everywhere this time of year. Statues including pink flamingos, smiling gnomes, somersaulting children, flop-eared bunnies, and plump frogs are tucked into shrubs and carefully arranged on lawns. Art for the garden makes a statement.  A statement that can appear to be whimsical, classical or sometimes… sacred.
The garden.  Saints and poets have found inspiration there.  The word garden, for some, evokes a mental image of a peaceful place, a haven and sanctuary.  A garden in this context is reflected in a quote by Mexican architect, Luis Baragan…A garden must combine the poetic and be mysterious with a feeling of serenity and joy.
Gardens when left untended or forgotten are soon consumed by weeds.  A primary definition of the word, weed is: A plant considered undesirable, unattractive, or troublesome, especially one growing where it is not wanted, as in a garden. Weeds are an all too familiar site and anyone who has ever cared for a garden knows how tenacious weeds can be.
As spring moves towards summer I invite you (and me) to consider the question…. How does your garden grow?  Not only the garden of your environment but also the garden of your spirit.  If you were to metaphorically place a statue on the soil of your "interior" garden, what would it represent?  What do you long to seed, cultivate, and nurture to grow to fruition?  How might you make a sanctuary of your interior world?  Is there a neglected corner of your interior garden that is overgrown? What are the weeds in your garden made of…. too much busyness, boredom, doubt?  Is there a missing ingredient that if added will nurture the soil of your spirit to grow your longings and visions to fruition?
Perhaps it's time to examine a long ignored corner of your heart and soul to determine what particular aspects of your life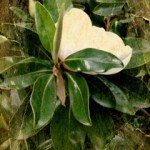 are no longer serving you.  Removing weeds from the garden creates space for the surrounding healthy and vibrant life to grow to full bloom.
Consider creating a space in your yard, or choose a pot and fill it with soil. Place it on your patio, balcony, or a sunlit patch on your lawn.  Seed the earth with something you will cultivate, nurture and grow throughout the spring and summer… a plant, flower, fruit, or vegetable.  As you tend this living example of God's creation, reflect on the possibilities for the growth of the interior garden of your spirit.  What does your spirit need to grow and thrive?  How might you make subtle changes in your life to accommodate your hopes and dreams, to grow your soul. With autumn's arrival, you may be surprised to discover a bountiful harvest of blessings, not only in your own backyard… but in your radiant spirt, as well.