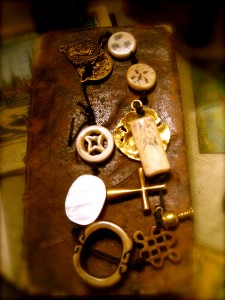 My curiosity regarding the discovery of long lost artifacts influenced my writing of Ink and Honey, a historical novel. I carry the bone deep belief that ancient feminine wisdom is hidden away in various places in the world, awaiting uncovering, and reclaiming by the women of today.  How might the unearthing of this long forgotten knowledge, the age-old stories of women and their communities and their sacred objects, inspire and transform one's spiritual and creative understanding? The particular wisdom I'm referring to is not the educated thought of well-known scholarly or philosophical figures from history and herstory. Rather, the cache of ancient feminine wisdom I'm imagining is learning that has been embued within the everyday objects and stories of ordinary women who led extraordinary lives for their times. These were women who lived by their wits and their prayers while they navigated the challenge and danger of their patriarchal world.
The fictional story of Ink and Honey expresses the ancient stories of a radically independent sisterhood of women, the sisters of Belle Coeur.  Their personal stories and the collective story of their sisterhood are held and expressed through their healing recipes for herbal medicines and potions and within the beauty of woven tapestries made from wool, carded and spun by their hands.  The truth of their way of life and the brand of their living is captured within the stirring of the worn wooden spoon, used to prepare the daily meal.
While writing, Ink and Honey, I sensed there is an invitation being offered to the women of today by our feminine ancestral spirits. They call to us in our dreams and waking visions to set out on a spiritual pilgrimage, both inwardly and outwardly.  A pilgrimage to explore, uncover, and reclaim the inspiration and beauty of ancient feminine crafts, forms of expression, prayers, rituals, and wisdom to inform and reinvigorate our lives today.
Perhaps the clues regarding what will ultimately bring healing to the world are embedded in the stories of women.  I invite you to contemplate your feminine ancestral heritage to become reacquainted with the stories and wisdom of your grandmother's grandmothers.  What are the objects you hold dear for the symbolic meaning and wisdom they contain? Choose one object that is particularly sacred to you.  Put it to your ear, as you would a seashell in hope of hearing the sound of the sea.  Listen to the object, press it to your heart.  It just might tell you its story.