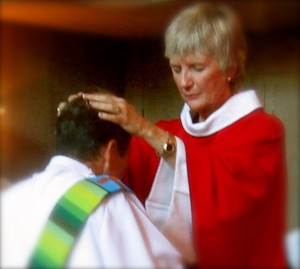 For the past several weeks I've been observing nature's unpredictability as the weather, continually changes course. Wintry local temperatures have run the gamut from last week's cold rainy day registering a mere nine degrees to today's spring-like and sunny, sixty-eight degree record breaker. God's call for my life's journey also seems to be ever changing.
Recently I received an invitation that has (not unlike Nature's sudden turn in mid-season) surprised my spirit and called me to step forth from retirement as a woman bishop of the Roman Catholic Church. I retired in 2009. At the time, I was the first and only woman bishop of Roman Catholic Women Priests in North America. Following a period of discernment combined with a challenge associated with health issues it was clear that God was calling me to step away from serving as bishop. Several new women bishops were about to be ordained and I felt that retirement was possible.
I recall the first year after retiring as a disorienting season of my life that I named "the in-between." For several months I went into seclusion to recuperate from illness and also to reflect and discern how God perhaps was calling me to serve in other ways.
In solitude, I journeyed the terrain of spiritual contrasts and there were days when I felt as if I were drifting through an interior desert. Paradoxically, I frequently experienced moments of upliftment and inspiration, visions of extreme beauty, and ultimately spiritual clarity arrived that led to a path of prayerful discovery.
When months later I was fully returned to health I picked up my pen and resumed writing the manuscript I'd been working on for twenty years. I had put the book on hold during my time of service as bishop. Practicing the craft of writing was my renewed calling.
Three years later the work was completed and published as my novel, Ink and Honey. The response to the book from women readers inspired me to found a spiritual sisterhood, the Sisterhood of Belle Coeur.  Currently there are twenty three sisters who form our contemporary lay monastic community rooted in the medieval Beguine tradition and modeled upon the radically independent sisterhood within the story of Ink and Honey. My calling as the founder of the new monastic order of Belle Coeur has become my ministry and the work continues to evolve  and grow through God's guidance.
My initial season of "in-between" following my retirement as bishop led me to a season of fruition with the births of Ink and Honey and the Sisterhood of Belle Coeur. However, God has a way of bringing the pilgrim along full circle on the path of life's journey.
For the past year or so I've been praying for the Holy One to reveal how I was to fulfill a longing in my heart to reconnect with sister priests and service in the movement for women's ordination. Then much to my joy, I recently received an invitation from Bishop Bridget Mary Meehan, a dear friend, teacher, and mentor from years gone by, who is Bishop of the Association of Roman Catholic Women Priests.  She warmly invited me to take part as a co-presiding bishop this coming autumn when ARCWP will celebrate the ordination of new bishops to serve with their women priests. "Renewed priestly ministry in a community of equals" is at the heart of ARCWP.
After the invitation I spent several days in discernment to affirm that God was calling me to a brief season of participation and sharing through Sacramental ministry. This is an unexpected but welcomed opportunity that I wholeheartedly embrace.
Through the years I have come to realize how God's call has an organic quality. One particular season of calling may lead to another and yet somehow all comes round again, and each time the circle completes itself there is a new richness to the experience. With each call God offers grace-filled opportunities to grow the soul. This seems to be the natural order of Creation and Nature herself.
The weather forecast predicts falling temperatures tomorrow. The brief interlude of spring-like days will soon return winter's chill. The world turns and within Creation and life's journey the Mystery is forever unfolding and God's call is ever-changing.