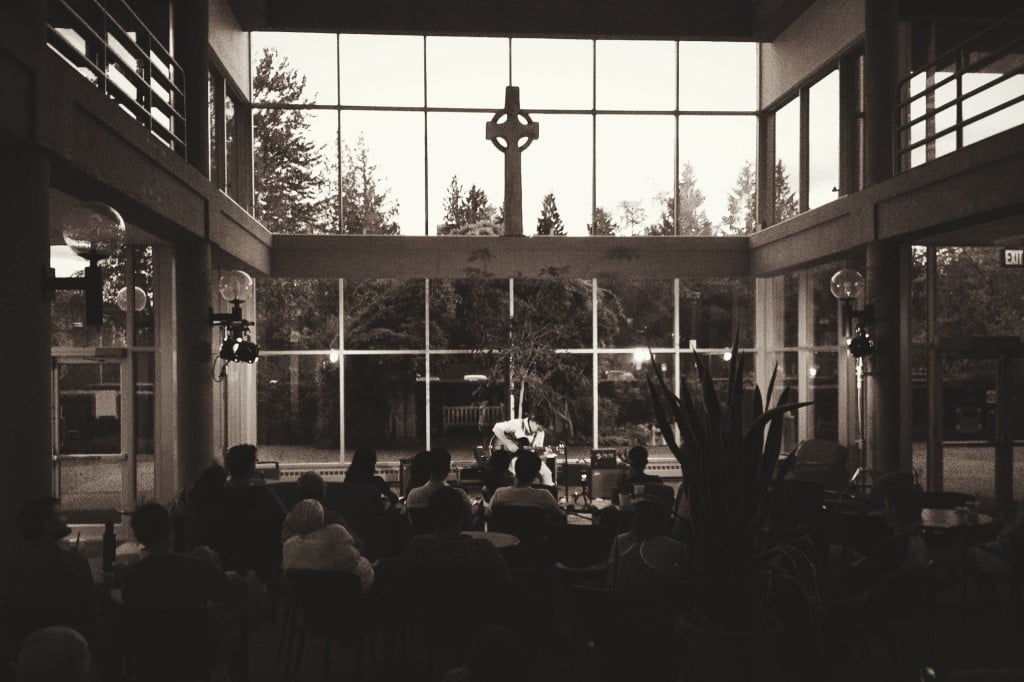 My debut album, Late to Love, was released in all formats on the feast of St. Augustine. Here is a round-up of reviews and notes about its progress.
*
Running on just under two hours of sleep, I played a solo concert at Regent College on the evening of the release. Considering that I am new in town, it was well attended, with about 40 people. Here is the entire video:
Here is a photo album of the evening, courtesy of Justin Tse. (And here is another one, courtesy of Richard Wu.)
*
The reviews have been positive and seem to resonate with a particular demographic: people who don't like Christian or Catholic music. This is confirmed by Amazon reports, where Late to Love has been a top new release in folk and soul categories, but middle of the road in the Christian genre.
Here are eleven of them, in no particular order:
Feel free to post your own reviews and send me the links to post here and on the Late to Love Facebook page.
*
There is no reason to be complacent about the future of this music. It is in its infancy. Here is a memo I posted today that offers some concrete ways to help:
Late to Love is a homegrown, grassroots project, crowd-funded and signed to a small distribution label that functions as an indie book press, by an artist who functions as a college professor. We are working without a publicist or marketing firm. The odds are usually against this sort of thing succeeding for more than a couple days, but we can win with your help. Here are six things you can do to help, beyond buying the album:

1. Share, like, and use your social media muscle. It tickles the algorithms in the right way and helps boost exposure. Blogging helps, too. Start by liking and sharing this post!

2. Post a review at Amazon or iTunes. This also tickles the algorithms a great deal and helps boost its rankings. All the links are one click away here: http://samueldrocha.wix.com/late-to-love

3. Tell you friends and tell them again and again. You may be surprised to know that most people routinely ignore things they see online and need to be reminded with a personal call, visit, or message.

4. Call you local indie radio station and request that they play Late to Love. Catholic radio or NPR are the best fits.

5. Tell your local music or bookstore that stocks indie music about the project. Wiseblood is willing to sell the CD at very reasonable retail prices in bulk orders as small as ten and over.

6. Be creative and think of something we haven't thought of. Sustain the attention and dig for new places and spaces.

THANK YOU!
*
Last thing. Please read this.
We live in a digital age and there is nothing that is wrong about that in toto. However, this work of art is not just sound. It includes photography, shot and developed with analog film, hand-drawn calligraphy, graphic design and layout, liner notes that lyrics and include meditations by Hofstra University professor, Eduardo Duarte.
The truth of the matter is this: while digital sales seem relatively healthy (although it is hard to tell at this point), physical CD sales are, I am sad to say, quite slow. This imperils the ability for Wiseblood Records to invest any more time and money into marketing.
Please consider buying the physical product, here: http://www.wisebloodbooks.com/sam-rocha.html
Also, as noted above, any stores or groups interested in retail sales in quantities of ten or more will receive a very fair offer from Wiseblood Records, so please spread the word.
*
I will be playing three shows in the next two months. Two in Vancouver during the month of September, at Plato's Cave (St. Mark's College) on the 19th and St. Joseph's Catholic Church on the 28th. On October 22nd, I'll be playing a show for Image Magazine at Seattle Pacific University. I am looking to book dates for a mini-tour in December, with my bassist. Any and all local (Vancouver, Bellingham, Seattle) venues, and even home concerts, are very much of interest.
It is hard to ask and promote so much, it is draining and I will not be able to do it at the rate I have with teaching and other deadlines on the horizon, but I do not want it to ever seem that I am not, first and foremost, deeply grateful and forever in the debt of you, my readers and friends.
Thank you, thank you, thank you, a thousand times thank you.