The phenomenon of non-Indians adopting Hinduism is not new. However, the stories of how individuals came to the religion have not been regularly recorded. I hope to rectify that by time to time publishing interviews with those people who weren't raised Hindu but now publicly identify as such, in the hopes of shedding some light on what drew them to Sanatana Dharma.
The following is an interview with Ram Goodman, a yoga teacher and student of Vedanta, who lives in Kansas City, Missouri.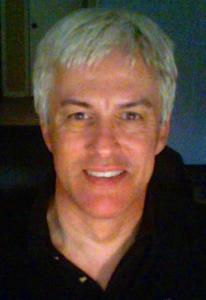 When did you first become exposed to Hinduism?
I grew up in Kentucky in the late sixties and early seventies and I did not personally know any Hindus. My first exposure to Hinduism was through Theosophy, which is a mix of Eastern and Western spirituality, much of it borrowed from Hinduism. My older brother was a theosophist.
By age twelve I was familiar with reincarnation, karma, meditation, and hatha yoga.
As a teenager my interest shifted to martial arts, but maintained an interest in hatha yoga and practiced with books and along with Lilias Folan's show on PBS.  
Over the years I continued an interest in various spiritual practices, but felt particularly drawn to yoga. I practiced yoga asanas and meditation, learning mostly from books and VHS tapes.
When did you first identify as Hindu?
In the early 1990s, after reading Sivaya Subramuniyaswami's book Dancing With Siva I decided to visit a Hindu temple. I was living in Cincinnati with my wife Stephanie and two small children. My wife would go to Unity Church and then sometimes meet me at the temple.  I remember after her first visit I asked her what she thought and she said, "I think you're Hindu".
Through the temple I met Swamini Krishna Kanta. I visited her ashram in Kent, Ohio a few times and decided I wanted to become a yoga teacher. She taught yoga, but did not offer a teacher training program. I had been practicing along with audio cassettes and videos from Shri Yogi Hari, so taking a vacation I went to Florida to attend his teacher training.  After returning I started teaching yoga classes at the temple in Cincinnati and was asked to be chairman of the children's committee. I coordinated activities and sat in on the children's religion and Hindi classes. I wasn't really sure if it was 'okay' to consider myself Hindu, but I felt more comfortable with my Hindu friends than most Westerners I knew.
I continued to study and teach yoga, taking Ashtanga Yoga teacher training and, during a short time when we lived in Bucks County, PA, I would visit the Sivananda Center in Wilmington, Delaware. I found the center while looking for a Hindu priest and finding an ad in a local Indian community newspaper. I wanted to some kind of formal acceptance into Hinduism. That's when I found Yogi Bharat Gajjar and the Sivananda Center.  I received mantra diksha from Bharatji. This was actually the third time I had received a mantra, but this time was different.
Bharat named me Ramji and the initiation was followed by a beautiful fire ceremony with a priest and other members of the center present. For me this was my formal entrance into Hinduism. At this time I was also study groups at Chinmaya Mission in Langhorne, Pennsylvania. Also I took the Chinmaya Foundation Vedanta Course via correspondence while living in Pennsylvania and attending study groups.
After moving to Kansas City in 2001, my wife and I conducted yoga teacher trainings.  My wife is the asana expert and I taught philosophy. I included the Bhagavad Gita, some discussion of the Upanishads and the various schools of Vedanta. I had lost touch with the Hindu community at that time until about a year ago. It was a big part of my that was missing. I'm fortunate now to return to my studies though local study groups and online courses. I enjoy being a student.
How does your Hinduness manifest?
I study the works of Adi Shankaracharya through Chinmaya Mission, attend study groups and activities with the local Chinmaya organizational group here in Kansas City.  We hope to have a center here soon. I also attend some activities at the local Hindu temple and occasionally the Vedanta Society. In addition, I also go to some Art of Living satsangs, though I'm not a member of that organization.
I get up before 5:00 AM to meditate. I'm studying Sanskrit online through Chinmaya Mission and I attend study groups and satsangs. Though I still practice hatha yoga, Vedanta is my main focus. I try to apply what I learn to my daily life.
How has the Hindu community responded to you?
At the Hindu temple in Cincinnati I was immediately accepted, though there were the occasional odd looks. At Chinmaya, both in Pennsylvania and here in Kansas City, I feel very welcome. Lakshmi, one of my former yoga students from Chinmaya Mission in Pennsylvania moved to Kansas City and she joins my wife and I at satsangs.  She's been a help in encouraging me to continue my path and to make a trip to India.
Have you ever been discriminated against for being Hindu?
I've not been discriminated against, but in Cincinnati there was one person at the temple that would give me really mean looks. I asked my friend Ashok about him and he said, "He thinks Westerners are stealing our Gods." Ashok told me not to worry.
How did you family accept your adoption of Hinduism?
It is interesting that my Indian friends and many of my former yoga students will call me by my Hindu name, but my family members will not. I think I'll know they accept me as I am when they use my name. I feel that using my Hindu name calls upon me to be my best version of myself.  
Do you think there's a unique Western or American Hinduism developing, or will develop?
Much of the Western yoga community seems to be a developing form of Hinduism, though avoiding the word Hindu. It is unfortunate that most will not set foot in a temple. They prefer Patanjali's Sutras over the Bhagavad Gita and Upanishads because it is easier to present yoga as universal through the Yoga Sutras.  
Do you think it's necessary for people adopting Hinduism to prioritize Indian dress or social cues?
That's a personal matter. I rarely wear a kurta, but find them more comfortable than my Western clothes. As I mentioned earlier, I prefer my Hindu name and I've been considering legally changing it. But that too is an individual matter and understand why some would feel it is not necessary.
What's your relationship with India?
I have not yet been to India, but I plan to visit Chinmaya Mission in Mumbai this December. I hope to get to sit in on the Vedanta classes with the aspiring acharyas and brahmacharis.