I will never forget the day I became a mother. It changed everything for me.  My son was my miracle baby.  And I wasn't supposed to be able to have kids.  But I had prayed for this day with all the energy of my soul.  For my husband and I, it was a joyful time.
My miracle baby arrived two weeks before Christmas. So every year I feel a great sisterhood for Mary as I think of her and her journey toward becoming the mother of the Savior of the World.
Who was Mary?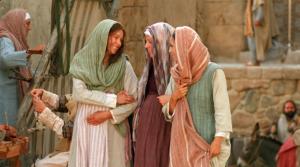 The scriptures really don't tell us a lot about Mary. She was young. And she was entrusted with a major responsibility- being the earthly mother of the Son of God. I can only imagine she felt a little overwhelmed by the task ahead of her.
As I prepared to write this article, I looked through the Apocrypha to see if there were any clues to Mary's life. According to that text, Mary was a miracle baby in her own right. Her parents hadn't had children and prayed for a miracle.  And an angel appeared to each of them and told them that they were going to get to be parents.
Hope for all Barren
In his message, that angel said something that really touched my heart.  He told Mary's father "When God shuts up the womb of anyone, He does so that He may miraculously open it again; so that that which is born may be acknowledged to be not of lust, but of the gift of God." Then the angel went on to remind him about Jacob and Joseph, Samson and Samuel; all prophets born to barren mothers.
The angel also told them that Mary was to grow up in the Temple, that she would be the mother of Jesus, and that in growing up in the temple she would have the purest upbringing possible. So from the time she was three years old, Mary lived and served in the Temple of God.
Protecting Mary
I think the scriptures are intentional in their limited information about Mary's personality and life experiences. I am sure that Jesus loves her dearly. And with the way people blaspheme His name, I know He wants to keep her safe from all that. I don't blame him. And I am touched that He would give His earthly mother such a sweet and personal gift.
I want to share with you one of my personal Christmas traditions. It is my small way of marking the Savior's birth, and honoring His mother Mary. The LDS Church has many videos that depict the Savior's life. I love The Nativity that depicts Luke 2. It happens to be the same length as the song "Breath of Heaven" by Amy Grant. I play the song while watching the video, and I really feel connected to Mary and what is happening to her this holy night.
The song is essentially a prayer.  In it, Mary is thinking about what is coming and how weary she is. And as a mom, the words are so moving. It reminds me that Mary was a person. She was a new mom. She was a traveler. And she trusted her Heavenly Father to guide her.  I found a video where they have already combined The Nativity and Breath of Heaven.  I'm so glad!
Breath of Heaven
Here are the words to the song:
I have traveled many moonless nights
Cold and weary with a babe inside
And I wonder what I've done
Holy father You have come
And chosen me now to carry Your Son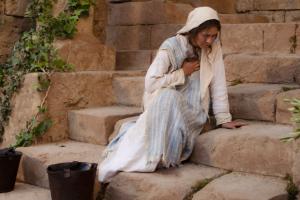 I am waiting in a silent prayer
I am frightened by the load I bear
In a world as cold as stone
Must I walk this path alone?
Be with me now
Be with me now
Breath of heaven
Hold me together
Be forever near me
Breath of heaven
Breath of heaven
Lighten my darkness
Pour over me Your holiness
For You are holy
Breath of heaven
Do you wonder as you watch my face
If a wiser one should have had my place?
But I offer all I am
For the mercy of Your plan
Help me be strong
Help me be
Help me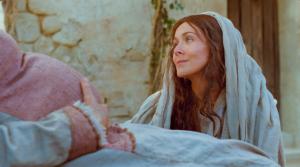 Breath of heaven
Hold me together
Be forever near me
Breath of heaven
Breath of heaven
Lighten my darkness
Pour over me Your holiness
For You are holy
Breath of heaven
Hold me together
Be forever near me
Breath of heaven…
In Awe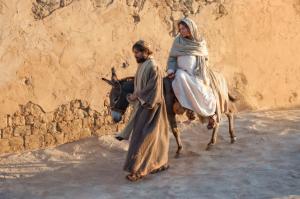 I've read and studied the life of the Savior.  And I truly feel Mary must have been an amazing woman. The story goes that she rode on the donkey as they journeyed to Bethlehem. But the tradition of the time was that women were less than men, and so Joseph should have ridden the donkey while Mary walked beside it.
That one sacrifice shows me how much Joseph respected Mary, and was concerned for her welfare. Between you and me, I also wonder if Mary was in early labor even as they entered Bethlehem. She delivered the Savior that night. And I've never known labor to be fast, especially for a first baby.
I also know that Mary was familiar with the scriptures and the prophecies concerning the Savior's birth. It was a well-known event, one that people had looked forward to since the days of Adam. So as she rode into Bethlehem, I am sure she was not surprised that there was no room in the inn. I think she anticipated what was coming with joy.
Finding Christ this Christmas
May we all look forward to this Christmas with that same joy, as we remember the life of the Savior and His eternal sacrifice for us. I am so grateful for the courage and strength of Mary and Joseph.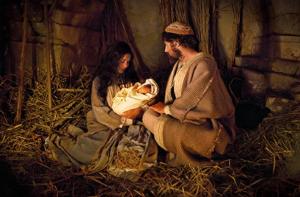 I am grateful that they were righteous and made sure that Jesus stayed safe from King Herod and all others who wanted to end His mission. I am grateful for my Savior and for the teachings He gave us, that have brought so much joy into my life.
The scriptures say that "Mary kept all these things, and pondered them in her heart." Luke 2:19  I love the example given to us in that simple line. As we ponder, or think, about the Savior's life, God instructs us.  And as we ponder the wonder of His birth, and the significance of His life for our own salvation, the Christmas season takes on a holy and happy feeling.
This season is a time of love and generosity. And as we remember more frequently why we celebrate Christmas, it will become more special and less commercial. May this year bring you greater joy as you seek Christ this Christmas.