By Christian Hamaker
Reviewing this list of the year's best films—and looking over the many excellent titles that just missed the cut (Lady Bird, A Quiet Passion, Son of Joseph, The Treasure, The Glass Castle, The Square, The Death of Louis XIV, Logan Lucky, Columbus, Novitiate, The Killing of a Sacred Deer)—is a reminder of just how strong the cinematic output was in 2017. Sure, you had to look beyond mainstream North American releases—you always do—but even there, the year-end awards contenders were strong, from well-pedigreed star/director vehicles like The Post to seeming also-rans like Hostiles (please, Academy, show this unbuzzed-about title some love when Oscar nominations are announced January 23). And let's not overlook the world's biggest franchise, which gave us one of its grandest entries with Star Wars: The Last Jedi.
Below I count down my Top 20 films of 2017. From good times to ghosts, from life to death, from America to Romania, 2017 was one of the richest, most rewarding years at the movies in recent memory. (Keep scrolling beyond the #1 film of the year for my list of the year's best documentaries and performances.)
Good Time
No more Twilight jokes about Robert Pattinson, please. (More on his co-star in those movies further into this list.) The Safdie brothers (Josh and Benny) direct Pattinson's most memorable performance, as a thief who wants to help his brother and will step over anyone, at any cost, to do so.
Life
Reviewed here. An alien named Calvin? Religious metaphors may abound in Life, but I'm putting it on the list more for its straight-ahead genre thrills. I was genuinely surprised, more than once, while watching this man-vs.-alien story, with the alien getting the better of the contest for a good amount of the running time. Watch all the way to an ending you think you've figured out—until you haven't.
A Ghost Story
The year's strangest spiritual story shows the afterlife as a sort of Limbo, where a ghost waits and watches as his widow carries on without him. I'm not sure what we learn from writer/director David Lowery's take on one man's post-Earthly existence, but I appreciated the singularity of A Ghost Story's 92-minute, nearly dialogue-free narrative.
Hostiles
More Westerns, please, especially when they're as good as director Scott Cooper's take on violence, racial animosity and the possibility of reconciliation. The scenery is gorgeous, the violence is shocking, and Cooper brings his own spin to revisionist Western tropes. I keep thinking about Hostiles, which I've seen twice.
Phantom Thread
Last year I saw Martin Scorsese's Silence the day before completing my top-films list of 2016. I knew the film was good, but with little time for it to settle, I ranked it at #15, noting that it might rise in my estimation over time. It did. This year's last-minute list addition is Paul Thomas Anderson's Phantom Thread, a beautiful return to form for the filmmaker following the dreadful Inherent Vice. Hitchcock references abound, but Phantom Thread played for me like a Kubrick film, with a certain aloofness combined with indelible imagery that I'll likely be puzzling through for years.
Star Wars: The Last Jedi
Time will tell if The Last Jedi is superior to the best Star Wars movie, The Empire Strikes Back. For now, it's enough to say that The Last Jedi is Empire's equal. For every criticism leveled against The Last Jedi by fans—and there are several credible dings against this chapter—the franchise has never equaled the religious significance and resonance it achieves in Rian Johnson's wildly entertaining entry, which not only lives up to years of hype (Johnson's Looper was my second favorite film of 2012) but exceeds it.
A Cure for Wellness
The most disreputable of the titles on my list, director Gore Verbinski's creepy Gothic tale culminates in, well, things that sometimes happen in creepy Gothic tales (think perverse sexual behavior). I'm hesitant to recommend the film because such content is, frankly, troubling to witness, even in the context of a bonkers movie like this one, but long before we get to the finale, Verbinski's movie has created such an effective, off-kilter sensibility that it carried me through its twisted final stretch.
The Trip to Spain
Although I was a fan of The Trip—the adventures of Steve Coogan and Rob Brydon traveling to various restaurants and trying to make each other laugh with their impressions of Michael Caine and Al Pacino, among others—I worried that more of the same would grow tiresome. A follow-up, The Trip to Italy, confirmed my suspicions, so I didn't plan for a third helping from Coogan and Brydon. But film-critic friends convinced me to give The Trip to Spain a chance, and boy, am I glad they did. I was grateful for the many laughs Spain generated in a year when I felt in dire need of them.
The Big Sick
It didn't make me laugh as often or as deeply as The Trip to Spain did, but The Big Sick felt like the first romantic comedy in eons that was genuinely moving. As good as leads Kumail Nanjiani and Zoe Kazan are as romantic partners facing an unexpected challenge, supporting players Holly Hunter and Ray Romano give the movie its grieving but still beating heart.
November
Estonia's Oscar submission didn't make the short list for the Best Foreign Language Film Oscar, but that's just as well. As inspiring as such an honor would be for the country behind November, this fascinatingly strange work in no way carries the marks of a prestige film (one hallmark of an Oscar winner, both in the Foreign Language category and others). A blend of Bergman, folklore and forces from beyond the grave, November doesn't lend itself to easy comparisons. If you have the chance to see it, especially on a big screen, seek it out for cinematography alone, but be prepared to chew on the story's meaning in the days and weeks that follow.
The Post
Don't tell director Steven Spielberg that his latest film, which he's publicly endorsed as timely (because of who's in the White House), specifically accuses a long line of President Donald Trump's predecessors, both Democrats and Republicans, of lying to the American people and using the media for their own ends. But if Trump-bashing is what gets people to the theater to see Spielberg at his most invigorated in recent years, I'll take it. Rousing and cinematically virtuosic, The Post is stand-up-and-cheer filmmaking at its finest, no matter where you are on the political spectrum. See it. You won't regret it.
Dunkirk
Director Christopher Nolan has made many good films, some of which have been overrated. Not this one. A World War II story told in three parts, Dunkirk doesn't serve up one or two dominant lead performances as much as it creates a tapestry of life-or-death dramas encompassing military and civilian personnel. Released in the summer and promoted by Nolan as a film to see in theaters—preferably in the IMAX format in which much of the film was shot and, in equipped theaters, presented—Dunkirk was event filmmaking at its finest, and, along with Baby Driver (keep reading), the cinematic-year's turning point from bland and boring to unusually great.
The Shape of Water
Reviewed here
. Director Guillermo del Toro makes monster movies that satisfy genre fans and, when the stories tap into politics, critical adoration (
The Devils' Backbone
,
Pan's Labyrinth
). His latest is an adult fairy tale that blends stellar production design with societal outcasts (a mute woman, a black woman, a gay man and a fish-man captured in the Amazon) fighting a Bible-quoting villain. The film's eroticism won't sit right with all viewers, but its underlying message about not being defined by what makes you incomplete is simple and beautiful.
Blade Runner 2049
Is it too long? The first time I watched Blade Runner 2049, I thought so, but there was so much to take in—so many beautiful compositions (courtesy of director Denis Villeneuve and cinematographer Roger Deakins) and questions to ponder about what it means to be human—that I saw it a second time. I can't say that second viewing answered all my questions about the film's puzzles, but it was so rewarding that concerns about length faded away. At the conclusion of that second viewing, I knew Blade Runner 2049 would be a film I'd be revisiting many times in the future, perhaps as many times as I've watched its predecessor (in its various cuts) over the past few decades.
Loveless
The best movie I saw at the Middleburg Film Festival, and one of the best of the year, Loveless does more than paint a condemning picture of Russia. Its look at the lack of love of parents for children and husbands for wives (and vice versa) is sadly universal, holding a mirror up to viewers across cultures. What are we doing to each other? How might we find our way back? Reviewed here.
The Florida Project
Similar to American Honey, my #7 film of last year, Sean Baker's story of life on the fringes of society follows the children and single parents living in motels just outside of Disney World. Visually vibrant (literally, the garish colors pop in ways that contrast to the dreary prospects of the kids and their often misguided but loving parents), The Florida Project balances child's-eye wonder with the weary realism of a building manager (played by Willem Dafoe) who's also a protective father figure for kids with no male presence in their lives.
Baby Driver
Reviewed here. The film that gave 2017 movies a turbo charge was the year's most satisfying blockbuster, blowing through plot contrivances with a soundtrack that gave the film nonstop energy. Its heart comes from sweet performances from Ansel Elgort, a radiant Lily James and C.J. Jones (the best performance of a mute character outside Sally Hawkins in The Shape of Water). And who knew Jon Hamm could convince as a menacing villain?
Sieranevada
From Romanian Cristi Puiu (The Death of Mr. Lazarescu, Aurora), this nearly three-hour tour de force is set almost entirely in one apartment where relatives and friends across generations have gathered to remember a deceased loved one. Their conversations range across politics, religion and family squabbles. That the film holds our interest in such tight confines for so long a period is testament to Puiu's prowess behind the camera and as a writer.
Graduation
A grand moral drama from Romania's Cristian Mungiu, who shared the Best Director award at Cannes for this film (with Olivier Assayas, director of my #1 film of 2017), Graduation shows how corruption eats away at a culture and infects personal/familial decisions. Oh, and if you think Graduation's desperate-parent-will-do-anything-to-guarantee-his-child's-higher-education scenario is unique to former Communist regimes, you haven't been paying attention to the all-consuming quest of North American parents to ensure the best educational and professional outcomes for their own children.
Personal Shopper
It's come to this: A story about a medium (played by Kirsten Stewart) waiting for her dead brother to contact her from the afterlife—a storyline that treads into the occult and is potentially dangerous to people's spiritual health—is the year's most fascinating film on a spiritual level. Personal Shopper offers much to chew on in the realms of technology and materialism as well, but its longing for confirmation of something, anything beyond this veil of tears is what I responded to most of all.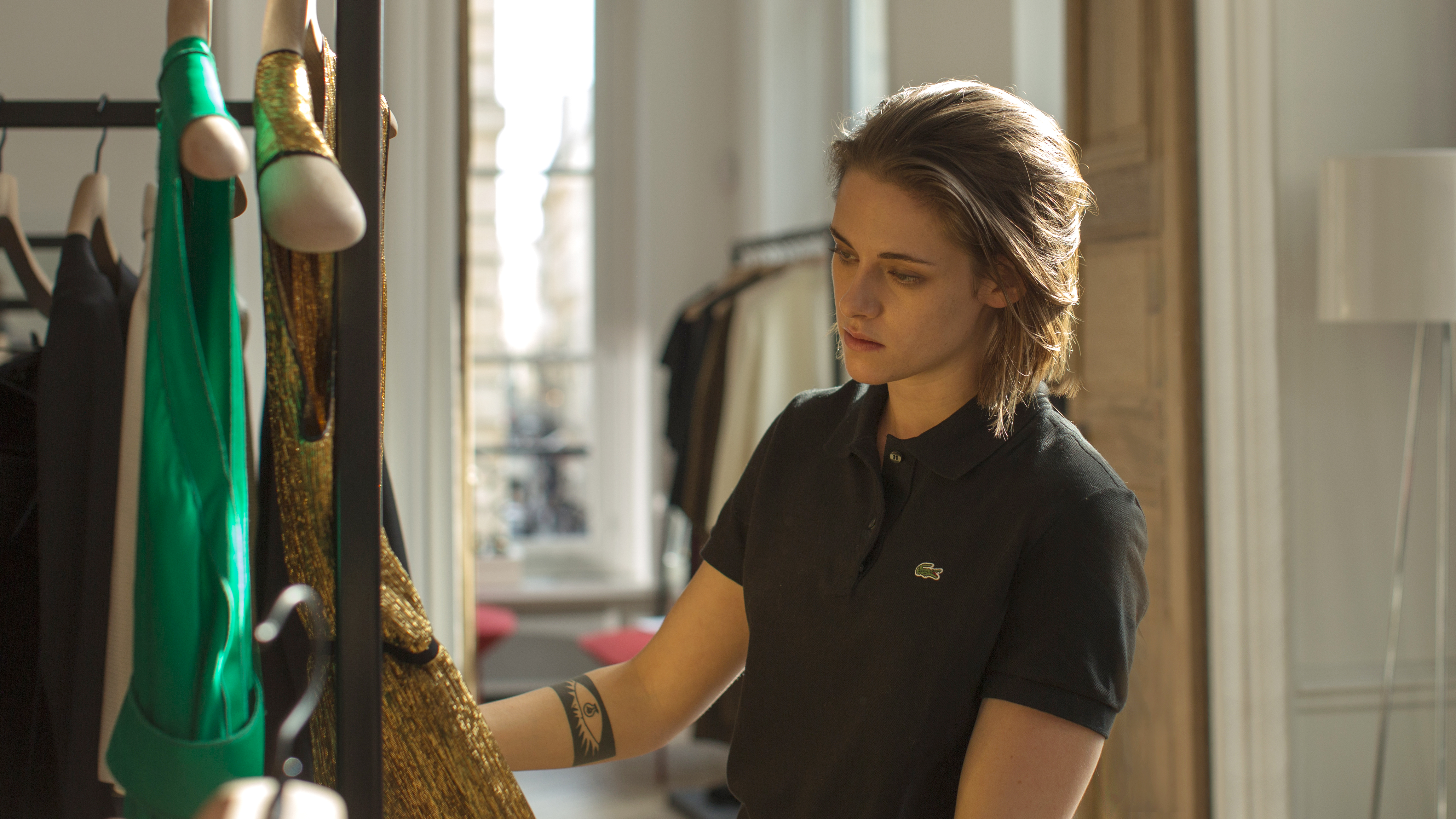 That writer/director Olivier Assayas has pooh-poohed what makes the film particularly resonant risks making my enthusiasm look misguided, but I didn't know the director's viewpoint until well after I'd seen the film and processed it as pro-spirituality, even if it's far from orthodox in its characters' practices. Movies have become so this-worldly in their obsessions and emphases that I cling to stories that offer hints that there's something more to our lives than bodily existence. Personal Shopper pointed beyond the here-and-now, and that was enough to keep it in my top slot since seeing it early in the year.
Source: Mk2Films.com
Best Performances
Kristen Stewart, Personal Shopper
Robert Pattinson, Good Time
Willem Dafoe, The Florida Project
Michael Fassbender, Alien: Covenant
John Hamm, Baby Driver
Daniel Craig, Logan Lucky
Woody Harrelson, The Glass Castle
Parker Posey, Columbus
Silvia Hoeks, Blade Runner 2049
Margaret Qualley, Novitiate
Christoph Waltz, Downsizing
Tom Hanks, The Post
Sally Hawkins, The Shape of Water
James Franco, The Disaster Artist
Best Documentaries
Best Worst Thing That Ever Could Have Happened
Escapes
I Called Him Morgan
Jane
Ex Libris
Faces Places
Kedi
Best Cinematography
Blade Runner 2049
Personal Shopper
Sieranevada
Dunkirk
The Florida Project
The Post
November
The Shape of Water
Wonder Wheel
Best Animated Film
Loving Vincent