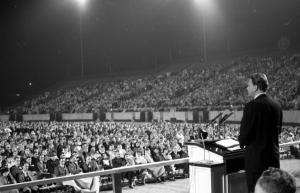 Billy Graham has, as he said it, changed his address.
I've lived most of my life in one corner of the Evangelical world or another. I've been a member (or at least an attendee) at churches ranging from Assembly of God to Presbyterian to Southern Baptist to non-denominational. The one man who has stretched across all of these denominations and Evangelical fault lines by preaching the Gospel in a clear and faithful way for the entire second half of the 20th century was Billy Graham.
His life was not without controversy, but it was never without dignity and decency. His stand on the Gospel was always both uncompromising with regard to the core truth of Christianity and gentle with regard to the broken sinner. Though I did not always agree with everything he said, he was a model for how to preach with the utmost concern for the salvation of the lost.
I suspect that before long we will realize how truly big a void this will leave for Evangelicals. Though he had been out of the public eye for more than a decade, he was still the one person who could speak to all of us at once. Even more, he regularly used that ability with restraint and caution rather than to score personal points or trample his opponents for his own gain. The Lord was very gracious to us in providing someone so willing to use his influence as a moderating and balancing force when Evangelicals were ready to run off of one cliff or another.
I suppose it shows my age that my first thoughts about Billy Graham's career were not about his Crusades, but were rather about his national influence. For those of us who were born and raised in the last part of the 20th century, it is important to remember that his national influence was built in previous decades on a love for the local church. Yes, he packed stadiums and brought in massive TV and radio audiences, but he also insisted that, whenever possible, those saved at his events or through his ministry be directed to live their new lives in a faithful local church. I have no doubt that in the coming days and weeks we will be hearing countless such stories of those who were saved under Billy Graham's ministry and directed by his staff to local congregations. We ought to learn from these stories as much as we do from his national persona.
If you are looking for ways to reflect on his ministry, Wheaton University's Billy Graham center has a number of resources available, both
audio
and
video
. My favorite is their
collection of audio recordings from his 1949 Los Angeles Crusade
. I strongly recommend you go and listen. I also recommend
his books;
 especially his
book on angels
and his
book on aging
.
And ultimately we ought to remember that while we mourn the passing of a man who was greatly used by God, Billy Graham is not mourning today. He has stepped into the joy of the Lord. I have no doubt that his wish is that we use even this opportunity to share with others the good news of Jesus Christ–that the Son of God became a man, lived the perfect life that we all should have lived; and died as a substitute the death that we all deserve to die, so that whoever repents and believes in this good news will be forgiven and reconciled to God. Billy Graham believed that, and spent his life challenging us to do the same.
Dr. Coyle Neal lives in Bolivar, MO., where he is co-host of the City of Man Podcast and an Assistant Professor of Political Science at Southwest Baptist University.