Gadadhara Pandit Dasa shares his story in Urban Monk: Exploring Karma, Consciousness, and the Divine as he chronicles his experiences from young Hindu, Indian-immigrant child struggling to fit in to America, to a simple Hindu monk working to help people find spiritual meaning in life. At the suggestion of a friend, reluctant to write as he had never kept a regular diary, he realized the value of meditating on his life's journey and the challenges that brought him to embrace the life of a monastic in the heart of New York City. Readers will find gems of wisdom, pearls of Truth and challenges that one can easily identify with – all told in a simple and sincere way.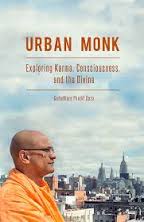 Pankaj Srivastava came to the United States as a seven year old with his immigrant parents, from northern India. His love and respect for them are apparent from the dedication – to his "parents, who exemplify loyalty, dedication, and sacrifice." Their story is one typical of Indian immigrants – struggling to achieve the financial stability that is known as the American Dream. Over seven years, as Pankaj became a teenager, they acquired a grand house, nice cars and comforts, and provided their only child a good education at a private school. A child of Indian immigrant parents myself, I found parallels in anecdotes from these years – the heartfelt connection to warm and welcoming extended family on a short visit to India, on a being called "Hey Gandhi!" instead of "dothead," or the explanation of the gap between "Indians that immigrate to America and their American kids," trying to "enforce their Indian culture upon their children" and the ensuing clashes.
But in the early 90s, his father's factory burnt down and their family fortunes hit rock bottom. The soon-to-be enlightened young man dropped out of college to help his parents. Another major upheaval followed – to Bulgaria: a new language, a new culture and once again, uprooted from his home and starting all over. Constantly asking himself "Why is this happening to me?", the 21-year old comes across a Bulgarian woman seeking spiritual guidance from the Bhagavad Gita, and after acquiring a copy himself, begins a what will become a life-changing study of this essential Hindu scripture. Much of the remainder of the book narrates his travel to India, seeking of gurus and spiritual guidance from masters, and what the focus of his life has become, as he lives on the Lower East side and provides spiritual counseling to Columbia students, young professionals and many others.
While his journey itself is fascinating, what a reader will find captivating throughout the book is the way the author discovers the various facets of Hinduism and explains it in a way that is relevant to anyone's daily life – not just for a monk. Take for example this verse quoted from the Gita's second chapter:
O Son of Kunti, the nonpermanent appearance of happiness and distress, and their disappearance in due course, are like the appearance and disappearance of winter and summer seasons. They arise from sense perception, O scion of Bharata, and one must learn to tolerate them without being disturbed.
Pandit Dasa explains that the "theme of this verse is tolerance and acceptance. We know the seasons are changing… even if we are not fond of winter, we have to prepare for it and tolerate it – we have no choice."  My favorite passage is the one where he explains the yoga of cooking. I was with my mother and daughter when I was reading the book, and felt compelled to read them the passage. Part of it I share here: "Knowing that we are cooking for someone else can help remove some of the selfishness we harbor in our hearts. Like yoga, cooking with the right consciousness can purify the heart and mind of negative tendencies. This entails that the cook isn't allowed to taste the food while the cooking is taking place…In the Bhagavad Gita, Krishna offers a very salient point: 'If one offers Me with love and devotion, a leaf, a flower, fruit or water, I will accept it.' God isn't looking for elaborate offerings from the devotees." The ideas in the Bhakti tradition are made accessible through a down-to-earth explanation: a mother's love impacts the consciousness with which she cooks for her child, and the importance of how simple endeavors, such as preparing and providing a meal, can move one closer to God.
Therapeutic it might have been for the writer – in fact, in the beginning, he acknowledges that "Writing it out might sort out my thoughts…" – it is the reader who will be transformed, by traveling through several decades of a young man's turbulent journey which brought him to delve deeply into the faith of his roots, by his clear explanations of Bhagavad Gita verses as applied to every day life, and by an understanding of Hinduism as it is lived by an urban monk.