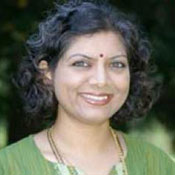 Padma Kuppa is a Hindu American and community activist working for social justice and understanding. Born in India, she did most of her primary education in the Northeastern United States, finishing high school and college in India, when her family relocated there in 1981. Returning to the US as a foreign student, her family has made Troy, Michigan their home since 1998.
A member of the Hindu American Foundation's Board of Directors, Padma advocates on issues pertinent to Hindus in America, particularly as it relates to inter-religious cooperation, understanding and pluralism. She has been involved in other national-level Hindu efforts, including the Hindu American Seva Community's 2010 Call to Serve Briefing Report, the Hindu Mandir (Temple) Executives' Conference, and the Hindu American Chaplaincy Initiative. She is a Board member of the Michigan Roundtable for Diversity and Inclusion, and an Advisory Board member of WISDOM, Women's Interfaith Solutions for Dialogue and Outreach in Detroit, a women's interfaith organization in the region. Padma seeks to show how building relationships and seeking social justice is critical to promoting social harmony and peace. A community leader in Southeastern Michigan, she is a co-founder of both the Troy-area Interfaith Group and Bharatiya Temple's Outreach Committee,  and currently is a Planning Commissioner for the City of Troy.
Padma got started blogging at A Balancing Act, and has been a contributor to other publications such as Metro Parent and India Abroad. Her faith has been strengthened and deepened through her personal experiences and struggles, while her interest and search for more knowledge and understanding of Hindu philosophy is a family tradition. The views represented in this column are not a reflection of the views of any organization of which she is a part.