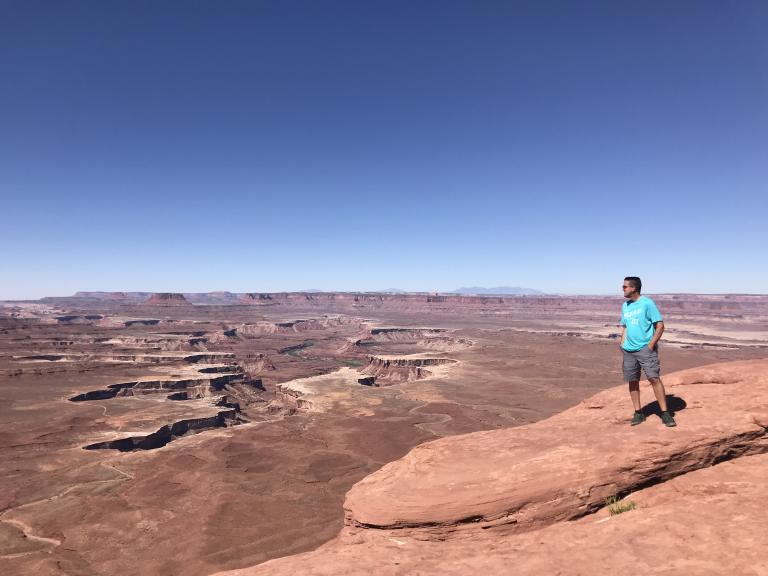 Like a lot of people, lately I've been struggling with finding optimism about my beloved country. As a student and teacher of our history, I understand that things have never been as good as they sometimes seem–that the concept of the good ol' days is a myth. I try to keep that in mind as I look to our future. I try to remember that ours is a long history of struggle to live up to our own lofty ideals–a struggle the end of which we've never approached–yet we still survive. I try, but try as I might, it's still hard not to become bogged down in pessimism and feel soured on the nation I love so. Sometimes I feel estranged from my motherland–that she has run off and left me stranded. I've longed to reconnect to my country–to reignite the spark of our relationship. So, I went out to find America.
I left my home in Indianapolis to set off on a week long fly-by-the-seat-of-the-pants adventure with my family. We decided, last minute, to head west and off we went. Our first days' drive took us out I-70 through the farmland of Illinois. That's red area on the political maps, but all I saw was mile after mile of green fields of corn and beans. Corn and beans don't know from politics, but they sustain 350 million of us and untold millions more around the world. Those farmers in their huge tractors and combines likely voted for a different person than me, but their green fields intimately link us in a more crucial way.
Farther along the road we approached St. Louis. The distant Gateway Arch slowly rose into view from those green fields and beckoned us west. I was reminded of Lewis and Clark as we passed through this stretch. They left from near here in 1804 to explore America's brand new land bought from France. Unlike some of the lands on our map, that seemed like a fair and square acquisition–a real estate deal–but only if we forget all the tribes of Indians who lived there long before the French (or Spanish before them) had ever imagined it existed. Americans are pretty good at forgetting things like that.
Just a few miles beyond the arch, we passed through the town of Ferguson. It was a fairly nondescript neighborhood of a midwestern city until a young black man named Michael Brown was gunned down by a white police officer in 2014 and suddenly the whole world was aware of Ferguson as it erupted into riots. I didn't notice anything violent or out of the ordinary going on as we passed through. I guess, like the volcano currently doing its thing in America's newest state, that was a temporary eruption. The lava eventually hardened into a fading scar on the ground, forgotten–until next time.
Our first days' drive finally ended in Denver where we stopped for the night. The next morning we set off for Utah.
I have long wanted to visit the national parks of Utah but, until this week, they had eluded me. We made our base camp in the town of Moab for the first two days. This was a perfect place from which to launch our expeditions into Canyonlands and Arches National Parks.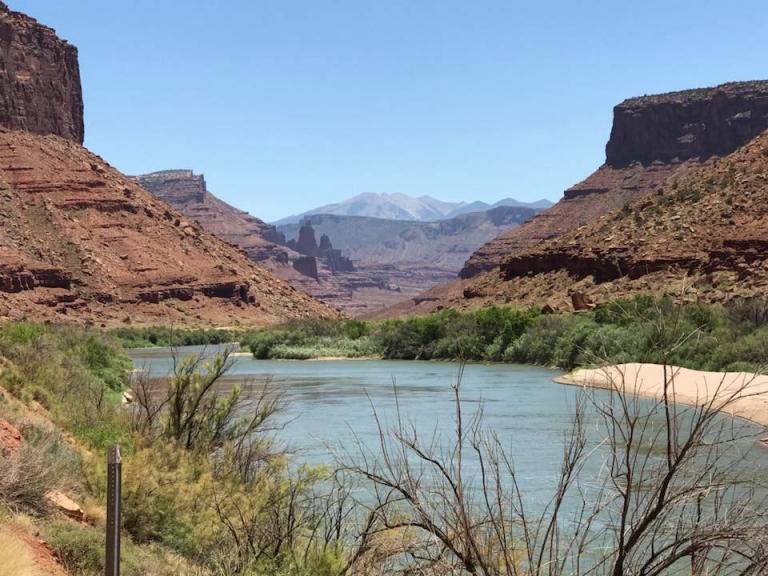 I was absolutely stunned by the landscapes found there. Vast open spaces, mesas, buttes, arches, canyons of red, yellow, and green everywhere the eyes could fall. We hiked along precipices that dropped over a thousand feet straight down. These sights were so foreign to me that they seemed as otherworldly as they were breathtakingly beautiful. It was not lost on me that all of these wonderful sights were once part of a different country–the same one that some are now proposing we wall out–Mexico. These wonderlands I was gazing out on and enjoying so much were not purchased innocently in a simple real estate transaction. They were forced out of Mexican hands by war. But we tend to forget about that now–those scars, too, have hardened on the ground and faded–at least on this side of the Rio Grande.
Also foreign were most of the people who temporarily inhabited these parks with us. The vast majority of our park-mates were from other lands. Every European tongue imaginable could be heard as we passed by other hikers. Bus loads of Asian tourists joined us in the wilds of Utah as well. It didn't seem to matter to any of us that we were from different places and spoke different languages. We were all just sharing a wondrously gorgeous piece of ground and coexisting in peace. It was a stew of humanity there in the high desert that reminded me of the fact that, in America, we are all from someplace else. We tend to forget that, too.
After leaving Moab, we decided to head on in a different direction, one that provided a stark and palpable contrast to the wilds of Utah–Las Vegas. The next two nights found us based in the lap of luxury and extravagant decadence, Mandalay Bay on the Vegas Strip.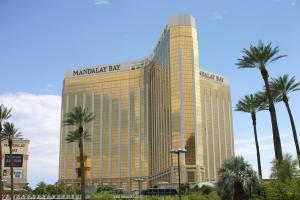 I found a very different side of America here. I found the very best and worst that capitalism has to offer. Everywhere we went, there were fantastic things to see. We were entertained by the Blue Man Group one evening–a one and a half hour show without one word uttered from the stage, just pure human ingenuity and creativity–pricy, but a great experience. Great shows like this are everywhere you go in Vegas, but then there are the casinos. I find these to be sad places. Humans from all walks of life staring lifelessly at a flashy machine and pumping their hard earned money into them for hours on end. All the while, someone is counting that money and putting it into the coffers of someone so unimaginably wealthy that it makes my head spin. When we go to Vegas, we are distracted by the dazzling lights and it makes us forget about where the money goes. We do a lot of forgetting, don't we?
While in our hotel, there was one memory I couldn't quite shake, though. From my 3rd floor window, I could look 34 stories higher and see the perch from which a deranged monster fired shot upon shot down into a crowd of more than 20,000 concert goers, killing 58 and wounding hundreds more. The scar upon that blood-soaked land has hardened and new construction surrounds the area as I write this. Apparently, someone wants us to forget that, too.
After leaving Vegas, we headed back towards Utah. We had another park to visit.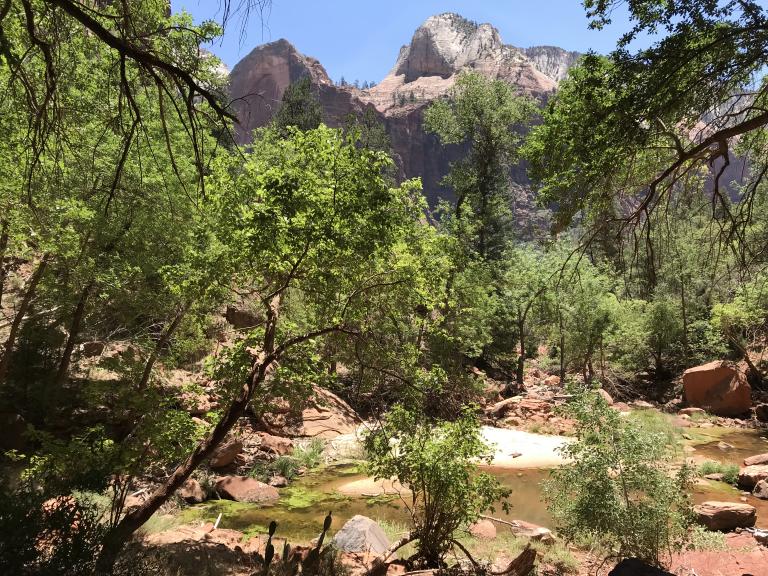 Zion National Park, simply put, is the most awe-inspiring place in which I've ever set foot. Standing in Zion Canyon, one looks straight up at the towering rock walls and feels humbled and small. One can't even imagine politics when standing in Zion. We need places like that. Such places need to be forever protected. That we can never forget.
Our last stop before heading back home was Mesa Verde National Park in Southwestern Colorado.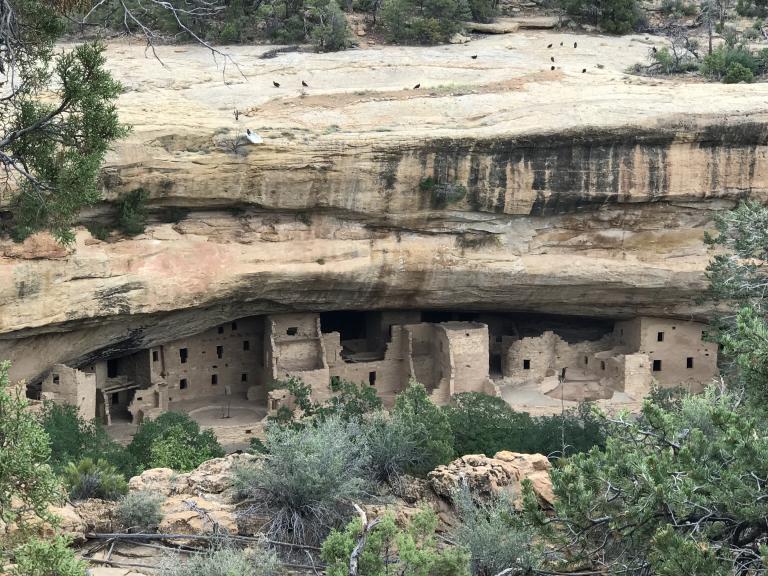 We stayed in a little motel in the nearby town of Cortez the night before visiting the park. It just happened to be July 4th. Cortez has a significant Native American population, a fact one can't escape when looking around the town. Everywhere are businesses that sell the wares of the Pueblo people. That night, we watched some of the town's Independence Day fireworks show–a surprisingly elaborate one for a small, isolated town–surrounded by the descendants of the people whose ancient cliff dwellings we explored the next day. It was a strange mixture of emotions that I experienced watching the celebration of the birth of our nation along side so many of the descendants of the people who began losing their own nations on that very same historic day. Often, on the 4th, I tend to forget that. I wasn't able to this year and I'm blessed for it.
As I type this, I am sitting in the back seat of my truck as my wife is driving for a spell. I am watching America pass by in all its splendor. I think my trip was a success. I found America again this week. The land is often more beautiful than its inhabitants, but we continue to plug along. I suspect we'll get through this rough patch, after all. But it would do us a lot of good if we'd stop forgetting so much and start remembering more.
I think the thing we need to remember the most is this: We all come from someplace else. None of us, in the end, own any of this beautiful place. We are all here and we have to learn to share it. We are just the current stewards of a special gift. It is in our power to ruin it or to preserve it.
That goes for the land and the thing we call a nation.
We'd better start remembering that.