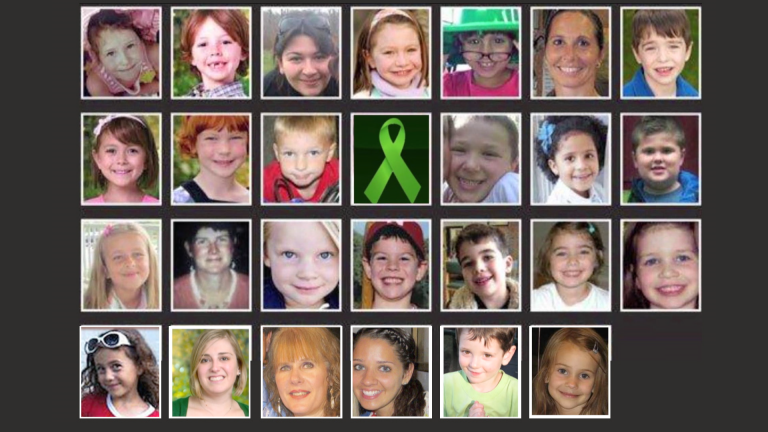 This week, as I was watching my 8th grade class take a quiz, I had an article pop up on my screen about the Sandy Hook Elementary School massacre in Newtown, Connecticut. As a teacher, that day is one of the most gut-wrenching memories of my career. I couldn't believe it when it happened and I still can't get my mind around it. That a madman could stroll into an elementary school and coldly mow down 26 innocent lives–20 of them small children—is as inconceivable a notion as I can imagine. But it did happen–variations of this scenario continue to happen. One point brought out in that article I read really floored me. Those kids would now be teenagers. I did the math and realized that many of them would be 8th students right now–just like the students I was watching at the moment the article notification popped up. That hit me pretty hard. Those 20 kids never got to be 8th graders.
I immediately started putting some words together in my head, as I always do when something affects me on a deeply emotional level. When I got home, I wrote down a poem and then it quickly became a song. What follows is that poem and a video of the song.
I dedicate it to the memory of those 20 precious children who never got to be teens and to their families who still mourn them.
God bless them all.
Twenty Won't Be Teens
By: Shane Phipps
As I look out on teenage faces
Just being kids as they know how
I'm haunted by your fading traces
You would have all been teens by now
That awful day comes back to mind
That madman spraying death
Someone must have missed a sign
As a nation held its breath
1, 2, 3, 4, 5
no longer alive
6, 7, 8, 9, 10
Won't be seen again
11, 12, 13, 14, 15
They would all be teens
16, 17, 18, 19, 20
And one would be too many
You'd think that would have been enough
To anger us to change
Instead we just accept this stuff
And blame it on deranged
When will we finally see the light?
So much pain from one machine
Kids shouldn't have to run or fight
Those twenty won't be teens
1, 2, 3, 4, 5
no longer alive
6, 7, 8, 9, 10
Won't be seen again
11, 12, 13, 14, 15
They would all be teens
16, 17, 18, 19, 20
And one would be too many