Last summer, my husband and I took our daughter to the beach. We put her in the cute little bathing suit my mom had bought her: a tiny blue thing with a ruffle around the neckline. Her swim diaper stuck out around her butt. I french-braided her hair and wisps of it escaped in the breeze. I admired my beautiful little girl: her sweet toes in the sand, her perfect face against the backdrop of the sea.
The beach was covered, as always, in tiny seashells. Usually I leave them, but that day I found myself compulsively gathering more and more. I sorted out the best ones and put them in the bag I use for my sunglasses. The tide came in and the waves crashed, covered in an intricate lace of foam.
At first I worried that it was wrong to think about my daughter in connection with a goddess whose strongest association is with sex, but then I figured that maybe, sometimes, beauty can just be beauty. And, I figured, maybe I could take the opportunity to ask Aphrodite to bless my daughter with a sexual life that's healthy, empowering, and free from trauma. A sexual life different from mine.
I used to think that Aphrodite was frivolous. This was before I learned about her evolution from Inanna, a goddess very dear to me. This was before I seriously began to work with her and realized that, far from being "just" a goddess of love, she's one of the biggest, most powerful, most ancient powers there is. A blessing from Aphrodite is no small thing.
The other night I pulled out those shells I'd gathered on the beach, along with some flowers and seeds, and made this mandala: the universe as Aphrodite's body. I thought about how I tore during childbirth, and how it's still hard for me to be touched there without seizing up in panic. I thought about my college boyfriend, the thing he did to me in the shower. What am I allowed to call it? There was no physical force, no physical injuries. Legal definitions don't help.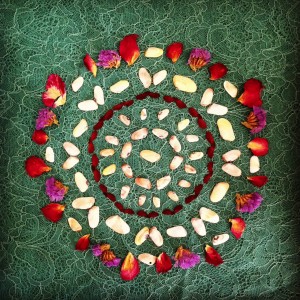 I didn't say any elaborate prayers as I made the mandala. I didn't ask for any specific thing. I didn't even make it on my altar; my desk was clear and I felt the urge so I made it there. I just put it together, took the photo, and offered it to her.
May Aphrodite bless you in every way that you need it.
---
Aphrodite Mandala by Asa West is licensed under a Creative Commons Attribution-NonCommercial 4.0 International License.