Aleteia has launched For Her, a web magazine for women that is "finely focused" through a Christian lens. As much as I dislike being shunted into a special section for girls, I was at least a little bit excited to see how a Catholic site about "what the church really teaches" would speak directly to me. The evangelical magazine Christianity Today has a blog, her.meneutics, where women writers analyze secular and Christian culture, books, and media. I've written for them, and I recognized some of the same names at For Her. I thought maybe this new magazine would be similar–a place for women to parse the issues that matter most to us in culture and church.
But wow. I couldn't have been more off-base. I mean, WOW. That's all I could say for many moments as I sat there gaping at my computer screen. Seriously. I wish I'd taken a selfie of my face when I opened the first link: An old abbey warms up to boho-chic, in which "an ancient abbey is transformed into a comfortable family home, with sounds of laughter, stories being shared and modern daily life filling the once quiet rooms." 
Krystyna and Stanislas Dwernicki wanted a country home that was not simply big enough for their family of five, but to welcome countless members of their extended family and friends from all over Europe. A tip from some cousins led them to an old Benedictine monastery in Touraine, a lovely slice of French countryside about 200 miles south of Paris, rich in history and reminiscent of a simpler way of life.

Ethnic fabrics and accessories, vibrant and contrasting colors and patterns from a life steeped in heritage and values, create the perfect boho-chic interior. Strolling through these ancient rooms, even the novice decorator will be inspired to see how simply their own unique treasures can be used to infuse an elegant nonchalance to any home, big or small.
Then I clicked through the 30 pages of images of this elegant nonchalance, which would have seemed right at home in the pages of the Anthropologie catalogue. No, wait. Anthropologie is grittier.
Okay, so I didn't actually click through all 30 images. I was so depressed by the first five that I had to go and pour a glass of wine. Then I sat back down and clicked on the next link I saw, an interview with Isabella d'Ornana, "the embodiment of beauty, refinement, and achievement—all reflected in the global success of her French cosmetic brand, Sisley," who reveals to the interviewer that "the key to her strong marriage, family, work, and her joie de vivre is her faith." 
I poured another glass of wine.
Another link led me to a list of hydrating moisturizers, featuring products ranging in price from $30 to $215. As someone who often wonders how much is appropriate for a Christian to spend on clothes and make-up and housewares and vacations, who feels extravagant purchasing two different kinds of Cerave for a whopping $11.49 a bottle, I realized, with deep sadness, that For Her is not for me at all.
According to the site, it's for "modern women" who are "comfortable in the modern world" but are inspired by "strong values."
They love to read about entertainment, celebrities, health and beauty, but they are often discouraged or let down by the advice and conversations other magazines give them about relationships, marriage and family — they are struggling to stay true to their roots and their faith in an increasingly secular society that doesn't always support who they really are. They want and need to feel supported by a community with similar views of life and values, and to enrich their inner life.

…

We think it's a good time to celebrate all that is truly feminine, to show that being strong does not mean being aggressive — that being truly feminine is strong, in the way that John Paul II described the "feminine genius." We feel like it's time that women with values and depth embrace that part of themselves, and we want to celebrate their way of living to encourage others.
Dear readers, I am not ashamed to tell you that when I read those words, I whimpered a little.
Because I'm fairly certain that the beloved John Paul II did not have in mind celebrity journalism and $215 hydrating foundation when he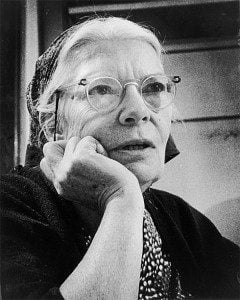 described the "feminine genius," and what makes us "truly feminine" is not swimming in the shallow end of our culture with the slick glossy mags. Certainly we are called to engage with secular culture–every aspect of it–but not to ape it. Seeing through a "Christian lens" should be a corrective to my tendency toward vanity, covetousness, self-obsession, not to mention neglect of the poor. It's not a sin to be wealthy, but luxury is not a virtue. 
For Her seems to imply that our sexual morality and "values" are not in any way connected to our habits of consumption. To give just one brief counter example from my own life: while I struggle to remain obedient to the church's teaching on contraception, I'm not particularly encouraged by images of posh country homes 200 miles south of Paris, celebrity parenting tips, and advertorials about high-end makeup. Because I'm not wealthy, being called to remain "open to life" sometimes means being open to sacrificing my social life, my leisure time, my career, and yes, even my physical beauty.
Sorry to be such a downer, but the conflicting messages about the "perfectly imperfect family" and the "minimal make-up A-list" gave me a headache. And a heartache.
I'm no self-appointed prophet wandering around in sack cloth and ashes. I'm not a humorless academic killjoy. I shop the sales at Anthropologie. I wear make-up. I have more than one pair of shoes and I eat organic food. But I have no desire to sequester myself in a Catholic bubble that merely affirms the values of secular culture minus any challenges to sexual morality, conventional femininity and the nuclear family. There's nothing wrong with flipping through the pages of the slick glossies, but when I reflect on what "really matters," spring fashion is at the very bottom of the list.