Here in New England, this winter has been rather mild—until this past week. We began the week with a short snowfall that only dropped a few inches of snow. It was just enough for everything to look like a ski resort brochure. For those of us from hearty northern stock, having a few days of winter feeling like winter has been keeping us going.
My students and I had a few days of joy making snow angels, climbing on the gigantic snowballs the "big kids" made on the playground, and sculpting a tiny snow dude of our own.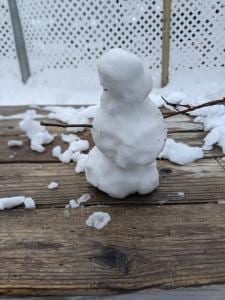 Photo by Kristen Allen
I'm not alone in finding joy in a New England winter. John Farrell and his hockey bros, after being shut out of their home rink since last March, shoveled off a patch of the ice at Cunningham Park to do some pond skating.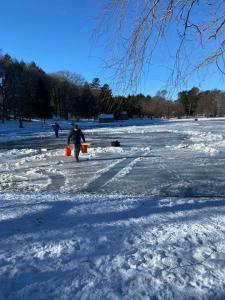 Photo courtesy of John Farrell
Then an Arctic Blast blew in making it bitter cold outside. So, this weekend, a stack of library books and baking have kept me going. Along with buttery dinner rolls and  a pumpkin pie, I put together a "baked French toast casserole" (because if I call it bread pudding nobody in my house will eat it) that is slathered in homemade salted caramel and candied pecans for breakfast. The temperatures are supposed to warm up just enough for our family's traditional St. Brigid's Day burning of my Christmas greens in the fire pit this evening.
What is keeping you going at the start of this new month?