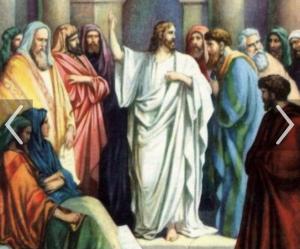 Sunday's Gospel leaves me with some questions. The first one is about who among us recognizes Jesus? The second is, who does Jesus address in this situation?
Let us go back a little bit. Jesus is not exactly catapulted to the top tier of society – not that I'm sure he'd want to be there. We do find a number of naysayers in First Century Palestine who wanted to see him silenced or gone. Many of the temple priests, local and Roman officials, along with the well-heeled citizens who made up the "right sort of people" seemed to agree that Jesus was a problem. He was an annoyance to some, an outright danger to others; he became the common enemy because he did not play by their rules. How his cool self-assurance, whether drawing in the dirt, picking off grains of wheat, or actually healing someone, must have been unsettling for those in authority. If only they saw him walk on water, they would have truly flipped out.
Here at the beginning of Mark's Gospel, with its economy of language and detail, a scene plays out in the synagogue. The idea of a synagogue is commonplace now, but at that time it was a new idea. These locations were both civic and spiritual, places where the Jewish people would gather, so it was not unusual that Jesus was there. As we know, he offered a teaching, apparently with great authority – something he was not in a position to do according to the norms of his time.
Now things get going, because as Jesus was teaching a "man with an unclean spirit" called Jesus out. Imagine this scene! The one person who clearly recognized Jesus as the "Holy One of God" happens to be the "unclean" one. Seriously – a synagogue, conceivably full of holy people, and this guy spots the Christ? The God of surprises is always ready, opening doors unseen to situations unconceived. Expecting the natural turn of the tale seems to be a losing strategy where God is concerned.
Here we are – watching the evil in the room recognize the one source of authority present! It seems to me that many contemporary interpreters see this as a classic story of good and evil, and that good kicks out evil. Whoosh, like a laundry stain well dealt evil is banished! Now everyone is clean, just like us. Not many seem to acknowledge the twist though.
What is the twist? If you ask me it is that those most apt to recognize the Christ in their midst are those most in need. And those most in need are typically not occupying the seats of the high and mighty, the holy and wise. No, it is often a ragtag crew of humanity, typically rejected by those in power, especially in church. Barred from entry, we might sneak our way in and then have the epiphany required to see the Light.
This Gospel reminds me that with God, there is potential for good in every created person. The unclean among us are apt to recognize the Holy One of God among us, and whatever clash occurs, the opportunity for transformation follows. This message is powerful and a reminder that the power of salvation rumbles around at the margins, gathering the hems of society and pulling them in close. What better message is there for most of us than that? We who are God's odd children, know that we will recognize him among us. That is the transforming message for us all. My only prayer now is this, Holy One of God, come at me bro, come at me and make me whole through you.
Fran Rossi Szpylczyn (pronounced SPILL-sen) is a former corporate executive turned writer and church worker. She graduated from St. Bernard's School of Theology and Ministry in May of 2013, with a Master of Arts in Pastoral Studies. By day she is the Pastoral Associate for Administration at the Church of the Immaculate Conception in Glenville, NY. Fran has extensive experience facilitating faith formation for both teenagers and adults, directing retreats, and public speaking. In 2016 she fulfilled a life dream when she walked the 500 Camino de Santiago.
A published writer, her work has appeared in numerous books, online forums, and publications. She was a charter contributor the Homilists for the Homeless series published by Clear Faith Publishing. Fran has also been published in the National Catholic Reporter, New Ways Ministry Blog, The Evangelist, the Albany Times Union, and America Magazine, and is a regular contributor to Give Us This Day published by Liturgical Press. A longtime social media advocate, she has a blog called There Will Be Bread.
Originally from the New York City area, Fran moved to Clifton Park in 2007 to be with her spouse Mark and stepdaughter Erica; they continue to reside there.