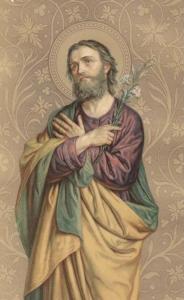 "Was St. Joseph ever a jerk?"
The young woman asking the question had already asked it of Mary and Jesus, and much to her chagrin the answer had been no—they were perfectly sinless. She stood on the steps illuminated by Christmas lights, worry lines showing on her forehead. The young woman has autism and she wasn't being disrespectful. She often feels as though she's acted like a jerk, and it makes her feel horrible. She wants to know that it's possible to occasionally slip up and still be an overall good and holy person.
What she didn't know when she asked the question is that Pope Francis had just declared a Year of St. Joseph beginning on December 8, 2020. In an Apostolic letter entitled Patris corde, or "With a Father's Heart," the Pope commemorates the 150th anniversary of St. Joseph being named Patron of the Universal Church. In seven sections, Pope Francis describes St. Joseph as a beloved father, a tender and loving father, an obedient father, an accepting father, a creatively courageous father, a working father, and a father in the shadows. It says nothing about the saint being a jerk.
I find it ironic that the letter was published on December 8, the Feast of the Immaculate Conception of Mary. Mary was immaculate; Jesus was immaculate; Joseph—wasn't. He lived with a perfect wife and a perfect son, and with his own imperfections. We know so little about him that we can only guess what these imperfections might have been. Did he have a little brother whom he teased when their mother wasn't looking? Did he get jealous of his best friend when his wife conceived without the help of the Holy Spirit? We don't know, but we can be certain that he was human like the rest of us, in need of a savior like the rest of us, and therefore quite possibly at some point or another, a jerk just like the rest of us. (This explanation seemed to comfort the young woman.)
I'm not suggesting that the jerk angle is what we should focus on with St. Joseph. He led an amazing, holy life, was chosen by God to be the foster father of His Son on earth, and in addition to the patron of the Universal Church, he is listed as the patron of carpenters, children, craftspeople, educators, emigrants, exiles, expectant mothers, families, fathers, a holy death, house hunters, interior souls, laborers, married people, people in doubt, social justice, travelers, workers, and many other groups as well as myriad geographical locations. I myself have entrusted my husband to his intercession daily for several decades now. To say that he is beloved by thousands is not an overstatement.
For as little as we know for sure about him from just a few lines in the Bible (and no direct quotations), we have quite a complex picture of this saint of the imperfect. Throughout 2021 Sick Pilgrim will be exploring more facets of this beloved saint, and various devotions to him.
At the end of his apostolic letter, Pope Francis gave us a prayer for the Year of St. Joseph:
Hail, Guardian of the Redeemer,
Spouse of the Blessed Virgin Mary.
To you God entrusted his only Son;
in you Mary placed her trust;
with you Christ became man.
Blessed Joseph, to us too,
show yourself a father
and guide us in the path of life.
Obtain for us grace, mercy and courage,
and defend us from every evil.
I like to add:
And please help me not be a jerk. Amen.