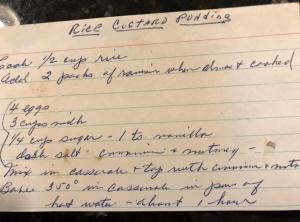 Just because I married a chef, doesn't mean I cannot cook, you know.
That wasn't always the case. I came into this marriage as a TERRIBLE cook. My mama is a good cook. She can really throw down. She couldn't stand how messy I was in her kitchen, though, so she gave up trying to teach me. In fact, in exasperation one day, she exclaimed, "Your only hope is to marry a chef." It was excellent advice.
Our first date (which is still up for debate, I contend that it was running errands together, NOT a date) was to the grocery store, where my Personal Chef taught me how to pick good produce and choose quality cuts of meat. For more than three decades now, he has done almost all of the food shopping, and, to my good fortune, much of the cooking. Over the years I have learned plenty, and I am no longer a disaster in the kitchen. I would go so far as to say that I have become a Foodie.
Right from the start, though, I have always done most of the baking.
I have never met a cookie I didn't like. Sweet breads are a standard Saturday morning side for coffee. My blueberry muffins are a first day of school tradition, as is the All Pie Dinner every March 14th (you know, 3-14, Pi Day).
Baking feeds my insatiable sweet tooth. Sharing what I bake makes people happy.
Mostly, though, baking connects me to the women who shared their recipes with me.
I know that lots of you absolutely HATE those recipe sites that post a food blog with photos and stories before you can get to the recipe. Not me, that is internet content that I am totally here for. Those stories resonate with me, because so many of my memories are linked to food–shared holiday feasts and other memorable meals, of course. It seems that all of my favorite memories are linked to sweet treats shared.
I still have my original recipe cards. I had moved into my first apartment–the second floor of a rambling, old house where I lived with a bunch of Dead Heads who were barely in our twenties. It was hardly a Norman Rockwell picture of domestic life. Still, I drove to my Nana Franna's house and carefully copied out the family recipes for molasses sugar cookies and Irish soda bread to bake for my roommates. Not long after, Nana mailed me her rice pudding recipe–my childhood favorite. It is much stained, worn in some places, but it is in her handwriting, and just pulling out the card reminds me of the birthday she made it for me instead of a cake, putting a pillar candle in the middle of the casserole dish she baked the custard in.
For nearly forty years since the day I got those two recipe cards, I have been collecting recipes.
Every now and then, I will thumb through my beat up recipe box for inspiration. It always ends up with me thinking about the women who shared them with me:
Those first day of school blueberry muffins are made with a recipe that a coworker discovered when staying at an inn in Maine on her honeymoon. They always make me think of Deb and the Maine coast.
My sisters-in-law, Jackie, Linda, and Rachel have shared so many great recipes and memories with me over the years. I smile every time I pull one of those cards out, thinking about all those years of Thanksgivings, and July barbecues, and babies, and weddings, and all that messy family business.
Donna gave me her creamsicle fudge recipe just a short while before she passed away. I cannot help but remember her great sense of humor whenever I pull out that wrinkled sheet of paper.
A decade or so ago, I suffered a season of terrible depression, but my sisterfriends rallied around me–running errands, taking care of my kids, dropping off meals. They are angels. One day, Johnna baked a tray of absolutely delicious brownies. The attached recipe card called them "Hot Monkey Love Brownies" making me laugh with hope.
The dozens of women from my old church, who scrawled out their favorite recipes for the annual holiday cookie swap, accepted me into their community, and loved me hard when I was a young mother. Many of us have gone different ways over the ensuing years, but those recipes put them right back into my kitchen.
The Best Banana Bread Ever recipe came out of an Iowa Church Guild cookbook that my friend Nola brought with her when she moved to the east coast. I haven't seen her in years, but this weekend, when I baked up mini loaves to share at work, it was like she was here giving me one of her bear hugs.
Those recipe cards are the ordinary sacramentals that I did not even know I needed. What is keeping you going this week?