The Washington Post described Lutheran Pastor Nadia Bolz-Weber as a "superhero from Planet Alternative Christian:"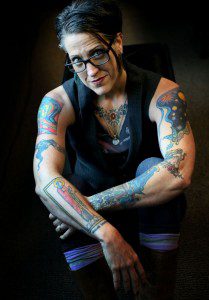 In her body and her theology, Bolz-Weber represents a new, muscular form of liberal Christianity, one that merges the passion and life-changing fervor of evangelicalism with the commitment to inclusiveness and social justice of mainline Protestantism. She's a tatted-up, foul-mouthed champion to people sick of being belittled as not Christian enough for the right or too Jesus-y for the left.
Not Christian enough for the right, too Christian for the left . . . it's the story of my life in what I like to call the radical middle. Still I was surprised to love Bolz-Weber and her books. Every time I thought she was going to annoy me with that Cool Pastor schtick she beat me to my own ridicule. She's all too aware of how her supposed coolness has become a cliche. She's the first to say nobody who is actually cool thinks she's cool at all. She also knows that her desire to be cool is spiritually dangerous. When she started attracting "normal" people to her House for All Sinners and Saints in Denver, she hated them all a little bit for "fucking up her weird." She prefers t0 minister to outcasts and freaks and junkies—to the exceptional, rather than the average. Average is not in Nadia Bolz-Weber's comfort zone.
And yet, admitting that she pouted about regular old bourgeois white Christians fucking up her weird is exactly the sort of charming, self-deprecating, image-maintaining crack at which Bolz-Weber excels. Despite (or because of) her repeated attempts to assure us that she's a terrible, cowardly person who hides from God and would rather be doing pretty much anything else than being his superhero, she's damn likeable.
I like people who run from God and end up doing right in the end despite themselves, because I fear that's the best I can do. I suspect that's the way with most people, and it's why Bolz-Weber's books, including the recent Accidental Saints, are New York Times Bestsellers. Despite her petulant insistence on the exceptional, she speaks to the average and the mainstream remarkably well.
Also, she made me cry like a baby. Bolz-Weber delivered a moving performance on Fresh Air, and she received the NPR stamp of approval:
"You don't have to be religious to get something out of this book . . . . This is a quick read that will leave you feeling better about yourself and others—for all our flawed, messy goodness."
As chirpy and superficial and irritating as I find those two previous sentences, I don't find Bolz-Weber to be any of those things. She's sincere and passionate and she loves Jesus and she's not afraid to say it, as uncool as it sounds even on her lips. And the truth is—sometimes I do just need to "feel better" about myself and this ancient faith I'm practicing, and there's no harm in that. Bolz-Weber makes Christianity look good, feel good—and I love her for it.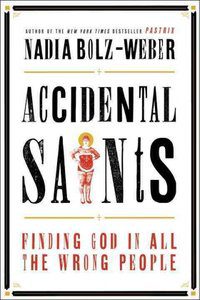 But.
There's this persistent little voice in my head that prompts me to wonder if maybe this whole sainthood by accident thing is just a bit too easy. That voice belongs to the very Catholic Heather King, warning that love without pain and/or sacrifice is not love at all. It's "faux love" and King finds it insulting, because it says:
" . . . you're too delicate to face the highest truth and live it out. I don't think you're strong enough, or mature enough, to take in the whole picture, to hold the full tension of the suffering of the world before you; I don't trust you to recognize that to aim for anything lower than the highest is to contribute to that suffering and, as much to the point, to deprive yourself of the highest joy. So if a kid you conceive might be 'unwanted,' abort him or her. If an old person strikes you as no longer serving any 'useful purpose,' help him or her to commit suicide . . . 'exterminate or annihilate people who are suffering or you might stand to suffer.' Which in the end is going to be everybody . . . You can't annihilate suffering; you can only share in it. You can only refrain from contributing to it."
Like Bolz-Weber, King is a recovering addict with a long list of repented sins, but you'd probably walk right by her on the streets of Koreatown in L.A. She doesn't have shirtsleeve tattoos or visible piercings—more commonplace now among Christians than a nun's habit or clerical collar. Nothing about King's physical appearance screams that she's living in high contrast to her world as a kind of urban monastic. Unlike Bolz-Weber, she'd disappear in a crowd. And unlike Bolz-Weber—who in spite of her "edgy" appearance, is never truly offensive on paper-—King holds all sorts of unpopular opinions. She's celibate (after divorce and her share of romantic heartbreak), pro-life (she confessed her abortions as sins but compares people who wear "their giant aborted fetus buttons" to "Pharisees who prayed loudly on the street corners"), critical of feminism and the ideology of the left (that "faux love" that will take any "shortcut to avoid suffering"). She won't even wear the pink ribbon that tells the world she survived breast cancer ("to survive was no real victory, because someone else wasn't going to").
Pastor Nadia runs from God. When someone asked her how she draws closer to God, she responded, "why the hell would I want to do that?" Heather King scales mountains and fasts in the desert trying to meet him. Bolz-Weber fears God might require something of her she doesn't want to give. King gives it all without being asked. Sometimes she's too strident, but more often I find her humble and tough-minded, bracing even when I disagree. She reminds me of Dorothea Brooke in George Eliot's Middlemarch, who longed for sainthood but was born in the wrong milieu. King's spiritual grandeur seems somehow mismatched with her time. She's not content to be broken and loved all the same. She wants to be holy. Which isn't cool. But it's fascinating.
"'Where are the courageous ones?'" King asks in her latest book, Stripped: At the Intersection of Cancer, Culture, and Christ. 'Where are the saints, the heroes, the martyrs? Where is the real follower of Christ?' From my bed on the couch, I gazed out over the rooftops of Koreatown. I was just beginning to realize: Oh. I'm supposed to try to be that person myself."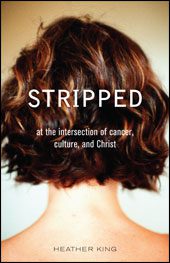 Bolz-Weber is a preacher, and it shows on the page. The chapters of Accidental Saints are magnificent sermons, honed in the pulpit and on the stage, not a word out of place. King, on the other hand, is a writer and a consummate essayist-—discovering what she thinks on the page. Her ideas may not go down as smooth as Pastor Nadia's, but her prose and her storytelling are always impeccable, and Stripped is a literary memoir of the highest quality. It's not a cancer book, really, though the story of being diagnosed with breast cancer, challenging the wisdom of the medical establishment, and surviving her illness offers a kind of scaffolding for King to test her ideas about suffering and love. She writes with an impressive command of the secular literature of suffering. She loves Kafka and Antonin Artaud and Whitman and Simone Weil but dispenses with intellectual giant Susan Sontag, hilariously, as a "big, humorless crab," all while turning over and over "the bizarre way that the world is so often redeemed not through health and wholeness but through sickness and violence and insanity."
But to be content with one's brokenness isn't King's way. She asks elsewhere, "who can parse out which part of our wound is killing us and which part of our wound is keeping us alive?"
King's illness takes her to a spiritual peak, if only because she has little else to do: "Like one of the wise virgins in the parable of the wise and foolish virgins (Matthew 25:1-13), my lamp was more or less in oil." She entered a contemplative state in which she "'saw Christ all the time: in myself, in the poor and rich, in my friends." Describing the strange ecstasy of her state of affliction, she writes she'd "never felt so alone," and yet she'd "never felt so close to the beating heart of the rest of the world." It comes to her, "with a pang," that this is joy. King writes in this grand language of Catholic mysticism right alongside her jokes about her past promiscuity and binge drinking. And in the end, she winds her very different path to the same Gospel truths as Pastor Nadia, expressed in a new version of the beatitudes:
"Blessed are the poor in spirit; the out-of-step, the unhappy in marriage, the mistake makers, the frightened, the sick, the uncertain, the lonely, the yearning, the oppressed. Because only the poor in spirit know the incalculable value, the infinite preciousness, of a fellow human hand."
But it's King's suffering and asceticism that give her the eyes to see Christ exactly where she thought he couldn't be—"the boring homily, the screaming kids, the sexual obsession, the doubt, the fear; that's where he most was." Seeing him there, she desires holiness not for her own pious satisfaction, but for the protection of those she is learning to love.