"Total non-retention has kept my education from being a burden to me." –Flannery O'Connor
This whole "give us your top five spiritual books" thing was my idea, and I thought it would be an easy post for a busy week. Then I sat down and tried to remember my favorite spiritual books and couldn't think of any. I always say I read my way back to the church, but I didn't read very many spiritual books. I just read regular old books. And everything I read in my early 20s seemed somehow to repel me from secular humanism and draw me back to Catholicism.
Then I tried to come up with the books that keep me Christian–i.e., the books that confirm my suspicion that there is more to this life than I can see, or if there isn't and I'm just a lunatic, that I'd rather live in a way that supports my lunacy and makes the disenchanted world more bearable. But of course I don't really think the world is disenchanted, or that I'm a lunatic. Like most crazy people.
So what are those books? I'm trying to remember. I'm having trouble remembering lately. Last week I went to Starbucks, bought a desperately-needed Americano, paid for it, and then left it on the counter and didn't realize I hadn't actually consumed the coffee until about three hours later when I wondered why I was so tired. So I'm going to sit here like Inigo Montoya asking his father to guide his sword and just type the first books that come to mind. If even I can remember them, they must be very important to me, right?
The Spiritual Books Jessica Can Remember Right Now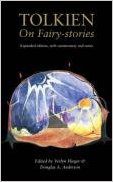 "On Fairy Stories" by JRR Tolkien
It isn't even a book. Fail.
But this lecture, which Tolkien delivered at St. Andrews University in 1938, changed me forever when I read it ten years ago, mostly because it explained my reading tastes. I think Tolkien mentions every story or book I really love, from the Norse myths to Peter Rabbit. And I mean I love them now; I didn't even know them in childhood. Back then I was reading Encyclopedia Brown and V.C. Andrews. Simultaneously. Which explains a lot about my psyche. But when I got pregnant I started reading children's books, mostly out of curiosity for what actual children might be like. I couldn't remember most of my childhood (non-retention being a recurring problem for me), which might be a good thing if your innocence has been wrecked by reading V.C. Andrews. Anyway, pregnant, I read every children's classic I could get my hands on and felt my heart growing three times bigger, and then Tolkien's essay explained to me why–though they taught me almost nothing about real children–they stirred not only my heart but my intellect and my religious imagination in ways that most of the grown-up books I'd been reading just didn't.
"… in fairytale and legend …there are hunger, thirst, poverty, pain, sorrow, injustice, death … there are ancient limitations from which fairy-stories offer a sort of escape, and old ambitions and desires to which they offer a kind of satisfaction and consolation … such as the desire to visit, free as a fish, the deep sea; or the longing for the noiseless, gracious, economical flight of a bird … the desire to converse with other living things  … [there is the] the necessity of keeping promises (even those with intolerable consequences) that, together with observing prohibitions, runs through all Fairyland. And lastly there is the oldest and deepest desire, the Great Escape: the Escape from Death.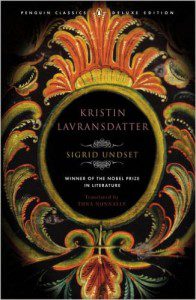 Kristin Lavransdatter by Sigrid Undset
Ha! This isn't just one book–it's a three-book saga of a 13th century Norwegian family. Sigrid Undset, a Catholic who also wrote one of the best hagiographies ever of Catherine of Siena, won the Nobel Prize for Kristin Lavransdatter in 1928, but I discovered it while cruising Tomie dePaola's website with my then 4-year-old. (If you don't have kids, Tomie dePaola is the author of the lovely Strega Nona and a million other great children's books.) dePaola says it's his favorite book of all time, and it has everything I love too: breathtaking scope (it's over 1,000 pages), an unbreakable heroine, a doomed love story, and a vivid depiction of the crash of Christianity into the imagination of Norse pagans. It's one of the few books I've read that made me want to be holy, and made me think being holy might actually be achievable by someone who isn't a saint. It's also infinitely quotable.
"The world is just as harsh a taskmaster as any other lord, and in the end it's a lord without mercy."
"All my days I have longed equally to travel the right road and to take my own errant path."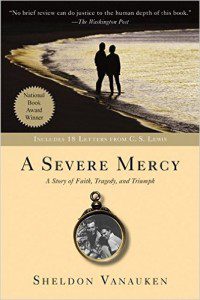 A Severe Mercy by Sheldon Vanauken
Speaking of mercy, here's another doomed love story. Full disclosure: I loved this book less reservedly when I was unfamiliar with pathological narcissism. Recently I returned to it and found Van's complete engulfment of his wife, Davy, a bit disturbing. Regardless, it's a great story about the kind of all-consuming romantic love that threatens to destroy what we think it will save (us). And it's what I'm thinking of every time I say or write that I shudder at the things for which I must be #grateful. God is mercy, but sometimes his mercy is inscrutable and severe.
"…though I wouldn't have admitted it, even to myself, I didn't want God aboard. He was too heavy. I wanted Him approving from a considerable distance. I didn't want to be thinking of Him. I wanted to be free—like Gypsy. I wanted life itself, the color and fire and loveliness of life. And Christ now and then, like a loved poem I could read when I wanted to. I didn't want us to be swallowed up in God."

and this: "Signs must be read with caution. The history of Christendom is replete with instances of people who misread the signs."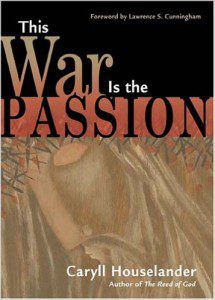 This War is the Passion and everything else ever written by Caryll Houselander
Houselander wrote about World War II from London during the Blitz, and that alone makes This War worth reading, if you must choose just one of her books. But Houselander is my personal hero, and I say read it all, every word. She's where I turn when I need encouragement to keep writing. And living.
"She insisted on the importance of singularity," writes Wendy Wright in the Houselander edition of Modern Spiritual Masters. "This was a hard-won insight, for during much of her early life her particularities were the source of derision and isolation. Gradually she came to believe that God gives each the gifts he intended: to become holy thus is not to strive to become a generic spiritual person but to become what God intended one to be."
My favorite thing about Houselander is that, though she was a gifted spiritual mystic and a depressive and a genuine weirdo, she was never overly solemn or precious. Her spiritual advice is always practical.
"I truly believe the the best way to benefit humanity is to make faces on the bus–slightly mad faces, or puttings out of the tongue… Think of the thrill that gives to countless uneventful lives to whom nothing ever happens. They can tell everyone for weeks that they saw a mad woman on the bus, and they can exaggerate this to almost any extent. This form of charity can be practiced on the way to work."
Okay, that's technically four entries, but since I wrote about more than five books can I stop there? And get some more coffee?
Tell me, what are your favorite books that you can remember right now?