The Flood of the Century. The Great Flood. A Flood of Biblical Proportions. The Hundred Year Flood.
Whatever you want to call it, South-central and Southeastern Louisiana has been battered by torrential rain this past weekend, leaving unbelievably huge pieces of roads and entire neighborhoods underwater, leaving thousands rescued and at least three killed.
The chaos brought by this massive flooding is devastating. Even though my family and I suffered no damage, witnessing my neighbors trapped inside or having to evacuate from their homes leaves me without words.
Even now, I'm frankly unsure of how to finish this insignificant reflection. Nothing I type can adequately portray the grief of the area's families who have had to relocate or who have suffered losses. The lament of the sufferers rises in a haunting dirge, and I don't have the wisdom to offer meaningful consolation.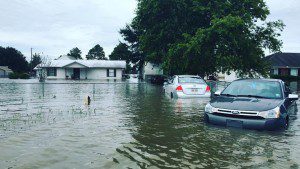 "My sister, Pat, has two daughters in Baton Rouge.  One daughter has a flooded house and the other can't get out of her house because their neighborhood is flooded.  Water is now on her driveway creeping toward front door.  This is so sad.  I think I have worn Mother Mary out and St. Theresa!" — Christine Prudhomme
And yet, light flickers.
All across social media, I see friends and neighbors offering to help. One of my friends, home from the military, offered to crew a rescue boat. A friend said that she and her husband were available to help if anyone needed. A number of friends posted that all was well with them and offered their homes to anyone who needed or wanted a place to stay.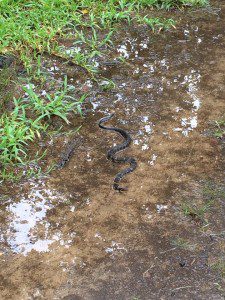 "It's one of those times when being safe and dry with plenty of food and water in a home whose electricity hasn't flickered makes me 1) feel guilty, and 2) wish all the roads around us weren't flooded so we could take in those who don't have these things. Hopefully we can bless someone who is suffering soon." — Sarah Granger
This is my main reason for loving the Cajun people, my people. It's not just because our Catholicism pervades, but because our faith is not hidden behind the stony walls of an old building. It is lived.
What good is it, my brothers, if someone says he has faith but does not have works? Can that faith save him? If a brother or sister has nothing to wear and has no food for the day, and one of you says to them, "Go in peace, keep warm, and eat well," but you do not give them the necessities of the body, what good is it? So also faith of itself, if it does not have works, is dead. — James 2:14-17

See, in all honesty, God is either assuredly present or obviously absent to people in times like these. Wherever you fall on that spectrum, the surest sign of faith may be in the works of your neighbors, or in work that you do for your neighbor. Lean on that hope if that's the only hope you see. God knows it's my lifeline at times.
Be safe tonight, pilgrims.
Love,
Your Cajun Correspondent,
Matt Lafleur