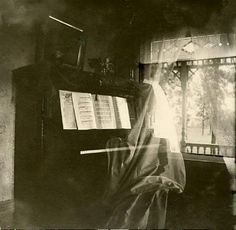 Last year, Ave Maria Press (my place of gainful employment) celebrated 150 years of existence as a Catholic publisher. We started off as a magazine, founded by Father Sorin, the same guy who founded a small but scrappy school now known as the University of Notre Dame.
The editorial department was assigned to comb through the archives of the magazine to find interesting historical stories or tidbits. As I read through the decade of the 1920's, I was struck by how many stories of the weird, the strange and uncanny dominated the pages. While I knew there was no way we would ever include these in our official timeline, I really wanted to share them with the world.
Catholics of a bygone era loved these kind of stories. And so do we. You know we're all about resurrecting old school Catholic stuff around here. So, Jess and I thought we'd revive the old Ave Maria tradition for the month of October. With the kind permission of my boss and publisher extraordinaire, Tom Grady, we will be re-publishing select stories from the old Ave Maria magazine.
But we also need your help. We want your REAL stories of the weird, the strange, the bizarre, the uncanny–anything that's made your hair stand on end. They don't have to be Catholic, but they do have to be true. Please don't send fiction. We'll publish our favorites here on Sick Pilgrim during the month of October as we prepare to celebrate All Saints Eve and Day.
Email Jonathan at authorjryan@gmail.com with your entries. We can't wait to read about what you've experienced. So talk to your old Catholic Grandma. Dig through family letters. Remember something that happened in childhood that kept you up at night. Share the spooky with us!