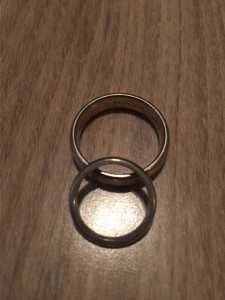 "The children of this age marry and remarry;
but those who are deemed worthy to attain to the coming age
and to the resurrection of the dead
neither marry nor are given in marriage.
They can no longer die,
for they are like angels;
and they are the children of God
because they are the ones who will rise.
That the dead will rise
even Moses made known in the passage about the bush,
when he called out 'Lord,'
the God of Abraham, the God of Isaac, and the God of Jacob;
and he is not God of the dead, but of the living,
for to him all are alive."
—Luke 20:34-38
Here at Sick Pilgrim, they keep me around because it's occasionally useful to have a Myers-Briggs "J" on hand to make some editorial calendar templates or a to-do list. Life is leaving me little to no time to write these days, and the once-monthly dark devotional contribution is just about my speed. I was glad to be assigned to the lectionary passage for All Saint's Day this year, and had imagined writing something lofty about the great cloud of witnesses, perhaps weaving in stories of how I've seen hawks over-frequently since my falcon-loving father died in 2010, and end with a flourish of hopeful words about our communion in Christ (even though Jonathan kind of already went there this week, but whatever; if a thing is worth saying, it's worth saying again).
I was not best pleased to see the gospel lesson for this week, therefore. "Hey!" Jesus says to me. "On this, your first All Saints' Day since your husband died, how about you write a little something about how the dead neither marry nor are given in marriage?"
Ugh.
From our limited perspective, this is either a profoundly devastating or profoundly hopeful word. If we are enduring marriages that bring more suffering than life abundant, it hits us like a promise. "I may be doing this for my lifetime, but there will be an end to it finally." If we are enjoying a marriage that is more akin to the ideal described in Theology of the Body – mutually loving, supportive, growing, sacramental, flourishing – well, it can hit us like a threat. "What do you mean, we won't continue belonging to each other in heaven? Sounds like a curse, not a blessing."
…"and he is not God of the dead, but of the living,
for to him all are alive."
Here is what occurs to me: we no more understand this teaching of Jesus than a small, striped caterpillar can understand a teaching about growing wings and flying. Can you imagine? The caterpillar is not suited for flight, as it is. Falling and fear is all it could envision…if it had the capacity to imagine it at all.
Our mortal lives are fragile, constantly threatened by death, bounded by failing flesh, punctuated by the haunting terror of the final breath and the impenetrable mystery that lies beyond. Descriptions of "being like the angels" for us earthbound wanderers aren't attractive to most of us – because we simply can't imagine that state at all. Sounds sterile and lonely. Sounds like falling and fear. Sounds like something we're not made to love.
But we will be changed. On the one hand, we will be as fully ourselves as a caterpillar is fully the butterfly it grows into, as fully ourselves as a seed is fully the plant that it becomes. On the other, we will be as different from ourselves as we experience ourselves now as an iridescent blue-and-black winged creature is from a crawling caterpillar, as different as a full-grown mustard tree is from a small, round, brown seed.
This is a mystery, Paul reminds us elsewhere. And we can no more imagine it – or desire it – than a caterpillar could desire to fly, than a seed could naturally envision the flower that lies within its heart.
What Jesus reminds us is that our God dwells on both sides of that chasm, on both sides of that life – God is here, with us, in our mortal living, tending the caterpillar-seed-humans we are  – and God is "there," with the dead, with those who have finished earthly life, rejoicing in the butterflies and flourishing plants we have become – and because all are present to God, to God, all are alive. What does this mean? Among other things, it means that we can trust God to know and intend our good on both sides.
My dead husband and I will not be married to each other when I join him on the other side of Jordan. But we will be brother and sister in a new way – children of God, fully flourishing and redeemed, perfected in love. I can no more speculate about what those relationships among God's children will be like than I can describe growing wings and flying – but I can choose to trust that the One who loved us to the grave and beyond intends good to us, and not evil – and knows better than we do what that good will be.
So lead on, Brother Jesus. Help us keep our eyes on you and our feet on your Way. And pray for us, butterflies and trees and other saints. Help us desire what we shall become.