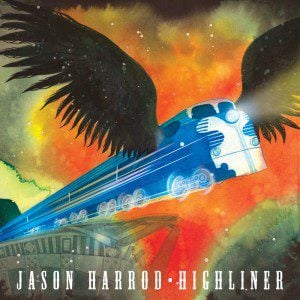 I don't think we should look solely to the church for our definitions of God. If God is greater than our ideas of God, then God can't be limited by a sermon.
Enter the artists–the left-brained individuals who paint the world differently than most, in words, in color, in music. The conference Sick Pilgrim is co-hosting in June at Notre Dame will give us all the opportunity to pay attention to how artists are Trying to Say God.
Not just writers, but visual artists and musicians too.
Jason Harrod, a singer-songwriter who hails from the northeast, from Boston to Brooklyn, will perform after keynote Mary Karr's address.
Harrod's music, a blend of folk-rock, blues and bluegrass with solid poetic songwriting, battles existential loneliness, but sometimes, in songs like "Chains" he also battles belief as both mysterious and fettering:
"I believe, I don't know why
Only you can make me shine"
From the sweet, upbeat "Carolina" to the melancholy "Outpost" to the unshakably optimistic "When I Fly Away" and even in his collection of Christmas hymns, Harrod mines the broad spectrum of emotions – which I find especially refreshing in a Christian artist, who will often feel pressured to tell stories only of shallow joy and redemption.
"What singer-songwriter Jason Harrod does best is turn daily moments numinous. Quite simply, Harrod's imagination is for this world; he finds deep secrets in ordinary places." — Image Journal
But Harrod's music isn't just about being Christian, it's about being human. One of his albums is aptly titled Living In Skin. His songwriting is unafraid to tackle unanswered heartache and frustration. While he acknowledges the hope that lies beyond, he also admits it often remains out of sight.
When I asked Jason Harrod what "sick pilgrim" meant to him, he pointed me to the song 'I am a Pilgrim" by Johnny Cash:
I am a pilgrim and a stranger
Traveling through this wearisome land…

I'm goin' down to the river of Jordan

Just to bathe my weary soul
If I can just touch the hem of his garment, good Lord
Then I believe he'd make me whole.
Harrod's music reminds me that we're pilgrims, traveling together, helping each other to reach for the hem of God's cloak.
***
Jason Harrod will perform at the Trying to Say God conference at Notre Dame June 22-24. Please click the link for more info and we hope to see you there.