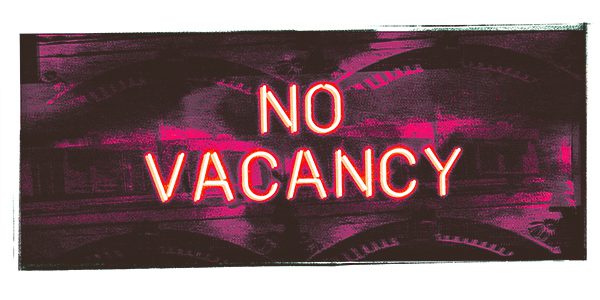 Art by Brian C. Jocks
"Come to me, all you who labor and are burdened,
and I will give you rest.
Take my yoke upon you and learn from me…
and you will find rest for yourselves.
For my yoke is easy, and my burden light." MT 11:28-30

 
Is it all bullshit?
Is Christianity just a coping mechanism people created to deal with unfair suffering and the ugly finality of death? Does faith start with a longing for shiny eternity, and religion simply fill in the gaps from there?
It's tempting to believe in a perfect paradise after death, where all suffering ceases and I'll be reunited with those I love–without my wheelchair. That knowledge makes funerals more bearable. The ends trounce the means…right?
Since childhood I've been immersed in the Catholic culture of southern Louisiana. It offers salve and purpose to me, faced with a degenerative debilitating disorder. Is this why I still go to Mass, still identify as Catholic?
When Sunday's Gospel reading is a direct quote from Jesus offering comfort to tired wanderers, I'm drawn in. The siren is singing to me.
The truth is, the reason I stay close to this blog, Sick Pilgrim, is because of its focus on how to be Christian in the here-and-now. We just co-founded a whole conference dedicated to giving voices like mine–the hesitants, the doubtfuls–the mic so we can be heard in the literary and artistic worlds. Firm believers too; but genuineness is the voice we want to encourage. Genuineness and doubtfulness go hand-in-hand more than many believers care to admit.
Missing this first conference may be the reason this devotional of mine is so dark. Traveling with a disability is not easy, and reserving one of the rare wheelchair-accessible hotel rooms on the campus of the University of Notre Dame was well beyond my price range. Whether this is whiney or honest, it hurt; missing out on that chance of community is an awful regret; fretting that I missed my chance due to my personal challenges makes me yearn for a perfect, but distant, forever.
It also makes me wonder if I would still be a Christian if I knew I wouldn't get to that big party at the end.
I realized a future Heaven is the central part of what I believed growing up. Would I accept the easy yoke and the light burden of Christianity if heaven wasn't there? Without the belief that one day I wouldn't need this wheelchair?
Or–if heaven and hell both satisfied, who would I follow into the dark? Would I still take Jesus' yoke?
Like most things, I don't know. But I think therein lies faith: I must believe and act in a way not focused on the future, but on the here-and-now.
I have no idea what the future holds. Maybe I'll get to the next Sick Pilgrim conference and find that tangible community I long for; maybe I'll be cured one day; maybe I'll die a premature death; maybe I'll get into heaven; maybe it doesn't exist; maybe I'm not allowed.
For now, I'll keep trying my best. Maybe that's good enough. Bring on the yoke.