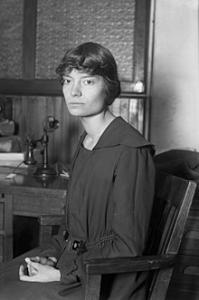 In my 33 years as a Catholic, I've found the saints–canonized or not–have often found me when I needed them, when I was ready to learn the lessons they could teach.
At the forefront of this cloud of witnesses, bearing me up and urging me on, is Dorothy Day. By now, many Catholics are familiar with her name, perhaps recognizing her as the co-founder and spiritual mother of the Catholic Worker movement. She is that, but also so much more – convert, writer, mother, grandmother, convicted criminal, pacifist, daily communicant, post-abortive woman, mystic, and spiritual mother to millions.
Day found me during a time in my adolescence when I knew that believing in Jesus and caring about injustice should always go together, but examples of people who did both were thin on the ground. She found me again on a hot July day when I was working at a soup kitchen with a group of other teens. Our group was part of group called GIFTS, Growing in Faith through Service. We spent time doing direct service with the poor and then came together to process and to engage our service learning with our faith. On that day, I was 16 and working at the St. Francis Soup Kitchen in downtown Scranton, serving lunch to folks in need of a meal, a kind word, a cool place to sit.
Our site director, an older man who had been working at St. Francis for years, was telling us about the Catholic Worker and his many visits to the "The Worker" in New York City over the years. As a young man, he'd met Dorothy Day once while there. He spoke of her with the awe of a child referencing his mother. I had to know more.
Over the next several years, I tried to find more of her work, not an easy task in the days before the internet and Amazon. But she found me again in college and from that time on, she's been teaching me–because she and God know that I need it. There have been years and seasons when I know she was giving me serious side-eye, but she hasn't abandoned me yet, and for that I am truly grateful. David Scott described her as "a single, working grandmother living in the slums, who prayed the rosary and went to Mass every day, who marched on picket lines with longshoremen in the 1930's and farmworkers in the 1970's, who went to jail for protesting war and took communion from the hands of the Pope."
In modern parlance: my #squadgoals.
In honor of her birthday, and of the challenge, gift, and prophet she has been for women and the church, I want to share what she's taught me, reluctant student that I've been:
We cannot love God without loving the poor, and we cannot love the poor without knowing them.
This is the challenge of my life and our times. We live and work and worship in segregated spaces. Segregated by race, by ethnicity yes, but even more by income. How many of us move among the poor on any kind of regular basis, and as an equal, a friend, in community – not swooping in with all the answers as a "savior"? Her example here shines. Once, upon sitting at a table in the Worker House with a man who was highly intoxicated and rambling incoherently, someone came in to speak with Dorothy. Yet before he could say anything, she looked at him and said "Oh, were you wanting to speak with one of us?" indicating herself and the man next to her at the table. I feel a tangible sense of my own pride and judgment of the poor, incoherent, intoxicated, when I realize that I would always assume someone had arrived to speak with me. Yet, Dorothy's example is what love for the poor looks like. She also pointed out that "all the saints have begun their mission by seeking Christ among the poor."
The love that comes from authentic, just, community is the only antidote to the world's suffering. Community, real community, is the only answer for the pain and isolation of our world and it's alienating institutions. Community where each one is seen and valued for the spark of Christ within her, and differences are invitations, not calls to arms.
We cannot do the works of justice for the long haul without prayer and the sacraments. Dorothy attended Mass daily and prayers including adoration and the rosary were part of her everyday life. She openly spoke of receiving the needed energy, perseverance and humor to do the work of the community through her daily Mass and prayers. Through reception of the Eucharist and prayer, we are given hearts of flesh that we may have the courage to do the works of mercy and justice.
It is not our place to judge who is or is not "worthy." Dorothy taught me that none of us is worthy to judge the worthiness of others. Fall-down drunks and addicts like my father are no less worthy of love, safety, and food than the holiest of saints. Christ lives in both, and there is no time to stop and figure out who "deserves" and who doesn't. She wrote, "We must see Christ everywhere, even in his most degraded disguise. There is no time to stop and figure out who are the worthy and who are the unworthy. We are each of us unprofitable servants. We are guilty of each other's sins."
Faith in Christ and work for justice can never be separated. Day was said to read the news of the day with the paper in one hand and the Gospel in the other. The Beatitudes, the judgement of the nations in Matthew 25, the very words of Christ – these, along with her knowledge of social movements, political philosophy, and literature – formed in her mind a clear picture of how the works of mercy and justice must always involve real people in their needs, and lives, and circumstances. It is not enough to pray and wish them well – we must ourselves perform the works of mercy and justice. This is the "way of love" of which Day spoke frequently.
A way in which, to paraphrase Jesuit theologian Henri deLubac, if we have chosen the poor, we have chosen like Jesus. We have chosen Jesus.
Day–mystical and yet so very grounded–is the revolutionary I need in an isolated, materialistic world. She's the prophet I need to challenge my comfort, my pride, and my insulated privilege. She's the saint I cannot so easily dismiss.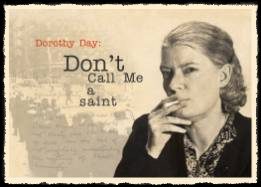 Sarah Babbs is a writer, mother, fertility counselor, social justice advocate and frequent contributor to Sick Pilgrim. She blogs at Fumbling Toward Grace.
Read more of Sarah's work at http://www.patheos.com/blogs/sickpilgrim/2017/07/dark-devotional-worthy/#Eyip7DuHTwcfgW15.99