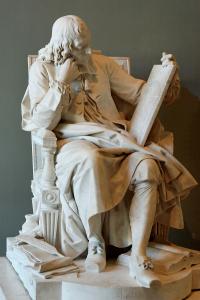 The year of grace 1654,
Monday, 23 November, feast of St. Clement, pope and martyr, and others in the martyrology. Vigil of St. Chrysogonus, martyr, and others. From about half past ten at night until about half past midnight,
FIRE.
GOD of Abraham, GOD of Isaac, GOD of Jacob
not of the philosophers and of the learned.
Certitude. Certitude. Feeling. Joy. Peace.
GOD of Jesus Christ.
My God and your God.
Your GOD will be my God.
Forgetfulness of the world and of everything, except GOD.
He is only found by the ways taught in the Gospel.
Grandeur of the human soul.
Righteous Father, the world has not known you, but I have known you.
Joy, joy, joy, tears of joy.
I have departed from him:
They have forsaken me, the fount of living water.
My God, will you leave me?
Let me not be separated from him forever.
This is eternal life, that they know you, the one true God, and the one that you sent, Jesus Christ.
Jesus Christ.
Jesus Christ.
I left him; I fled him, renounced, crucified.
Let me never be separated from him.
He is only kept securely by the ways taught in the Gospel:
Renunciation, total and sweet.
Complete submission to Jesus Christ and to my director.
Eternally in joy for a day's exercise on the earth.
May I not forget your words. Amen.
After the death of the French philosopher Blaise Pascal, they found a note stitched into the lining of his coat. The above text was written on it.
Writing about mystery is hard. Not because mystery is hard to find, but because everything is mystery, once you start looking at it. In one of his so-called fragments, Pascal wrote that we are stuck between two infinities: stuck in the middle, never able to see the end. Pascal says that we "drift under a vast milieu . . . driven from one extremity to another." Perhaps this is why Pascal wrote in fragments. Why he wrote in pieces. In thoughts; in pensées.
Pascal comforts me. He comforts me as Abraham Heschel's The Sabbath comforts me, and Kierkegaard's leap of faith and his telling and retelling of the story of Abraham and Isaac comfort me. Mystery comforts me.
Mystery is something I've only recently allowed myself. Ten years ago, I accidentally joined a cult. Cults know things, and knowing is a drug as addictive as power because, in reality, it is power. They say that knowledge is power. But knowledge also makes one feel powerful. Powerful and safe. Knowledge gives us the feeling that escapes Pascal: the feeling of grasping the beginning and the end, the feeling that we are on solid ground. In my cult, I was supposed to know when God spoke to me. I was supposed to know the right way to interpret the Bible, and world events, and which acts of government to support and which to denounce. But that wasn't the God I knew, so I disagreed, and they kicked me out. They established a boundary of knowing and relating.
I've always liked Pascal because when I read his writings, it's like I know his heart, because it is my heart too. I know his love of mystery, his acknowledgement that we are swirling in a milieu and that it is beautiful and endlessly explorable and as blinding as looking straight at the center of a lightbulb. The fragment in Pascal's coat is often interpreted as a record of his conversion moment. I sometimes wonder if he carried it with him because he wanted to hold on to the one thing he knew in the midst of the swirling milieu of being: whatever it is that happened to him on the night of November 23, 1654.
Pascal comforts me because I know that there has, at least once, been a person who sees as I see, who wonders as I wonder. Somehow that makes me okay. It makes who I am part of a larger stream; it makes how I wonder part of the fabric of nature. If it happens twice, it is something more real than me, and it is not an accident or imaginary, but something that partakes in the blinding reality of existence.
Wondering is not much in fashion these days. It lacks action. I think Pascal did a lot of wondering, then he wrote it all down, and it was good enough that we still read it. Beneath his writings I hear a quiet urgency that feeds me: "Keep wondering. That is where beauty lies. That is where God lies. Out there. Keep looking that way."
Emily Terrell lives in Durham, North Carolina and spends her time mothering three young children and studying to be an archaeologist. She has a Master of Theological Studies from Duke Divinity School and a B.A. in Liberal Arts from St. John's College, Annapolis.
"Approaching Mystery" is a regular feature on Sick Pilgrim curated by Joanna Penn Cooper in which we post vignettes that dwell on the mystery of the everyday, that hang in an unresolved (and unresolvable) space of wonder and unknowability.
Read more at http://www.patheos.com/blogs/sickpilgrim/2018/01/approaching-mystery-angela-crows-cage/#GHB1Em91x7zIWGpq.99