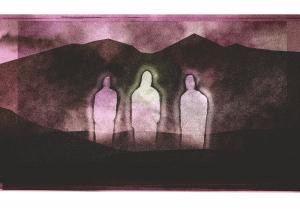 Art by the brilliant and transfigurative Brian Jocks.
I do not like Lent.
There I said it. I don't like the fasting. I don't like the somber masses without the hallelujahs. I don't like preparing for Jesus' death. Yes, yes, I know that we are preparing for the glorious moment when he raises up from the dead, but from the minute I finish eating my pancakes and dancing with my students to zydeco on Mardi Gras, until I am biting off the ears of my chocolate bunny on Easter Sunday, the journey through Lent for me is a journey through rough country to the grave.
The message of Lent is hard. Take this Sunday's readings. Abraham sacrificing Isaac? A man who went through years believing he would never have a child, is granted a miracle son in his old age, and then is asked to sacrifice him, and does? How can I live up to a faith like that? I can't.
Lent. Is. Really. Hard.
I find the disciples in today's gospel to be more relatable. I can understand them, at least. When Moses and Elijah join them on the mountaintop, and start talking with a glorified Jesus, Peter's response makes sense to me. He wants to jump to practical action—I can build you three tents!—because he has NO idea what to make of this experience. I am sure that if I had been there, I would have been as terrified as James and John.
Have I mentioned Lent is hard?
Like Peter, James and John, I am walking away from the mountain, trying to wrap my head around the very concept of Jesus "raising from the dead." But first, I have to come to terms with the knowledge that Jesus is going to die the horrible death of a criminal. That where Abraham was obedient to God by being willing to sacrifice his son, Jesus was willing to put himself in the place of the required sacrifice—us.
The truth of Lent is hard.
I know how this story ends. I know that Jesus defeats death and hell and comes back to us. I know that Easter Sunday is coming. The hallelujahs will be sung at mass. Until then, though, I am glad that I have these hard words of scripture to ponder. I am glad for the chance to get closer to the Lord my God.
I am grateful that Lent is hard.
*****
Kristen Allen is a mother, daughter, wife, aunt, niece, and preschool teacher. She lives in central Massachusetts with her remarkable husband, two sons (because her daughter had the good sense to move out of town) and two incorrigible dogs. She's written about family life, education, community service, and her ongoing battle with the Almighty at The Prodigal Son's Mother, The Woonsocket Call newspaper, and other publications.