I'm ready for spring.
Some people live for colder weather– the days when the air is chilly enough to wear more layers of clothes makes them giddy and eager to wear several accessories, making sure that everything matches or meshes together to look fashionable.
I hate everything about that sentence. I blame my Cajun blood. Give me shorts or jeans and a tee-shirt over scarves, gloves, and petticoats any day. I'm not even sure what a petticoat is, and I hope I never have to know.
So instead of grumbling, I want to revive one of my favorite series on this blog, "Things Keeping Us Alive." Some people in the Sick Pilgrim community give us a couple of small things that give them small joy right now. The hope is that it may give the reader some ideas on new and small ways to find joy. We tend to be a rather melancholic crew at the blog. We bring you some things that are keeping us going.
As for me…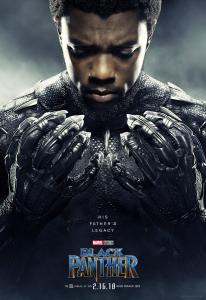 Black Panther. Even for a geeky guy like me, I've become pretty burnt out on the excessive superhero movies. I thought that this movie would be more of the same, tiring me more of the flashy movies based on comic books. I couldn't have been more wrong. Of course it still had headache inducing scenes of fast-paced, unrealistic action sequences, but aside from those was a monumental underdog story, one never told before in mainstream superhero fashion. I am talking about black people and how they've been treated as subhuman for far too long. So if you don't agree with that statement you will hate this movie. But on the bright side, the worst kind of people hate this movie. That's reason enough for me to see it.
Plus Lupita N'Yongo, Angela Bassett, Forest Whitaker, and Danai Gurira (Michonne from The Walking Dead) all co-star. They're all phenomenal in their own right.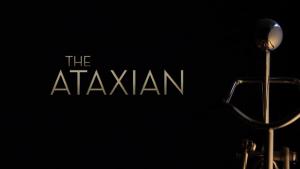 And The Ataxian is finally coming out on video formats. This documentary is about one of my best friends; he has the same rare disorder as me and created a 4-man team (including himself and another person with FA) and participated in the Race Across America, the world's toughest bike race, which is nonstop from California to Maryland.  I am excited to go one mile in my own recumbent trike. Kyle puts me to shame. So please check it out after February 26 on iTunes, Google Play, Amazon video, PlayStation, and Xbox.
So, two movies for me. No surprise. I asked some other sick pilgrims what was giving them small joy right now.
*****
Shana Hutchings lives in the Midwest with her family where she enjoys baking, reading, and going for long walks alone. She pronounces her name like "banana" and if you forget that, she will cut you.
As I wind through my final weeks of pregnancy, I've been kept afloat by the creative works of others.  
I recently read yet another cancer memoir (my favorite genre these days, it would seem).  Everything Happens for a Reason: And Other Lies I've Loved by Kate Bowler is a beautifully haunting book about her experiences with cancer.  She's a scholar of the Prosperity Gospel, so she weaves her experiences with the oh-so-hopeful vision of the movement she's studied for years.  I think I've enjoyed the interviews she's done about the book almost as much as the book, though.  I particularly love the one she did on NPR's Fresh Air, where she admits Mennonites (her faith tradition) have always "been committed to simplicity, pacifism, ruining jello salads with deli meat…"  Having consumed many salads in this category, I enjoyed the humor in that statement.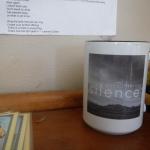 I've also been loving a new podcast called Encountering Silence.  It has a conversational feel, so I can imagine myself in the room with the hosts of the show.  Their conversations have encouraged and challenged me.  I love the show so much I decided to contribute to their work and they sent me the best coffee mug ever.  I use it every morning for my hot coffee.  It's truly keeping me alive!
*****
Annie Williams is a fantastic sponge: she lives with her parents in Mount Hermon, CA. She is a non-degree student, because she is too heretical to be accepted fully, at Western Seminary, where she studies to become a Licensed Marriage and Family Therapist. She plans to work with neither marriages nor families, just neurotic individuals like herself. [Author's note– coolest sponge I know, on par with the Squarepants one.]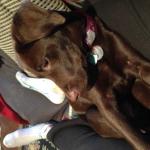 My puppy, Olive. She keeps me not only alive but awake and well. Part of having a diagnosed mental illness is hearing over and over again how much less depressed you'd be if you'd go out and exercise. Part of being me is saying, no thank you. Part of having a Labrador retriever puppy is walking 6-10 miles a day. Win all around.
Stress Away essential oil. My friend gave this to me. It smells like gin and tonic. It's great. I don't know if it actually lowers my stress level in the long run, but it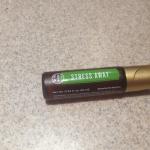 makes me snicker immediately. And any form of laughter is good for the soul. It's like having a cocktail without the cirrhosis or the impaired senses.
*****
Robert Saler is executive director of Get Up at The Get Down. He is also the newest recruit to te Sick Pilgrim admin team. Be on the lookout for more articles by him coming soon.
Bill Fay is, in my mind, the greatest Christian songwriter in the English-speaking world. He is 74 years old, but his career has undergone a renaissance due partly to boosts from famous fans (Jeff Tweedy has covered "Be Not So Fearful") and partly due to the freak-folk renaissance of the early aughts. His childlike lyrics soon give way to some fairly intense depths, and he embodies a Christocentric, incarnational theology that relies not one bit on the "J-count" of contemporary Christian music. His music has been opening up wounds and closing them for me quite a bit lately.
This music video embodies lyrically, sonically what it means to embrace the limits of love's power in such a way that love can have its own room to breathe. I'm basically pretty shit at doing that overall, but the video makes me feel like maybe its possibility is less far away than it sometimes seems. It doesn't keep me hopeful, but it does keep me alive.
*****
Marie Kopp is about to graduate from college with a bachelor's degree in English Writing. Senior-itis has hit hard, making her ready to leave the place but not her select niche of people. She is missing the Appalachian mountains of her hometown of Johnstown, PA, as she prepares to set sail for a teaching position in Spain this fall.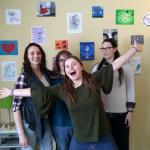 My roommates. Yes, this might be mushy, but it's true. I grew up in a sheltered home-school community, with good people but few with whom I connected deeply. I've simply never had friends like this before. So, in cartoon nights, boozy-jenga games, awkward sex talks, irreverent jokes, and lots of cuddling, these women teach me more and more each day. They've revealed to me both that I am both lovable and deeply loved, that platonic love is so real, friendship so intimate, humans so accepting and supportive and kind. I want to also acknowledge our honorary roommate, Clarke, who has taught me that male-female friendship can be deep and life-giving (and massively entertaining). These homies are truly keeping me alive.
*****
D'awwww. Marie is right: friendship is magical. Or some shit. Find your own small joys and stay alive, pilgrims. See you next month.