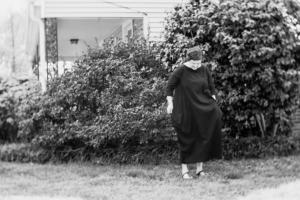 We're all experiencing this differently and have different access to resources, and I want to acknowledge that. Also, sometimes we may find light diversion helpful. Sometimes we may be overwhelmed and sit on the couch all evening staring into space. I support any and all activities that are getting you through this.
That said, here is some of what has gotten me through so far:
I rented the movie Emma on Amazon. (It costs $20 to rent because it's currently in the theater. My one cinema splurge …) I found it diverting and lovely. I could really watch Josh O'Connor make simpering faces all day long. See also this tweet about how we're all Austen characters now.
I watched a couple episodes of Art21: Art in the 21st Century. You can stream it on PBS. I find the voiceovers and depictions of artistic practice soothing.
I've been drawing, sometimes with my son and sometimes alone. And I've been appreciating how drawings are getting my kid through. (He likes to draw robots and inventions to combat coronavirus …) Check out Carson Ellis's drawing prompts. 
I read a friend's poetry manuscript. I've had it for two months and haven't been able to concentrate. But last night instead of reading news articles and freaking myself out, I read it and sent him comments. It felt nice to be able to concentrate on reading for once.
I've been picking up Selected Poems by Tomas Tranströmer (a favorite poet) and reading … selected poems. Check out Shelter in Poems from the Academy of American Poets.
A photographer friend came over and took pictures of me from far away … We both felt strange and uncertain, but it was also a lovely diversion and wonderful to see a friend.
The other night I streamed the American Master's episode about Jean-Michel Basquiat, a favorite artist. And there's a new virtual Basquiat and Keith Haring exhibit up here.
Audiobooks and children's podcasts help my son get through. (Brains On and Wow in the World are his favorites. And Beverly Cleary, whose books you can stream through my library on Hoopla. I also let him listen to Ready Player One through my brother's Audible account—thanks, brother! My kid is only seven, so some of the language was pretty language-y (he liked learning the word "bullshit" ), but he found real solace sitting in a tree with my phone listening to a dystopian narrative. (Thankfully my phone survived.) Audible also has made some books free to listen to here.
In between some mutual meltdowns with my kid—this is useful perspective–we did have a nice moment on a walk with a scavenger hunt we made up together. One of the items was, "List three things you find beautiful or delightful." I loved seeing how that helped shift him into a more peaceful place.
I had horrible insomnia the other night and started watching videos by the comedian Tig Notaro, and that was a needed comfort and laugh. Here's a great story she told for the Moth. (Content warning– it's about death and grief, but it's also lovely and funny.)
I also have a new practice I call insomnia yoga, which mostly involved lying on my yoga mat and also stretching my poor sore muscles on a foam roller I have. (Anyone else feeling particularly sore?) You might also check out Yoga with Adriene on YouTube. She is very comforting and loving and also funny.
*
I think a lot of people are getting through this by creative making of one kind or another. Or by returning to the cultural production that feels comforting to them, whether it's children's books–check out Michael Chabon reading children's books–or television shows. (I also watched Unorthodox on Netflix, which was intense and a bit claustrophobic, but compelling.)
There's also a great deal of home-based creativity going on. Baking, arranging one's space, gardening. And then sometimes, we're just getting by the best we can from moment to moment, and that is ok, too. I've been noticing what comforts me, the simplest things. Taking a shower. Clearing off my dining room table after a week of clutter collected on it. Forcing myself to take a walk at dusk and admiring others' gardens. Constant reminders to be gentle with myself.
I'd love to hear what's bringing you solace.
Poet and essayist Joanna Penn Cooper Cooper is the author of The Itinerant Girl's Guide to Self-Hypnosis (Brooklyn Arts Press) and What Is a Domicile (Noctuary Press). Her latest chapbook, When We Were Fearsome, was published by Ethel Zine Press in 2019. She lives in Durham, NC.
Image credit: Lis Tyroler Photography