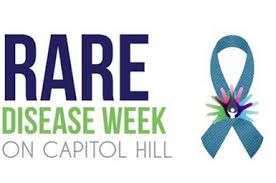 The sun was setting, and this Cajun was still not freezing.
In the distant north of Washington, D.C., at the unforgiving time of the ending of February, I expected frigid misery, but I'd eagerly accepted the invitation to lobby on behalf of the 1 in 10 Americans affected by a rare disease or disorder. After all, I'm a political nerd. But I was more nervous than Ramsay hearing that Sansa had released my starving hounds. There was no denying that winter was coming for me.
But trekking several blocks to a restaurant for dinner, the six of us coming from a conference prepping us to lobby the next day, it felt chillier than swampy Louisiana, yet much more brisk than unreasonable.
With the White House on our left, our guide Ron pointed to our right. "Down that street," he said, "is the historic Windsor Hotel. Anybody know why it's famous?"
A feeling I hadn't experienced since the end of grad school washed over me — competition, and the longing for a teacher's approval — as I wracked my brain, trying to come up with an answer. I had no idea.
"Before we had a Capitol building" Ron told us, "Congressmen would meet in that hotel. And anybody who wanted to ask favors of them would gather in the public areas of the hotel, so -"
"'Lobbying,'" my friend Sajid said, beating us all to the punchline.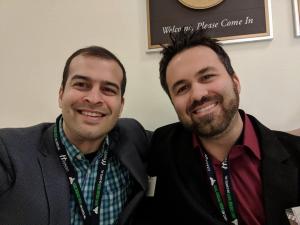 That know-it-all Saj and me.
"Yes," Ron said, "and that's why we call it 'lobbying' in the US."
My bitterness at losing my chance to brown-nose passed quickly. I was pushed up a ramp into the wheelchair entrance of a dim and swanky restaurant.
March 1 is international Rare Disease Day. In the US, the entire week is celebrated as Rare Disease Week, put on by the Rare Disease Legislative Action Committee. A major highlight of the week is Lobby Day, when a group of Americans united under the title of "rare disease community" –an often voiceless population–gather to meet with the national congressional members from our respective states.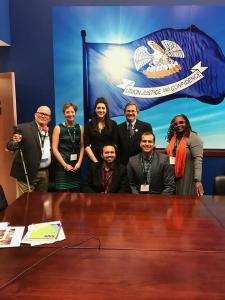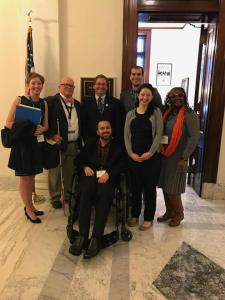 The Louuisiana crew.
I'm amused at the label "rare," as 1 out of 10 Americans struggle with a rare disease/disorder. Speaking up for 10 percent of the American population was one of the highest honors I had ever experienced.
I and the five other members of the Louisiana lobbyists for rare disease spoke to six federal Congress members representing Louisiana.
We had three asks for our representatives:
1) Support the OPEN Act making its way through Congress, which would  repurpose existing therapies and orphan drugs to treat rare disorders whose symptoms they alleviate even though they may not have been designed for use with those rare disorders
2) Support HR-5602, making its way through Congress, which would mandate the input of all diagnosed disorders into a national registry, along with the recommendations for treating each– meaning no more medical professional who have no idea about what to do when they see me–YES!
3) Join the Rare Disease Caucus, a small group of Congress members dedicated to pass legislation towards benefiting Americans with rare disorders.
I didn't expect to feel as hopeful as I did. It's easy to throw your hands up in disgust at the current state of our politics, and I'm often guilty of that. But being there–going through the basement tunnels between buildings and meeting other concerned citizens, spotting Congress members randomly walking down the hall, eating in the unspoken awesomeness that is the cafeteria in Congress–I began to realize the truth of what we'd been told the day before, at the RDLA Lobby Day preparatory meeting: We were no longer beholden to a political party.
It's easy to be an armchair pundit — to rail into the void against whatever policies you don't like. But to be there, in-person, doing something for an issue you believe in, you see in the opposite political party friends and allies where before you saw only enemies.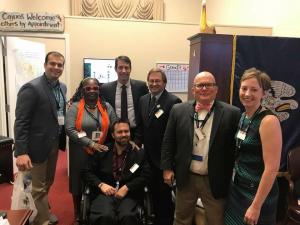 Special shout-out to Representative Garret Graves for the love he showed us.
I hope that you hold onto whatever passion you have that's worth fighting for. And I hope that at the end of the day, you can see the person beyond their party.
I'm working on it.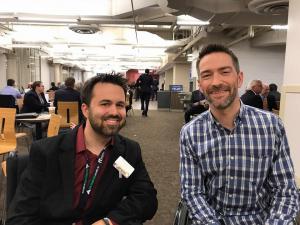 Me and my buddy Kyle on Rare Disease Lobby Day. Contrary to popular opinion, our disorder is not the ability to make your girlfriend swoon. That is just a bonus.
One in ten Americans has a rare disease or disorder. Go hug someone in your life who suffers from one. Let them know that you stand with them. The isolation may be just as rough as any disability.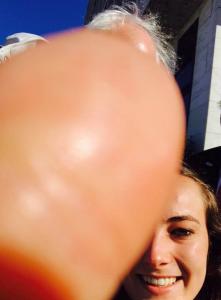 In my favorite picture from the day, my friend Scarlett was very excited to meet Senator Bernie Sanders, but the disorder that both she and I have, Friedreich's ataxia, affects our finger coordination and dexterity; this is the selfie she took with Bernie.
Happy Rare Disease Day.
#CureFA