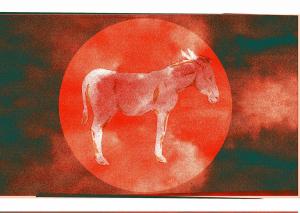 The curtain is about to rise on the greatest week of the year for Catholicism. The first act is this Sunday, when the church-going Catholics stand for the lengthy and familiar reading from the Gospel. The story is a familiar one, acted halfheartedly by the congregation and the priest.
"Prophesy!" most of us shout, pronouncing it as a noun instead of a verb , and somehow causing the story to make less sense.
See, that's what I do: I play the role of smartass pretty often, probably in the hopes of getting a laugh, in order to feel special.
Well, maybe "special" isn't the right word. Maybe "worthwhile" is.
My faith in the church and all things supernatural is fading. But I'd still like to work on sainthood, focusing on what I do instead of what I believe.
Someone striving to be a saint that doubts the existence of a God? Seems I've devolved from smartass to dumbass.
But maybe being genuine matters more than being narrowly pious. Maybe despite my struggle to believe, I can still be honorable. Still be worthwhile, after all.
As Gilbert Keith writes, even asses have their day.
The Donkey by G. K. Chesterton

When fishes flew and forests walked
And figs grew upon thorn,
Some moment when the moon was blood
Then surely I was born.With monstrous head and sickening cry
And ears like errant wings,
The devil's walking parody
On all four-footed things.The tattered outlaw of the earth,
Of ancient crooked will;
Starve, scourge, deride me: I am dumb,
I keep my secret still.Fools! For I also had my hour;
One far fierce hour and sweet:
There was a shout about my ears,
And palms before my feet.
*****
Matt Lafleur is a regular at Sick Pilgrim.