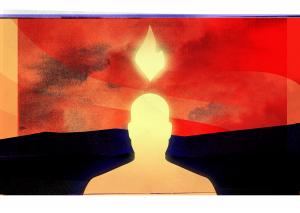 Art by the spirit-filled and fiery-tongued Brian Jocks.

The charismatic movement's impact in both Catholic and Protestant circles is a force to be reckoned with. At its best, it is a source of genuine conversion of heart with strong ecumenical implications. At its worst, you might find manipulated and sensational attempts of conjuring something super-spiritual and spooky, reminiscent of Saul's need for direction from the witch of Endor. Discernment of spirits is an overlooked gift in some of these circles, yet in others it functions practically as a premature and forbidden judgment of souls.



My former "Full Gospel" pastor tolerated anything that wasn't too distracting, but this was the same church that turned down the air conditioning during the slower and often spontaneous worship songs. Coincidentally, people felt the rushing wind of the Holy Spirit. Real demons and perceived demons would be dealt with in the deliverance room on the side of the church. All sorts of mental illnesses, addictions, religious traditions, and physical ailments, even the spirit of cancer, would be cast out. People would prophesy during church, others would provide a message in tongues followed by an interpretation. These would usually be about revival coming or blessings falling, and any word of judgment or call to repentance better be quick and tempered. Personal prophecies were allowed, and people were prophesied into or out of relationships, careers, and business transactions. My pastor's take was that if any this stuff wasn't of God, it was still okay as long as it was good. On a side note, it was never good if it interrupted the offering or the high pressure sales pitch before it.

The pinnacle of this madness was the laughing revival of the 1990s, also referred to as the Toronto Blessing. Whereas there had been a history of people being "slain in the Spirit," a state of falling to the floor unconscious but resting in God's peace, the new phenomena was explained as being so drunk in the Holy Spirit that one was overwhelmed by holy laughter to the point of falling down and rolling on the floor.

I loved this stuff as a teenager. There were reasons at home I needed the peace of being slain and the joy of being drunk in the presence of the Lord. But even as wild a charismaniac as my eighteen-year-old naive self felt a pinch of discernment when my classmates in Bible college started to bring a beach ball to our Person of the Holy Spirit class and our Signs and Wonders Laboratory class. Yes, I know that last one sounds weird, and it was. The phenomena of the laughing revival was so routinely expected to disrupt and take over our class that students brought the beach ball to bat around joyfully as they died laughing to the glory of God, sometimes for nearly three hours.

I doubt this was God, but perhaps there was some good in it. Perhaps, a real need was being met that would not have been met otherwise by bad theology and unchecked nuttiness. Perhaps there was something practical in my old pastor's openness to anything good even if it wasn't of God. Perhaps there was something sinister behind that same practicality, an inability to recognize transcendental goodness as a quality of God, a failure to see God in all good things, and a gnostic temptation to make anything that was truly divine in origin something so overwhelmingly super-spiritual that it denied the revelation of God in the natural world.

I am thankful for my old coreligionists, and I take a slight degree of pleasure in recognizing them in such a manner that would definitely cause offense. They hate "religion." But Scripture reminds us that pure and undefiled religion in the sight of God is visiting orphans and widows in their distress and keeping ourselves unstained by the world. I wish that was one of the ideas of Scripture emphasized better in that church, much more than any of the nonsense feelgood doctrines that kept the offerings coming. Still, for all of the toxic residue that still resurfaces in my life on occasion, they meant well. They showed me Scripture and kept me company. That was good. That alone is pretty close to God.

Pentecost marks a transition from the spiritual heights of Easter into ordinary time, time when God is still present even if we are conscious of the tedious and mundane, the drudgery and malaise of everydayness. Somewhere beneath all of the noise we may generate demanding God to show up, there is a still, small voice reminding us that God never left. My hope for all of us this Pentecost is that the Spirit draws us to greater unity, that we are provoked to greater works of charity towards widows and orphans in their distress, that we all find the stress of daily living refining us in a greater purity. Most especially, I'm praying that we all realize God is present and does not need to be conjured. May the Holy Spirit open our eyes to every good and beautiful and true place where God may be found.

*****

Toby D'Anna entered the Catholic church nineteen years ago after burning out from charismatic super-spirituality in the evangelical subculture. His childhood and college years in Louisiana had its share of characters and incidents straight out of a Flannery O'Connor story. Toby and his wife, Emily, live in Tacoma, Washington where he teaches middle school English, serves as an adult catechist in his parish, and participates in the Communion and Liberation movement.