Republished with Permission from the blog Crone Cafe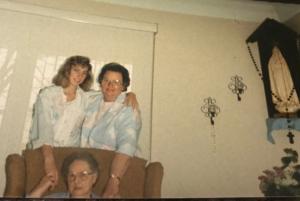 That awkwardly-framed 80s photo is a picture of three generations, plus the BVM statue in the corner (for non-Catholics, that's the Blessed Virgin Mary). I believe it's Mother's Day of my senior year in high school, so I was 17, my mom was 57, and my grandma was in her late 80s. The BVM is of course timelessly young, pure, and perfect.
My niece presented me with this and many other pictures when I went to Michigan to say a final goodbye to my mom in March. This photo was taken during a tumultuous time in my relationship with mom, and we were frequently either arguing or icily ignoring one another. I felt ready to be capable and independent; she was worried that the world would eat me alive. We were both right. After having these moments with my own teen daughters, I know how that feels from both ends. (Once I moved out of the house our relationship dramatically improved, and by the time I had children of my own we were close.)
Now at 47, I can also look at that picture of my mother and wonder if she was worried about losing her mother. By this point she and my aunt had moved my grandma closer to them so they could take turns visiting her almost daily. Mom was perhaps less worried than I was at the end that she would walk in and be mistaken for another nurse on the ever-changing rotation. But now I know—now I know what it is to lose your mom as your mother, before you lose her as a person; to leave your mother after a painful visit and wish you could talk to someone about it—but the only person you want to talk to about it is your mom. I can look back at this picture and see myself in my mother there, the reverse of relatives scanning new baby pictures for a repetition of their own nose or chin dimple. Instead I see clearly my own worry—about parent, about child, about one's space in the middle. After all, she was a crone at that point, though I doubt she would have used that word.
It quickly becomes dizzying, swimming backward and forward through the generations and the roles. There is so much love, and care, and worry, stamped over and over, spiraling up and down through the DNA—which brings us to that statue in the corner.
As I mentioned, the statue is of the BVM, Jesus's mother, stereotypically depicted as a young teen. Someday I will tell you more about the statue itself; it was in the corner of my parents' home my entire life, having been given to them by my father's mother (she died a year before I was born). The picture is skewed to include the statue purposefully—it would have been important to my mom on Mother's Day to include the Blessed Mother in the picture. Mom and Dad were both devoted to her, and prayed the rosary daily.
As a young child I admired the statue's beauty and took seriously the responsibility of filling a vase full of Lily of the Valley (one of the approximately 7 billion flowers that have Marian-specific meaning) to put by the statue. By my teen years I was less thrilled, since it meant having to kneel rather than sit during family rosary time and bearing her name was often just another source of teasing ("ooooh….your name is Mary? You must be a viiiiiiirgin!"—which was true, but not something I wanted chanted at me on the bus). In truth, I had also come to resent that pure, idealized beauty and her annoying silence in scripture. Having already passed the youngest teen years it was clear I wouldn't come close to the physical beauty, and keeping quiet was difficult even during the 7 weeks my jaws were wired shut at the beginning of my senior year.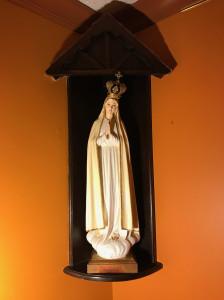 But looking at the photo I see that the statue, and Mary herself as a Divine Mother, have a stabilizing power. When those real mother-daughter relationships get swimmy and rocky and unsteady, as they do—there she is. Quiet, yes. Listening. Not judging (that's not her job, after all). Interceding. Loving. (Don't be fooled by the quiet—Mary is also a model of strength, power, and action. Our dear friend and fellow crone Eve perfectly describes who Mary really is here.) No, we don't worship a statue. But its constant presence in the corner through decades does help us focus on an invisible reality that is otherwise easily forgotten—that we have divine as well as earthly parents, and so do our children. That it's our job to love, but also that we are loved, already, as we are. That we may be parents now, but we are always still beloved children.
As a Mother's Day gift, my husband hung the statue in the corner of our family room above the piano. I thought it would take some time to get used to her there, but I've already felt her presence steadying my brain when I get dizzy wondering which role I'm currently playing. Maybe it's just wishful thinking, remembering what felt like countless days under her watchful gaze with my own mother. Either way, I'll be planting some Lily of the Valley in time for next Mother's Day.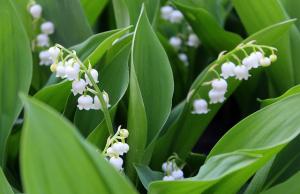 Marybeth Chuey Bishop lives in Annapolis with her husband and children, two dogs, and some scruffy plants. She likes to walk, wear socks with kraken or Poe on them, and write with her blogging partner-in-crime Kristen at Crone Café. You can find them on Facebook or at cronecafe.wordpress.com.