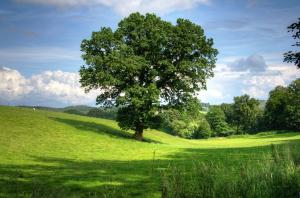 "Happy are those who do not follow the advice of the wicked, or take the path that sinners tread, or sit in the seat of scoffers, but their delight is in the Lord, and on his law they meditate day and night.  They are like trees planted by streams of water, which yield their fruit in its season, and their leaves do not wither.  In all that they do, they prosper."  Psalm 1:1-3
In my Bible, I have a simple drawing of a tree and a note saying, "Meditation in PTS chapel, 10/1/13" written above this psalm.  It reminds me that I gave a meditation on this psalm on that date.  I have no memory of the point of my talk, but I do remember that I used a book called Writing in the Margins: Connecting with God on the Pages of Your Bible.  I remember confessing that the book was making me uncomfortable because it recommended making notes in your Bible, something I wasn't comfortable doing.  I hated the idea of someone opening up my Bible (why would they?) and seeing my notes.  I remember my friend Roger coming up to me after the service to tell me that he had drawn a picture of a tree in his Bible next to that psalm.  And I remember, finally, making a note in my Bible to remind me of our conversation, thinking that if Roger wrote in his Bible, maybe it wasn't so ridiculous after all.
My guess is that my meditation was about how uncomfortable this psalm makes me.   As the opening psalm in the psalter, it reads a bit like a love letter to God's Word.  I like that.  I've been challenged and changed by Scripture many times in my life, so I hold it in very high regard.  I have no problem with that.  What troubles me about this psalm is how easy it is to feel smug after reading it.  If I place myself into the camp of those who "do not follow the advice of the wicked," I come away feeling pretty good about who I am and the things that God has done for my life.  And that makes me uncomfortable.
I have a quote from St Philip Neri on my desk.  It says, "Oh, Jesus, watch over me always, especially today, or I shall betray you like Judas."  I need this reminder every morning.  My betrayals might not be as dramatic as what we associate with Judas, but they're betrayals nonetheless.  When I read the words of psalm 1, I have to work to locate myself as one of the wicked.  But I know from years of experience that I don't embody holiness all the time.  That's why this psalm bothers me.  It seems to present two ways, with nothing in the middle.
I'm guessing that's why I used a book about finding God in the margins as an illustration to my meditation back in 2013.  I have absolute faith in God's love for me, so I'm not worried about that.  What I don't have is unwavering faith in my own ability to love fully, which is why the words of this psalm trouble me so much.  I believe most of us tend to operate in the margins, trying to do our best with what we've been given.  We hurt those we love. We crumble under pressure. We doubt.  But we also act selflessly, lift up the downtrodden, and encourage those who are down. Somehow, God is with us when we succeed at loving, and when we fail.  The path is meandering and never easy, but God meets us on a path that is not so much in the middle as wide and complex.  God meets us at our best and at our worst, and hopes that we'll do the same for our fellow travelers.
Shana Hutchings lives in the Midwest with her family where she enjoys baking, reading, and going for long walks alone.
Image courtesy of Pixabay