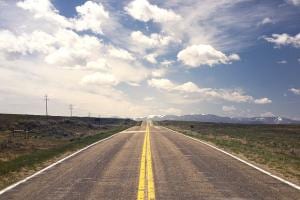 Looking for Home –
Things are meant
There are signs
The heart speaks
There is a way
—Fr. John Dunne, C.S.C.
Working at my alma mater this past week, I found myself drifting across the grey expanse of the main quad in the bitter, colorless air of early February. I asked myself: why am I here? 
Since I graduated from my theology master's program here last May, I have spent the intervening months searching for the next step: first for a job, then for an apartment, then for a Plan. Along the way I have picked up new trajectories, potential partners, and apartments—and ultimately discarded most of them. The constant acquisition and sloughing off of paths forward has been exhausting and discouraging. The question "Why am I here?" has, for most of the eight months since graduation, been a cry of despair. What did I do wrong that led me to be here? What did I neglect to do that has prevented paths from opening up with red carpet and roses at my feet? Why am I in this difficult situation of disappointment? How did I get here?
As I drive away from the cold campus on a sunny Saturday morning, I feel a great wave of homesickness wash over me. I desperately want to go home and I have absolutely no idea where home is. It is not in the place I left behind me—a transient campus community full of loved ones who stay for the duration of a program and then leave. It is not further west down I-90 at my parents' house in Minnesota, which I am tempted to just head towards. It is not, I am certain, in the spanking fresh NYC apartment to which I am returning: a punishing fifth-floor walkup that is newly refurbished and sparkling with new potential but presents all the demands of a project beginning and none of the comfortable certainty of a home already made.
Tears begin to displace rational vision, and the car windshield becomes blurry.
I often give too much credit to my sins. I frequently believe that the trials and tribulations I endure—the challenges of doing hard things like moving bookshelves up five flights of Manhattan stairs or navigating the lonely wake of a broken relationship—are the direct result of my own sins and failures. I give too much ear to the voice inside my head that whispers: Renée, if you had only been more patient, kind, and less needy then you would be happily dating the love of your life. If you were less obsessed with relationship than career (why can't you focus on writing and not on boys!) then you would be a Better Writer. Renée, if only you didn't have these selfish dreams of grandeur, you would be happily wrapped up in a mythical throw-blanket- you-had-just-bought-at-Target, in your apartment in Small Town Indiana driving your new Toyota Camry with gusto between work and your friends' homes, instead of schlepping bookshelves up the A train and five flights of stairs on Super Bowl Sunday.
The voice of despondency insists: all the disappointment that reality serves results from your perpetual and constant choosing of the Wrong Thing. If only you chose the Right Thing, if only you never made any mistakes, if only you were skinnier, kinder, and more organized all your troubles would go away. That home you long for, which shines so brightly in the past, would be part of your present. I, the helpful rat-like voice in your head, will never reveal what the Right Thing is, but I can sure as hell tell you all the ways in which what you are doing now is Wrong and Doomed to Misery.
The rat insists that the direction I am heading is always the wrong direction, that I am being propelled by my mistakes, that my trajectory has been dictated by my failures, not by God's goodness.
"Why am I here?" I ask, on a bleak February day.
"Why am I here?" I ask again, under the bright sun, as I begin my abbreviated road trip to Midway, to catch my LaGuardia-bound flight.
As I ask this, I am struck, pace Marilynne Robinson, by the givenness of the things around me. My stint on campus this week, my speeding down I-90 now were all dictates from, if not on high, at least middle-management. This job chased me down. This particular trip was rerouted by a snowstorm to this very week. None of these events were things I maneuvered, manipulated or chose, but were things that chose me.
What does it mean that I am here? Why am I in this job?
Why am I here and where is home?
The question suddenly flips, as though it's passed through a mirror.
In a split-second of hope, I sense that these questions are not fruitless, but have an answer. They are not the angst-ridden cries of an existentially-doomed, rootless human, but the inquiries of a traveler who does indeed have a destination. I am a protagonist whose narrative has not been entirely left up to her own devices. There is something guiding this journey. The voice of Paul writing his letter to the Hebrews assures me: You need endurance to do the will of God and receive what he has promised.
Perhaps the will of God is requiring of me, right now, this endurance—this being tried in the fire sparking from the friction between my expectations and reality. Life is not entirely in my control, and some measure of forbearance is required of me in this uncomfortable liminal moment.
Paul says I must endure to receive what God has promised. What has God promised? Only God's self—that is, love. Unshakeable, ever-generous love that promises to be the sole measure of my world's reality, which will burn away all else in its fire until love is all in all.
There's no point in romanticizing—the fire burns.
Perhaps love is found not solely in the finished apartment, gleaming in my mind's eye like a realtor's listing, but is here—with me in my sweat and swear words—packing and unpacking boxes, carrying the dresser up five flights of stairs, puzzling the pieces together into the destination. Perhaps the will of God—the love of God—does indeed bring consolation, but not necessarily a carpet of roses.
Perhaps God is in the fire.
Why am I here? Where am I going?
Now, these questions spring from trust and curiosity, posed to a God whose providence is perhaps greater than my failings, and whose love can steer me on the course back to itself, despite all the potholes and curves I throw in the way.
Perhaps, hope whispers, you are not just on I-90 West, Chicago-bound, but also on the road to home. And you will find your way.
Renée Darline Roden is a graduate of the University of Notre Dame (BA '14, MTS '18) and a lover of Michiana. Renée is the editor of FaithND, a playwright in New York City, and an aspiring full-time professional dinner party host. Her very professional Twitter: @ReNEIGHimahorse.
Image courtesy of Pixabay