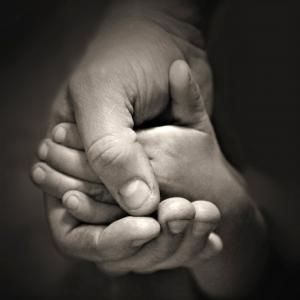 John 13:35 By this shall all men know that you are my disciples, if you have love one for another.
In this age of social media vitriol, where everyone is vying to be RIGHT, it might be hard to recognize what it is to love one another. It looks like this:
Every night, there are mothers up in the wee hours comforting their children. There are fathers pacing the floor trying to lull a baby back to sleep. There are grandmothers who will never mind the late hour phone call to assuage new parent fears.
There are the sons and daughters sitting in hospitals holding the hands of a dying parent. There are the nurses who show those families great tenderness. People the family will never meet make afghans and lap quilts the hospital chaplain will offer to bring some comfort to them in these moments.
There are big sisters walking their little brothers home from school, then helping them with their homework. There are the teachers who send a quick email home to a parent. There are the coaches who drive some of the team home because it's too late for them to walk. There's the school nurse who provides the safe haven for the anxious child who "has a stomach ache" every week around math quiz time.
There are the 9-1-1 dispatchers who patiently listen to the callers whose only emergency is that they are desperately lonely. There are the police officers who organize the late-night youth basketball league. There are the firefighters who visit every classroom to make sure that in a real emergency, the children aren't afraid of them in their gear.
There are the teenagers mowing the elderly neighbor's lawn. There are the women who pray and prepare hot dishes. There are the small business owners who spend their lunch hour tutoring students. There are the members of that mosque who provide security for the members of that synagogue during their services.
There is the quiet legion of volunteers who drive veterans to appointments, who sit with cancer patients during their treatments, who deliver meals to shut-ins, who go to court with abuse victims, who stock food pantry shelves, who fill out medical and school and immigration forms, who see a need and meet it.
This is the kind of disciple I want to be. These are the kind of disciples I sorely desire to be with in community. This is the church that the world needs.
Kristen Allen is a proud mother of three grown children, a teacher of tinies and undergrads at a university lab school, and a fierce advocate for women, children, and families. She is an occasional contributor to Sick Pilgrim, and has written for Ethel Zine. You can see how she wrestles with her faith, leaning on coffee (and gin), and her brilliant writing-partner and sister-friend, Mary Bishop over at their blog Made for Ordinary Time.
Image Courtesy of Pixabay