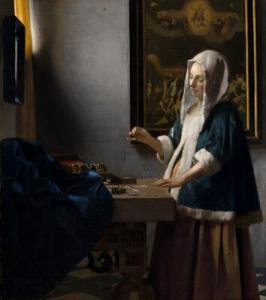 Jesus said: "My sheep hear my voice; I know them, and they follow me.
I give them eternal life, and they shall never perish. No one can take them
out of my hand. My father, who has given them to me, is greater than all,
and no one can take them out of the Father's hand. The Father and I are one."
The parables are tricky. It's easy to feel that we "get" them. They may have been new stories once, a long time ago, but now they are familiar. They're part of our cultural lore, and you don't have to read the Bible to know what it means when someone talks about separating the wheat from the chaff or throwing pearls before swine.
When I think of parables, I often think first of the parables in Matthew's Gospel: the man who finds the treasure in a field, the merchant who seeks the pearl of great price, and the woman who searches her whole house for a single coin. These have stuck with me because of what they seem to ask of believers. These parables tell of people who give up everything for the sake of one treasured thing. The kingdom of heaven is like this. Having found it, a believer will give up every other thing for its sake.
The parable of the Good Shepherd sets this interpretation on its head. In this parable we again hear about someone who risks everything for the sake of one thing. The good shepherd is the one who leaves ninety nine sheep in search of the one that has been lost. But here we see that Jesus is the Good Shepherd. It is God who takes the risk.
In this interpretation, you and I are the pearl of great price, the treasure in the field, and the lost coin.
Perhaps these parables are not telling us what is demanded of believers, but are instead telling us about our value in the eyes of a loving God. Perhaps these parables tell us that God will come to us, like the father who runs out to greet his prodigal son. Like the Incarnation.
Lately I've been imagining myself to be very, very small when I pray. Sometimes I imagine that I am an acorn because I'm hoping for new life out of my struggling faith. Sometimes I imagine that I am a hedgehog because, goodness knows, I can become prickly when I think about religion. Imagining that God can find me even if I have a hard shell or prickles is helpful. It's a sort of personal parable. Thinking about the Good Shepherd today makes me think that I'm on the right track. Maybe, for all my doubts, I will turn out to be a pearl of great price after all.
Image credit: Woman Holding a Balance by Johannes Vermeer courtesy of The National Gallery of Art