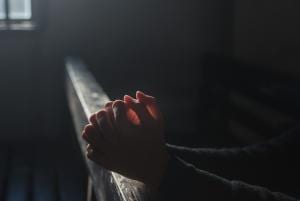 In March, we took a few weeks off from being in communication. He said he needed time to sort things out. The plan was to be together in June. He would begin his leave of absence then. 
I gave up alcohol for lent that year. My emotions were so raw I knew I needed every possible brain cell to get through it. That Spring I began to understand what all of those crazed love songs were about. All the movies, the books, the art. There was nothing outside of my first experience of love and I couldn't imagine it ending. 
Then around Easter, after a distant-sounding conversation, we decided not to speak for a few weeks, to give him some time to get ready to take a leave of absence from the priesthood. 
Holy Week was unbearable. I went to church for Holy Thursday and cried during the whole mass. I couldn't look at a priest without thinking of the one who was leaving all of this for me. 
On Good Friday, I went back to my church. I saw friends there but tried not to be seen. Every day had been agony for me, and I prayed hard to get through it. I was dying there with Jesus that Good Friday. I kneeled then, and prayed for what was best, for strength. As the silence enveloped me I looked up, to the large wooden cross in the middle of the aisle. And as I gazed upon it, I was struck that for the first time in my life, I was putting my whole, real self out to God and to the world. My masks were off. I was fully in her flow. And I felt so lovingly safe, and relieved.
We had agreed to talk again on Easter. I went to mass with some relatives, then went out for brunch with friends. I waited all day for him to call. Finally, around 9pm I called him. We hadn't spoken in more than 2 weeks but there was no sense of urgency on his end. He was tired, he was consumed in his world. I was shocked, and let him know.
The next time he visited a few weeks later, he was physically ill. He stopped to see me before attending a big ceremony with other priests. When he came back a few days later to stay with me for a night, something had changed.
We stood on my porch in the spring coolness, drinking wine and smoking cigarettes. We were talking about the next time we could meet. He said his schedule was busy. I brought up June. When could he come to my city to live? That's what we had discussed. That was going to be our real beginning, before marriage, children, grandchildren. That's what he had said to me, while laying next to me in bed.
He began to falter. "I don't know, you don't understand . . . it's not that easy. " 
A giant knot began to form at the base of my guts.
"You told me that you would leave. . . what are you talking about?"
His eyes were steely. 
"You knew what you were getting into with me."
I pretended not to hear, not to understand. The next morning before he left my entire body shook in bawling convulsions. He held me lovingly on my street corner before I walked to work, and he drove away. 
"I'll talk to you soon," he said. My mind believed him, but my body knew. 
It took three weeks of fitful calls and texts, arguments and confusion, before the end. 
During the last week of April he said he was going to go get counseling in another state, to help with his pre-ordination military-induced trauma. That was something I had always worried about. He had been in the military for several years, before becoming a priest. He only ever knew systems of control and structure. I'd heard his stories, that would come at random times about experiences in places I didn't even know the US had troops. I learned more than I cared to about the US military. I knew his trauma was more intense than he would admit. 
When he told me about those experiences, his eyes would take on the same look as when he told me about the embodiedness of being a priest. I've seen the look in other veterans, and other clergy. I suppose the power to save a soul as a priest, or to take one, as a soldier, must feel the same. I wonder why our society gives that power to either. 
I was glad he was going for counseling, but before he left, he stopped responding to me at all. I couldn't sleep. 
As much as the relationship was changing we had never officially ended it, he had never definitively told me he wasn't leaving the priesthood for me, and he'd never stopped being in contact. So I went out on a limb. I emailed his sibling, who I'd spoken to months previously, and who had been welcoming to me then. I told her how much I was worried, implored her to help. 
Before I sent the message I checked in with several friends. They all knew about our relationship, they all understood the innerworkings of the Church. One of my friends was married to someone who had left religious life for her. She thought emailing his sister was a good idea. Our relationship was semi-public, after all. 
But, I soon discovered that I had been living in a bubble of acceptance, outside of the real power structures of the Church. I knew it when his sister wrote back. 
I have always described those paragraphs as the worst words I've ever read. I read the email once, then deleted it. 
Soaked in her own pain, her words cut to the core of my being. She insinuated that I was the "other woman." I was an affair, obstructing her brother's career. I was to never contact their family again. 
I happened to be in a video-editing training class at the time. It was the last day of the course. Without a word, I stood up and walked out. I doubled over outside the classroom, the pain in my guts unbearable. 
"It's so much easier to tell yourself it's not over than to admit that it is," a friend said to me after the fact. 
The next day, I took a train to my home state, and cried during most of the 8-hour trip. My mom picked me up from the train station. She knew about the priest, and was always loving, kind and accepting. Telling her was the worst of all. I was coming home with a failed relationship, and newfound, blinding shame. 
"It was a near-miss," a friend said. 
I knew she was right. And after the way he had treated me, I was unapologetically grateful it didn't work out. 
What I Learned from Dating a Catholic Priest is a submission from a contributor who has requested to be anonymous. 
Image courtesy of Pixabay.