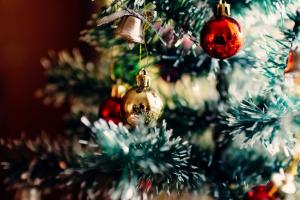 I woke yesterday morning really wanting someone to give me the answer. How do you celebrate Christmas when your spiritual life and your sense of identity are broken into "before" and "after?"
For me, it was the Pennsylvania Grand Jury Report. I know other people who were similarly broken by that report. I know still more who experienced similar moments of fracture in response to other catastrophic failures in their religious communities. We still believe, but we don't know how we can return to those communities. We want to worship, but we're in exile.
Looking for answers, I've been rereading Pádraig O'Tuama's wonderful book of poems, Readings from the Book of Exile. But these are his answers. They necessarily can't be mine. I have to find my own answers. I have to make my own peace, and I'm just not there yet.
I know I'm not the only person in this space. I suspect that, if you're a reader of Sick Pilgrim, then you probably recognize this space in your own life.
We used to run a series called Things Keeping Us Alive, in which we wrote about small joys and comforts. On this 24th of December, when my husband and I are still deciding whether or not we'll go to Christmas Eve Mass, it is a comfort to me to remember that Christ came for the exiles. That most traditional of Advent songs tells us so:
O come, O come Emmanuel,
Ransom those who mourn in lonely exile here
until the Son of God appear.
We are the exiles, waiting for God to appear – in our world, in our lives, in our Church. Maybe our consciences won't let us attend church; maybe we feel like outsiders when we're sitting in the pews.
But precisely because we feel exiled, we can be assured that Christ is for us. Christmas is ours. Rejoicing may feel like a big ask, but Christ has come for us just the same. We are the people in darkness, and the light is for us.
Image courtesy of Pixabay.