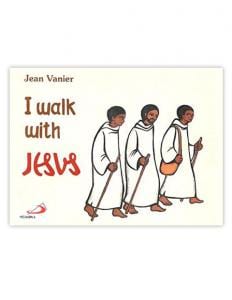 I remember a sunshiny morning in 1987.
I remember sitting in Sunbeam on the floor of my parents' bedroom, next to their enormous bookcase. Books by Edith Stein and Catherine of Sienna and Theresa of Avila were on my left.  I had pulled out the small stack of children's books from the bottom shelf. I was leafing through a picture book I had received for my first communion, and dismissed as "boring" because its pictures were mostly black and white.
I have remembered that morning, that book, that patch of sunshine all my life. That morning, I read the story of Lazarus the beggar and the rich man. I gazed at the picture of the dogs licking Lazarus's sores with fascination and horror. I read about the disciples meeting Jesus on the road to Emmaus. I understood that they recognized Jesus in the breaking of the bread because Jesus had become the bread. I read that we meet Jesus in those who are suffering.
At some point in my childhood, that book disappeared. Possibly my parents were getting rid of toys and books that they thought we'd outgrown. Possibly it was in a box that didn't make it to the new house when we moved a few years later. Wherever it ended up, I remembered it.
Sort of.
I remembered that morning. I remembered what I'd read and how I'd felt when I read it. I remembered what the cover looked like, but I didn't remember the title or the author of the book. I've spent my adult life keeping an eye out for it – looking in Catholic bookstores and coming up with improbable Google and Amazon searches that led nowhere.
The day after Christmas, in the manner of serendipity or grace, this book sprang back into my life when a friend posted selections from Jean Vanier's "I Walk with Jesus" on his Facebook wall.
I was floored. I had basically given up on ever encountering this book again. I was also worried. I knew that I was going to buy "I Walk with Jesus." I'd been looking for it for years. But memory is tricky and the past few years have been so thoroughly disillusioning. Was it going to be the book I remembered?
I've been rereading it this afternoon. It's cloudy here. There's no circle of sunlight to sit in this time. But the book is as good as I remember and more. I've been discovering just how many of my ideals about living, about religion in general and Catholicism in particular, have come from this little book.
Reading it again has been a ray of light and hope that is much needed, particularly now when the cognitive dissonance of being Catholic is hard to take, particularly this weekend when war is looking so likely.
It is a ray of light to read again:
"It is not always easy for me to be close to someone in anguish, to enter into a heart to heart relationship with him. It is much easier to do something for him, to give from a distance. When I try to welcome that person, to listen to him, to become his friend, I discover my own incapacity to love and all the harshness and selfishness in my heart. I discover my own fears, wounds, and hypocrisy. I discover that I too am poor…. The world cannot cope with poverty. We tend to ignore or deny our limits, our fragility, our vulnerability and incapacity to love. But when I walk with Jesus, he helps me to be myself, to accept myself just as I am, with my weakness and my strength. Like a child, I put my hand in his hand. I let him guide me. I learn how to give life to others."
May it be so with us this year.
Image credit: https://www.jean-vanier.org/en/books/i-walk-with-jesus