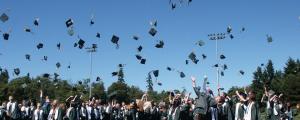 It feels like we are ALL graduating this year!
You may know that my day job is teaching at the lab school of a Highly Respected University in the Northeast, where I teach preschoolers, and supervise undergraduates who work or observe in my classroom throughout the year. My side gig is as an adjunct professor at the State University where I earned my master's degree, teaching undergraduates and graduate students in the education department.
I've been an educator for close to forty years. I've never had a year like this. Of course, hardly anyone alive has, what with the global pandemic thing. So, arriving at the end of this semester for my college students, and finishing off the school year for my tinies feels different, bigger. My students (all ages) and I are more exhausted than we usually are. We are also more exultant about our success than usual.
We made it!
So here is what is keeping me going this week:
That moment when first one than another preschooler mastered the hand-over-hand skills to manage the monkey bars, and spontaneously the rest of the class jumped up and down and cheered.
That moment when the office manager handed me a card from an undergraduate student who worked with me for the past four years, but had an internship this semester somewhere else. She didn't want to graduate and move off without thanking me.
That moment when I could watch first my undergraduate students, then my graduate students cross the stage from my laptop, cheering them on in the chat.
That moment when one of our undergraduate student interns baked us all a cake days before his graduation. He heads off to medical school in the fall, and says we have inspired him to pursue pediatrics.

That moment when a student who chose to finish this, his final year, off-campus studying remotely, sent a heartfelt email and link to the Zoom video of his final performance in the campus jazz ensemble.
That moment when one of my "toughest" preschoolers went out of his way to include our new preschooler in his game.
That moment when our student teacher's parents invited us to celebrate their daughter's graduation with them via a videochat.
I think that this past year has knit us together in a special way. It is enough to keep me going a bit longer. What is keeping you going this week?