We made it all the way to day five! If you're at all familiar with NFP, you know that's quite a feat in itself. And you'll notice I made it all week without making any Oprah jokes (Look under your chair! You get a fertility monitor! And you get a fertility monitor! Everyone gets fertility monitor!!!)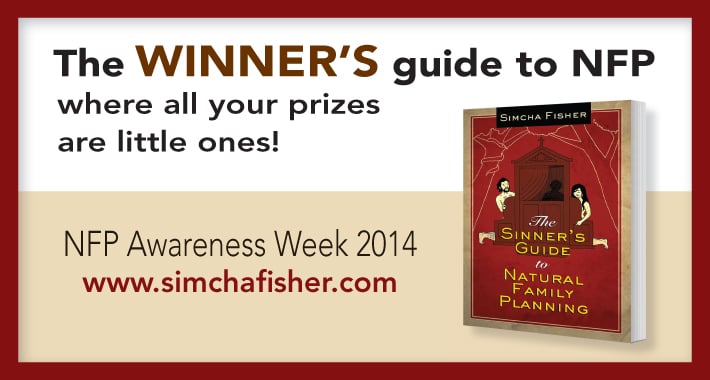 –1–
The Sinner's Guide to Natural Family Planning autographed to your specs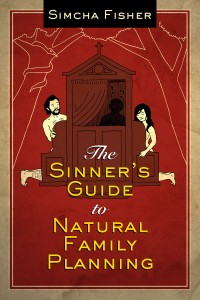 –2–
Something Other Than God: How I Passionately Sought Happiness and Accidentally Found It by Jennifer Fulwiler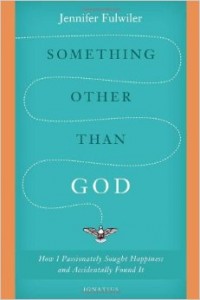 I don't really need to introduce this book, right? The great Jen Fulwiler of the great Conversion Diary has written a spiritual memoir that is engaging, honest, and profound. And *she whispered enviously* it's in hardcover.  I honestly can't remember if I asked Jen to autograph this or not, so I guess you will have to find out if you win!
 –3–
$25 of merchandise from Robin's Soap Shoppe
Pictured is some of Robin's famous Sunshine Yuzu soap. The winner will receive $25 to spend on Robin's lovely selection of handmade, non-allergenic goatmilk soaps and salves. Robin is working on restocking her inventory right now, so if you don't see everything you'd like, check back in a bit. She's a busy lady!
–4–
How Far Can We Go? Leah Perrault and Brett Salkeld; and Theology of the Body for Every Body by Leah Perrault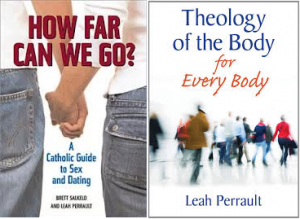 How Far Can We Go? Leah Perrault and Brett Salkeld; and Theology of the Body for Every Body by Leah Perrault
 How Far Can We Go? is a plain-spoken, orthodox and helpful guide to dating and sex for Catholics. I liked this book very much, and I could have sworn I reviewed it, but I can't find it anywhere. This review from The Darwins expresses very well what I liked about How Far Can We Go?
I haven't  had a chance to read Theology of the Body for Every Body yet, but the eminent Susan Windley-Daoust, author of Theology of the Body Extended, give it a rave review here.
 –5–
Maite Roche My First Prayers for My Family board book (has "sample" sticker on the cover, but it is in like new condition)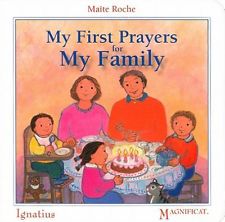 –6–

 
This cozy, nostalgic, hand-sewn baby quilt lovingly crafted by the beautiful and inspiring Mary Lenaburg of Passionate Perseverence

100% hand sewn in colors suitable for a boy or girl. An astonishing piece of work.
–7–
One package of 10 Pope Francis Family Magnets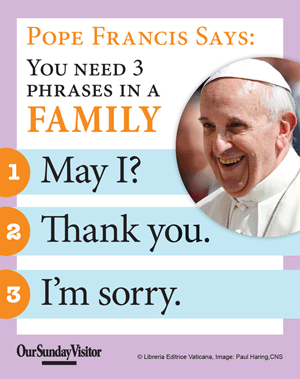 Stick 'em up!
–8–
Spice Up Your Marriage: A 28-Day Adventure (for Kindle) by Hallie Lord
–9–
A hand knit charcoal gray unisex hat by Suzanne Andrews.  I happen to own a hand knit hat by Suzanne Andrews: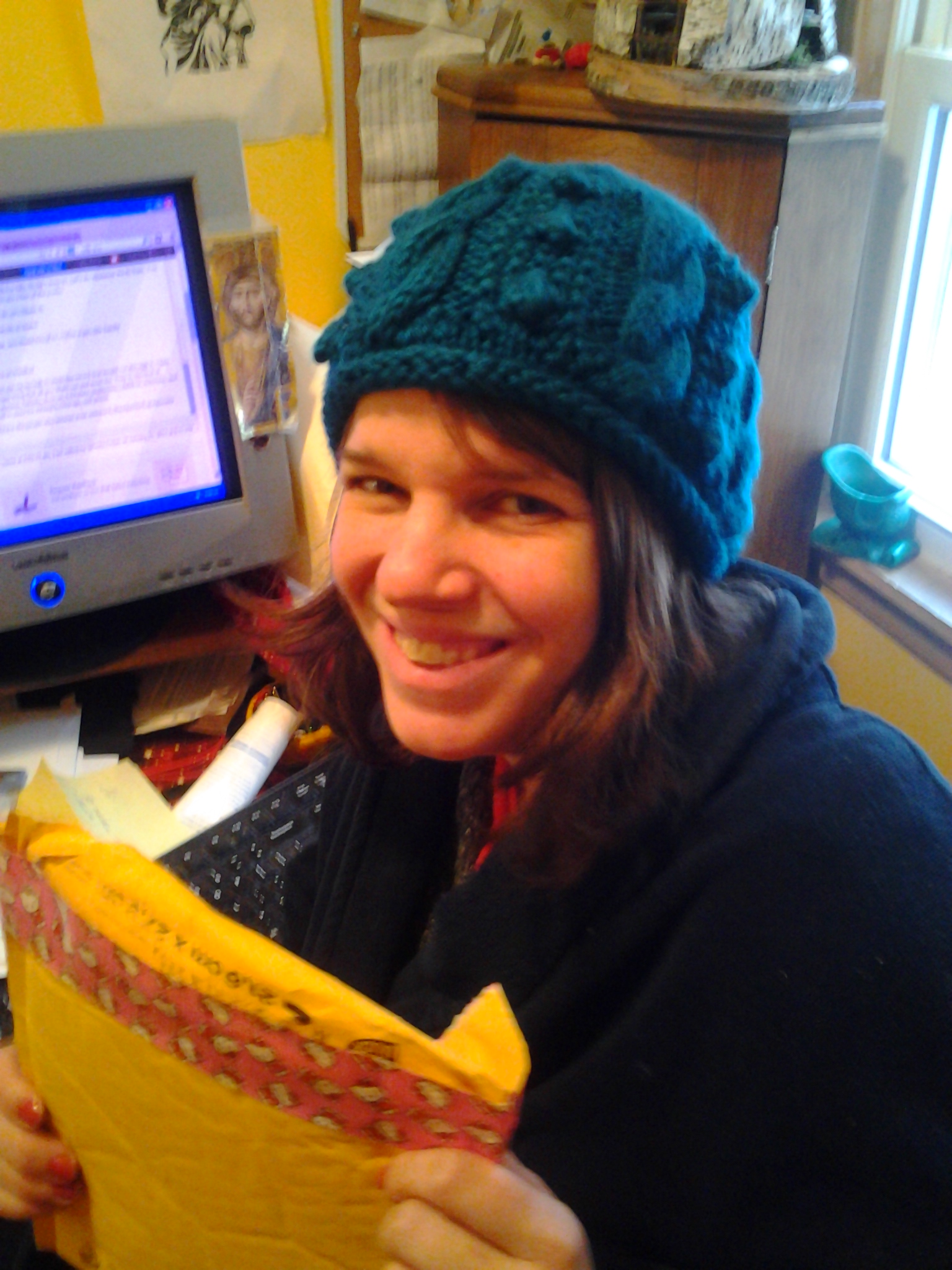 It is my happy hat. Here I am, being happy in my hat. It's soft and fuzzy and thick and warm, and it stays in place on my head but it's not too tight. And it's machine washable. It's pretty much the best hat ever. The hat that's a prize for this contest will be charcoal gray and unisex.  Suzanne doesn't have a website to promote or anything. She just made me a hat prize because that's the kind of person she is.
–10–
Men's Rosary by Julie Anne Leggett of The Peaceful Bead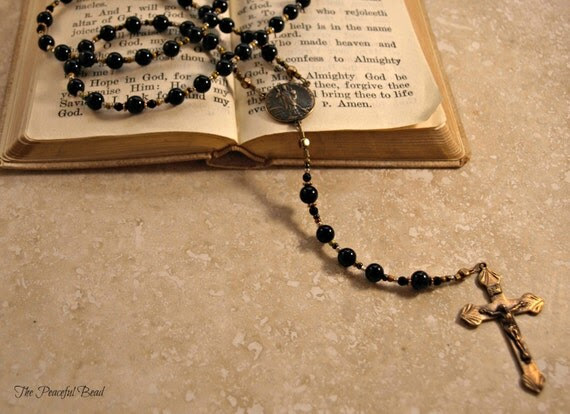 Saint Patrick Rosary featuring black onyx and bronze. A Stately and classic gentleman's rosary lovingly hand strung as follows: Aves: 6mm natural and smooth Black Onyx rounds; rich, deep and stately.
Of course if a woman used this very attractive rosary, no one would complain!  (Note: Julie will be able to ship this rosary after August 8.)
–11–

Peacemaker Jewelry's Trinity Knot and Angel Teething Pendants are specifically designed for moms with small children. If you have a teething child you probably haven't worn much jewelry in a while. Now you don't have to worry about your little angel grabbing, pulling, and chewing on your jewelry again. Peacemaker Jewelry's necklaces are made from 100% food-grade silicone so they are safe for your little one to chew. Our products are intended to pacify a mother's desire for fashion while providing something beneficial for your child. A mother's love never does end!

 
Winner may choose a style (Angel or Trinity Knot) and color.
–12–
Blessed, Beautiful, & Bodacious: Celebrating the Gift of Catholic Womanhood  by Pat Gohn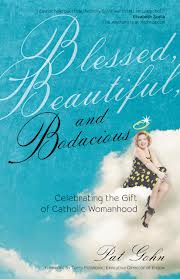 Pat Gohn draws on decades of women's ministry experience, her popular Catholic women's podcast Among Women, and her own story as a wife and mother, proclaiming the Church's compelling vision of every woman: you have dignity, you are gifted, and you have a mission.
The lively and unforgettable Gohn guides readers through moments of her life that have shaped her identity and understanding of womanhood–abiding love and talent for music, breast cancer in her thirties, and coming to understand true feminism in light of Church teaching and Mary's example. More than a mere memoir, Blessed, Beautiful, and Bodacious offers readers insight into the writings of Blessed John Paul II, which articulate four gifts unique to every woman: generosity, receptivity, sensitivity, and maternity. With humor, faith, and the open-hearted tone of a trusted mentor, Gohn shares how she became empowered to embrace her blessings, beauty, and bodaciousness, and how readers can do the same.

 

–13–

 
This striking reversible necklace by Alana McGough at Premier Designs,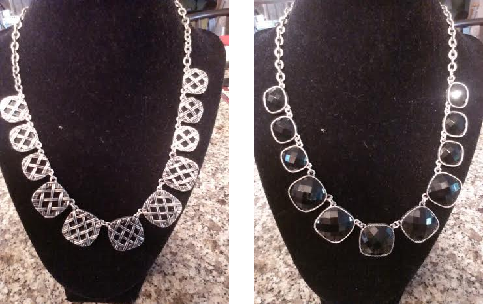 Alana says:
This reversible "Perfection" necklace is 16″ with a 4″ extender, and it retails for $48. Premier Designs is a direct service company that is built on Biblical principles and always puts people before profits. Premier offers high-fashion jewelry is affordable, great quality, and guaranteed against manufacturing defects. As a business opportunity, Premier offers a 50% commission with no inventory, quotas or deliveries (perfect for this mama who likes being home with her babies!).

 
–14–
Crocheted Rosary Pouch by Kelly McClintock
Just because she's a nice person!  You want to have your rosary with you, but you don't want it getting all tangled up with all the other nonsense you carry around. These pretty little purses keep your rosary untangled and easy to grab.
–15–
Period Diary app for the iPhone sponsored by Michelle Arnold of Catholic Answers and, most recently, her new personal blog, Peace, Joy, Pancakes.*
Period Diary is a unique, fully animated and the most complete period and ovulation tracker. This sophisticated and unique product makes your everyday life easier, and it is incredibly simple to use.
Handy and user-friendly for any woman, whether she's using NFP or not.
*Did you wonder about the name of Michelle's blog? I did, until I went there and discovered it's a quote from Msgr. Georg Ratzinger: "It can't be all peace, joy, and pancakes."  Nice. If you're  not familiar with Michelle's writing, you're in for a treat. She has a clear and inquisitive mind and a dry wit, and is a fearless scholar.
–16–
The Handbook for Catholic Moms autographed by Lisa Hendey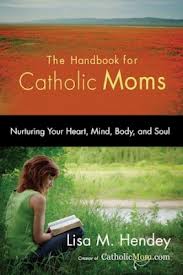 Drawing from the deep tradition of the Catholic faith, Lisa Hendey coaches Catholic moms how to care for themselves―heart, mind, body, and soul―so that they can better love and care for their families, their neighbors, and their Church.

With warmth and wisdom, Hendey creates an environment where Catholic moms can reflect peacefully upon often-competitive topics like parenting style, types of schooling, and working outside the home. By sharing her own story, Hendey inspires readers to better balance their own needs with the demands of family life and faith commitment.
–17–
Twenty of your choice of personalized Baptism or First Communion invitations by graphic designer Rachel Mosley of Busy Nothings. Here is an example of one of the sweet and elegant cards Rachel has done: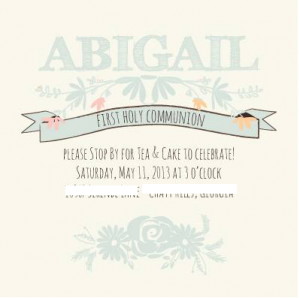 So pretty!
–18–
Toaster oven from Marcia and Nacho Bono!
Okay, I'm a little disappointed that no one asked me about this one. Here is the story. This is my friend Marcia (bottom right), with me (top left) and our pals Tiffany and Theresa a few weeks ago: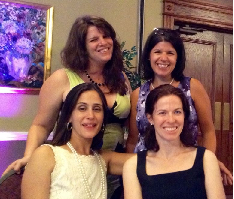 Marcia looks nice, doesn't she?
That's what you know. We met over 20 years ago. We were standing in the lunch line in the college cafeteria, and Marcia, by way of getting to know everyone, started telling a story about a "convulsive liar." Ever since that day, when I see Marcia, I will suffer a little spasm and yelp out, "Twinkees are organic!" and other convulsive lies. So anyway, then I got married, and at our wedding, Marcia said she would get us a toaster oven as a wedding present.
Did she get us a toaster oven? No, she did not. I would see her every few years or so, at weddings, at baptisms, reunions and so on. Always it was the same story: "I really will get you that toaster oven!" she would yell. And yet no toaster oven was forthcoming. Marcia, you see, is a convulsive liar.
So last month, we all went to a wedding, and who was at my table? None other than Marcia, plus her debonair husband Nacho.
And what do you know?  Less than 24 hours later, I got a note from Nacho asking us if we'd rather have the countertop oven model, or the four-slot bagel type.
It happens that we already have a pretty swell toaster. But you know who doesn't? SOMEONE. So I asked poor Nacho if he could send someone else the toaster and he said, "Okay, whatever, weirdo." I don't hold it against him. He's been married to a convulsive liar for many years now, and they have a bunch of spazzy little children together, even. It wears a guy down.
So, this prize is this exquisite Black &Decker tainless steel, four-slice toaster,with extra-wide slots with self-adjusting guides and a sweet, sweet retractable cord for easy storage
from Marcia's husband, Nacho. If you win this prize, not only will you get a nice toaster, but you will be helping Nacho make an honest woman out of Marcia.
Marcia, the convulsive liar.
–20–
Teaching in Your Tiara: A Homeschooling Book for the Rest of Us by Rebecca Frech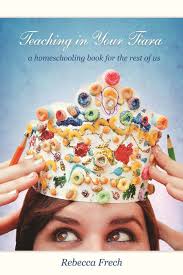 "One of the keys to being happy while homeschooling is to do it in a way that is natural for you – if you are a book girl, then pack your day full of literature, if you're crafty, then get out the glue sticks and glitter, and if your brain works better when it's sparkly… then, by golly, stick a tiara on your head and go teach something!"

Do you wish that you had the chance to sit down with a seasoned homeschooling veteran over a cup of tea and ask every question that comes to mind? Mother of seven and twelve year homeschooling veteran Rebecca Frech is the common-sense voice of experience and reassurance that you've been hoping to find. Teaching in Your Tiara is a soup-to-nuts homeschooling book that walks you through the first years – deciding that home education is right for your family, choosing the right curriculum, understanding learning styles, not raising socially awkward kids, maintaining your own identity, and more. Whether you're the parent who's already committed to homeschooling or you're just dipping your toe into the pool of consideration, this book is for you! Rebecca's logic, honesty, and humor will leave you both amused and well-informed about the realities of homeschooling and what it could mean for your family.
Rebecca is a wonderful voice for sanity and common sense. Great stuff. You can also follow Rebecca on her blog, Shoved to Them.
–21–
CD from up and coming Catholic singer and songwriter Sean Clive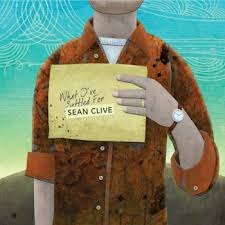 Sean says:
It's actually all about God …  (God the Father, God the Son (Jesus Christ) and God the Holy Spirit).  Without God I am nothing. With God I can do all things – even if I don't think I can. Music ministry is one of those things that I will always question, "is this where I am supposed to be?", "is this what God is asking me to do?" Everyday I wonder and everyday I pray. The desire is in my heart and has been there for as long as music has been part of my life. So maybe it is where I should be. My journey is made with a big "blind faith" jump into the sea. I hold out my hands for Jesus and expect to be caught up and carried on. I look forward to the ride – I just hope we have enough fuel…
You can hear a sample of his music on his website.
–22–
Free Introductory Session and two Follow-ups, a $120 value; OR a free copy of The NaProTechnology Revolution by Thomas Hilgers from Kathy Rivet of Marguerite D'Youville Fertility Care.
Kathy Rivet, you guys. Kathy is basically Lady Creighton. She has been there since day one. She is the one who travels around the world, training the trainers. She is the one knows all, tells all, and has seen and heard it all (including many years of me giggling and boo-hooing my way through the process of learning how to chart). You will not find a more kind, patient, or knowledgeable CFCP in the world, end of story.
–23–
One ClearBlue Easy Fertility Monitor

sponsored by a wonderful anonymous donor. And . . . .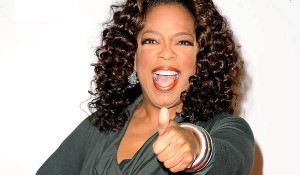 –24–
Another ClearBlue Easy Fertility Monitor
Sponsored by Kait and Bryan Mayer of the Pilgrims Headed Home ministry and Totus Tuus Fertility Care. A young, dedicated Catholic couple living the new Evangelization to the max!
From the "about" page of Pilgrims Headed Home, which works primarily through music:
"What's your goal for us?"
"To get you guys to heaven!"

This is the essence of our ministry: to get you to heaven. Not because it makes us feel good or because we're trying to gain favor with God, but because we acknowledge that you are a beloved child of God and that He greatly loves and desires you. Our goal is to bring you as close to HIm as we can; as far as the Spirit wills. We accomplish this by being honest witnesses to Christ through prayer, worship, scripture, dedication to the angels and saints (especially Our Lady), and by giving all due reverence to the Sacraments.
Kait is also partway through her goal to become a NaPro Fertility Care Practitioner. Kait says:
Short story: I want to help couples learn about their fertility so they can make informed decisions when trying to achieve or avoid pregnancy. The method used can be as effective as hormonal birth control when avoiding pregnancy and far more effective than IVF when trying to conceive in a situation of infertility (see images below).
Admirable and worthwhile ministries, both!
*****
And there you have it: the final installment in the NFP Awareness Week WINNER'S guide to NFP wibbly wobbly ball of contesty wontesty . . . stuff. As always, you enter by using the Rafflecopter form at the bottom of this post. Good luck, and thanks SO much, once again, to all the generous sponsors! And thanks to everyone for playing. I really enjoyed seeing so many familiar names, so many new ones, and so many ways you all are getting out the word about NFP. Good job! Hooray!
And here is one last complete (I hope!!!) list of all the sponsors:
RELIGIOUS ITEMS and MATERIALS
Two rosaries by Ever Ancient, Ever New: Knotted Gemstone Rosaries by Betsy Archibald
Five packets of Pope Francis Family Magnets, ten pieces each
St. Patrick rosary men's rosary in black onyx and hand cast bronze by Julie of The Peaceful Bead
Crocheted Rosary Pouch by Kelly McClintock
Gift certificate to Apostleship of Prayer by Grace Urbanski
BOOKS
Something Other Than God: How I Passionately Sought Happiness and Accidentally Found It autographed by Jennifer Fulwiler
Bundle of three books from OSV
Forming Intentional Disciples autographed by Sherry Weddell
Your choice of an autographed book by Mark Shea
Blessed, Beautiful, & Bodacious autographed by Pat Gohn
Listen My Son: St. Benedict for Fathers by Dwight Longenecker
Latin-English edition of the Summa Theologiae, winner's choice of which volume, including the soon-to-be-released Volume VII sponsored by NovAntiqua editor Heidi Keiser
Spice Up Your Marriage: A 28-Day Adventure (for Kindle) by Hallie Lord
How the First Christians Changed Dying autographed by Billy Kangas
five copies of The Sinner's Guide to NFP autographed by me
Holy Sex! by Greg Popcak
Classroom Management for Catechists autographed by Jen Fitz, sponsored by St. Francis Catholic Books & Gifts Shop
Four copies of Maite Roche's My First Prayers for My Family
The Handbook for Catholic Moms autographed by Lisa Hendey
Theology of the Body, Extended: The Spiritual Signs of Childbirth, Impairment, and Dying by Susan Windley-Daoust (a.k.a. The Ironic Catholic)
Two copies each of How Far Can We Go? Leah Perrault and Brett Salkeld; and Theology of the Body for Every Body by Leah Perrault
Woman, How Great Thou Art autographed by Theresa Martin

BABY ITEMS

Handmade baby quilt by Mary Lenaburg
Your choice of silicone teething pendants by Peacemaker Jewelry
MUSIC

Sam Rocha "Late to Love"
Set of three CDs by Marie Bellet: New Springtime, Lighten Up, and Ordinary Time
JEWELRY

Silver and zinc bracelet from Salt, Light & Silver
Steel "Family Tree" locket with crystals designed by Cathy Adamkiewitz at Origami Owl
Voucher for Lilla Rose hair jewelry by Monique Krestyn
Reversible necklace from Premier Designs by Alana McGough

HEALTH AND BEAUTY ITEMS

Pamper Me gift basket by Cindy Cheshire, Independent Mary Kay Beauty Consultant
Goatmilk Soap gift bag by Shalimar Masters of Victory Ranch Soaps
Gift certificate for $25 to Robin's Soap Shoppe
His and Hers Young Living Massage Oil by Gabrielle Ellwanger of Living Life Oily
Shampoo bar, orange soap bar, foaming hand soap, and counter spray by Samantha McCarty ofRadiantly You
Young Living Massage Oil "Sensation"  from Tammy Meyers of Essentially Fit+Healthy
MISCELLANEOUS

hand knit charcoal gray men's cap by Suzanne Andrews
Sauerkraut making kit Rochelle Nelson
blown glass hummingbird or slug from Blow Hard Glass Studio
$25 gift certificate for Pampered Chef by Jessica Chastek
T-shirt from New Wave Feminists
Toaster oven from Marcia and Nacho Bono!!!!!!!!!!!
NFP BOOKS, CONSULTATION AND CHARTING TOOLS

Fertility, Cycles, & Nutrition by Marilyn Shannon, sponsored by Suzanne Emery Andrews
Two copies of Taking Charge of Your Fertility by Tony Wechsler, sponsored by Larissa Halsell

Creighton Introductory Session and two Follow-ups via Skype or phone, a $120 value; OR a copy of The NaProTechnology Revolution valued around $45 from FCP (and Creighton pioneer) Kathy Rivet of Marguerite d'Youville Fertility Care Services
Creighton Introductory session from FCP Jessica McAfee of the Pope Paul VI Institute
Creighton Introductory session via Skype, plus a 20% discount on follow-up classes by FCP Amy Sherlock of This Cross I Embrace
Creighton sessions from FCP Lindy Meyer
One year's subscription for the NFP Charting Online App (designed for Billings)
Period Diary app for the iPhone sponsored by Michelle Arnold
30 ClearBlue Easy Test Sticks sponsored by a well-wisher
ClearBlue Easy Fertility monitor sponsored by sponsored by Dr Michael Czerkes, a pro-life, NFP-only OB/GYN in Lewiston, ME
ClearBlue Easy Fertility monitor sponsored by Kenneth Scagel of The Roper School, an online classical high school program
ClearBlue Easy Fertility monitor sponsored by Pilgrims Headed Home ministry and Totus Tuus Fertility Care
ClearBlue Easy Fertility monitor sponsored by a well-wisher!
ClearBlue Easy Fertility monitor sponsored by another well-wisher!