Question of the week:
What's your "Yay, It's Finally Fall Weather!" dish? Something that you only cook or bake or eat at this time of year. It's okay if it's some kind of pumpkin spice bullshit. This is a safe space. Here's what our week in food looked like:
SATURDAY
Cheeseburgers; homemade fries; salad; cookies
Today it's raining, and we've had a few frosts already, and have turned on the heat for the year. Love that cozy smell of toasted dust. But last Saturday, it was still warm, and Mr. Husband cooked the burgers outside:
About a month ago, Aldi had this American cheese on sale for ten cents a package, so I bought an armful. Check it out: it has pictures on it. Not only that, but it looks like this one one side:
and this on the other side:
THESE ARE THE SAME TWO PIECES OF CHEESE, FOLKS. God bless America. I made fries using this cold oil method I just heard about. It's supposed to be easier, less smoky, and just less hassle all around.
The first batch definitely was less hassle; but then I had to make about five more batches, and the oil was already hot, so no more newfangled cold oil method for me. But they were good! And I never would have taken the plunge if I hadn't thought the recipe would make things easier, so I'm glad.
Some of the kids sprinkled vinegar on their hot fries. Here I am, dealing with one of the slightly overdone ones: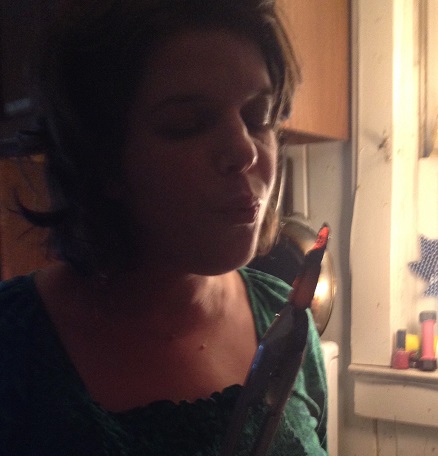 If you squint, it looks almost liturgical.
SUNDAY
Beef stew; popovers; apple pie
Beef stew and apple pie are my "Yay, it's Fall!" dishes. For stew, I use a pretty basic recipe: Cut beef into small chunks, and shake them up in flour seasoned with salt and pepper. In a heavy pot, fry up some crushed garlic in a little oil, then throw the floured meat in, plus the extra flour. Fry it up until it's slightly browned. Add some combination of water, beef broth, and red wine*. Add in cubed potatoes, chopped onions and carrots, diced tomatoes with juice (canned is fine), and string beans (frozen is fine). Add a few bay leaves, and add more liquid if necessary; or, if it's not thick enough, make a little roux (flour and butter paste) and stir that in. Cover and simmer for several hours. If you have mushrooms, add them in an hour or so before serving. Oh, here's a tip for feeding hot foods to babies: mix in a few frozen vegetables. This cools the food without diluting it:
Tried this popover recipe for the first time. You make the batter in a blender. I ended up using the standing mixer with the whisk attachment, because a triple recipe of batter didn't fit in the blender. Popovers are supposed to be light and airy, and they are supposed to puff up to great heights and then collapse when you pull them out of the oven. Mine were kind of dense and hearty, and just kind of sat there looking eggy. Everyone loved them anyway, and they sure were easy to throw together, so I will probably make them again, even if I don't get the hang of it.
I have now used that mini muffin pan exactly three times in six years: once to make mini quiches for a baby shower, once to make bacon roses for father's day, and once for these popovers. I can't use the spots in the middle, because I drilled holes in them to let out the grease for the bacon roses. I should have a TV cooking show called "The Stupid Kitchen." So, pie! I had to make at least one pie before we ran out of apple orchard apples. I think Cortland apples are technically best for pie, since they are flavorful and keep their shape, but I love the taste of Mackintosh the best, so that's what I use, even though they get mushy. I have plateaued in my pie crust-making skills, so I just bought some frozen ones and threw in a bunch of apple slices with sugar, cinnamon, nutmeg, a little flour, and some butter. Irene helped with the apple prep, but quickly discerned that there were too many damn apples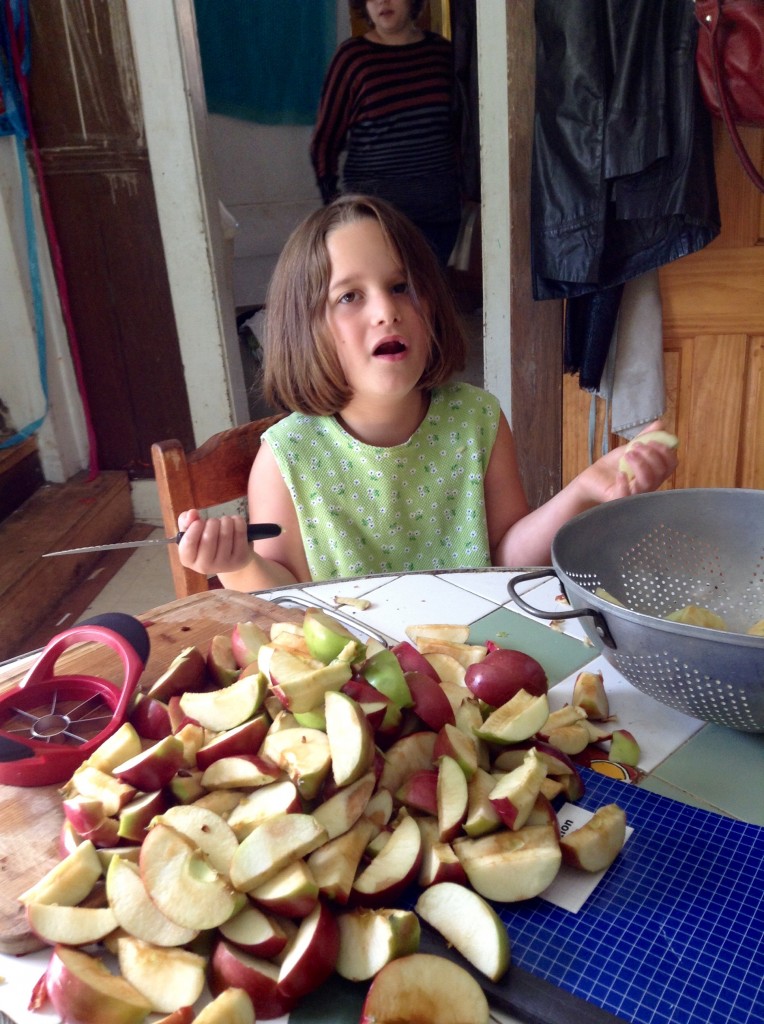 and went to watch Spiderman. *Pinecroft. It's crazy cheap – maybe $3 a bottle – and it tastes completely okay for all your okay-wine-drinking needs.
MONDAY
One-pan roasted chicken thighs with fall vegetables
A new recipe for me from Damn Delicious. I had to buy Brussels sprouts, which are unreasonably expensive, because a woodchuck ate pretty much everything in my garden this year. I planted peas, beans, tomatoes, lettuce, radicchio, spinach, basil, pumpkins, cucumbers, and Brussels sprouts, and every time I went out to weed or water, something else would be gone. Just chewed into oblivion, everything except one pumpkin. It was infuriating.
Next year, I'm buying a gun, and I'll share my recipe for pan roasted friggin woodchuck with the vegetables of vengeance. Anyway, this recipe was a big hit.  My family loves anything with a balsamic vinegar taste. I associate balsamic vinegar with light, summery, Italian dishes, but it went really well with this cozy, autumnal meal. It was a really good dish for putting together in the morning and then chucking in the oven in the evening. And it looked GORGEOUS. And it's a smorgasbord of vitamins, too. I felt like sending a picture to my pediatrician with the heading, "SEE?"
Oh, so butternut squash is much easier to peel if you cut the shaft off the round part, and peel them separately. I tried peeling the whole thing, and Benny thought it looked like a phone. I wanted to take a picture of her talking on the squash phone, but she wouldn't let me, and insisted that she take a picture of me talking on the squash phone. So I let her, while thinking, "This is the kind of precious, overstaged nonsense that makes people hate mommy bloggers."
I'm posting it here because the dog intervened. Also, plus, real reason: look how skinny I look! This is a trick of perspective. I'm super fat right now. Hey, here's some chicken: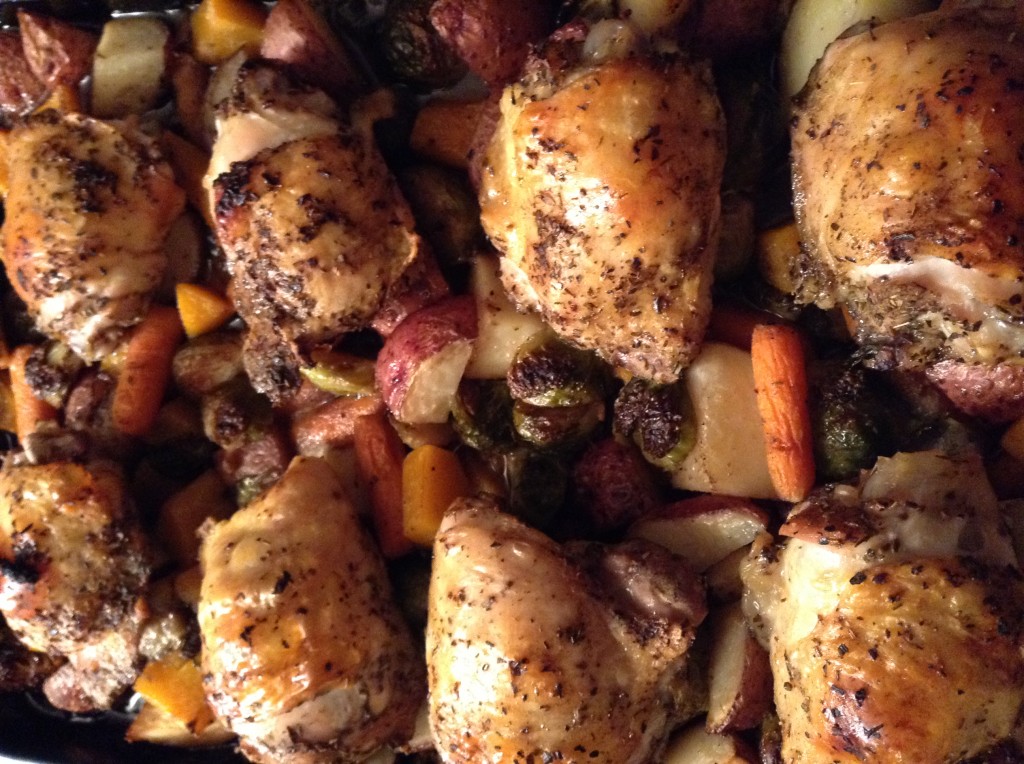 TUESDAY
Taco Tuesday!
Just regular old tacos with ground beef and spice from a packet, nothing to write home about. I stopped taking pictures at this point in the week, because it was mainly me driving around for hours and hours, and then me lying down and playing Tokyo to Corrie's Godzilla: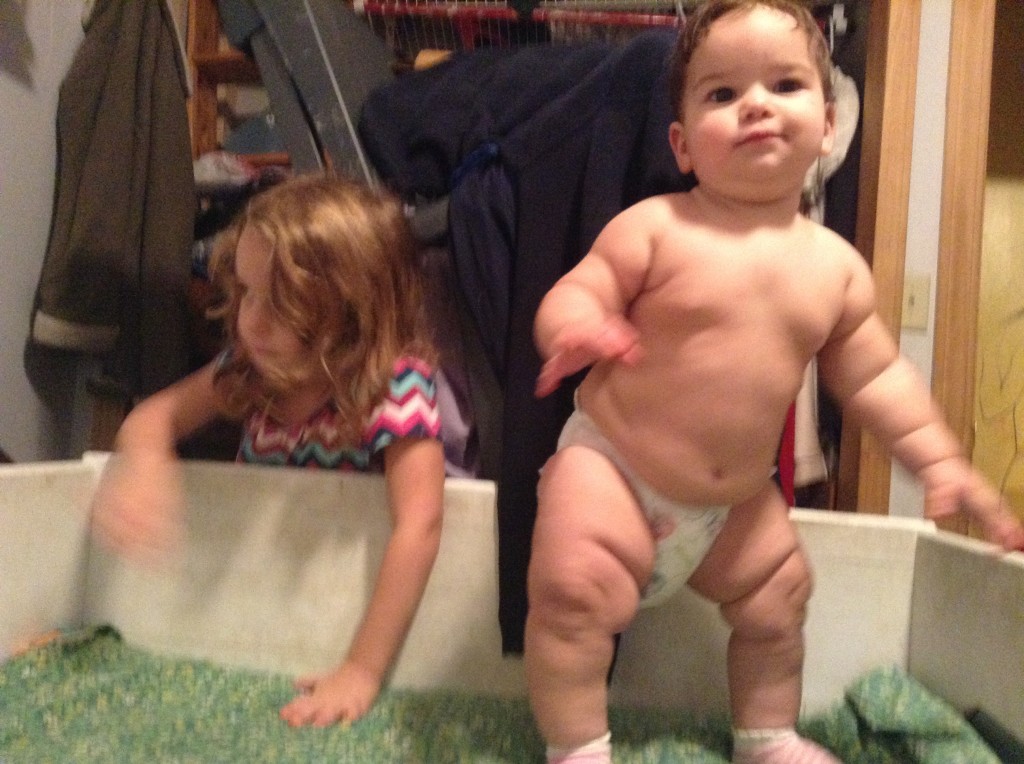 And yes, that is a treadmill with clothes draped on it.
WEDNESDAY
Penne with sausage, peppers, and cheese
Cooked up some sweet sausages, fried up some peppers and onions, added a few cans of diced tomatoes, and mixed it up with pasta, jarred sauce, shredded mozzarella, and grated parmesan, and heated the whole thing in a casserole dish. We ate this meal approximately 946 times after I had the baby, so I've shied away from it for a while, but I think it's time to put it back in the rotation. Another good make-ahead dish.
THURSDAY
Hot dogs and beans for the kids; bruschetta and calamari for the adults.
We went out on the spur of the moment. Three cheers for having four teenagers in the house!
FRIDAY
Ricotta spinach pasta
This is what we're having today. It's a Budget Bytes recipe. Her recipes are really reliable — they turn out just as described, and are usually fairly easy to put together. The ricotta gets creamy and yummy, and it is cheap, and you can totally use frozen spinach. Phew. Made it through the week. What's you eat this week? And don't forget the question of the week, la di da: What's your favorite fall dish?