My mother used to eat leftovers for lunch, and sometimes for breakfast. Her method was to take whatever she could find, put it in a pot, douse it with the salsa that she bought by the half-gallon, and stir until it was all hot and horrible. You may think that she did this just so she wouldn't have to share it with her eight locust children, but she actually liked it that way!  Although there is that disconcerting thing that happens to you when you've been a mother for a while, when you honestly can't remember if you like something, or if you've just put up with it until it feels familiar, and that's close enough.
Question of the week: Do you have a crazy food combination that only you think is delicious?
SATURDAY
OMELETTES; HASH BROWNS
Omelettes (mushroom, leftover ham from last week, and cheese) and frozen hash browns, served with a shining lake of ketchup.
There are really only a few times when I feel like we have a really big family. When I stand over the counter cracking 36 eggs into a bowl is one of those times.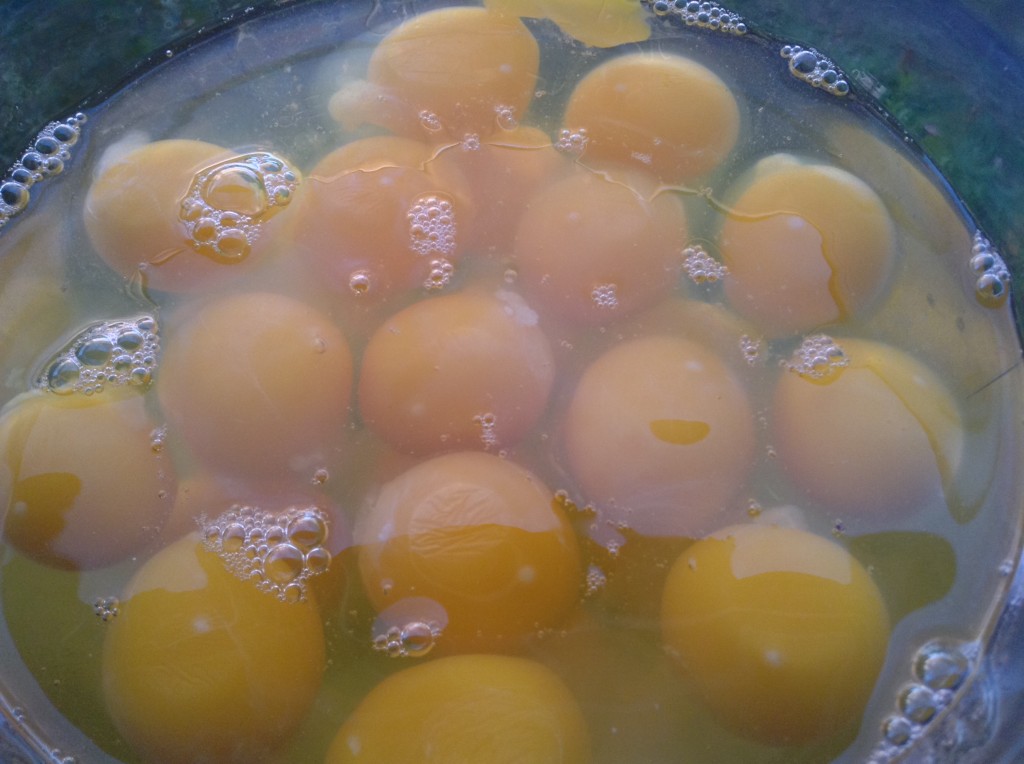 I always catch myself thinking, "Why don't they sell giant bulk egg?" I know they sell bags of frozen egg product, but can't someone just make chickens bigger, so I can just be like, "I'll take one egg, please, 48-oz. size, and a hammer. And this lamp, and that's all I need."
SUNDAY
HAMBURGERS; CHIPS; ICE CREAM SUNDAES
Hamburgers! Chips! Ice cream sundaes! I'm the best mother ever. Also I let them eat donuts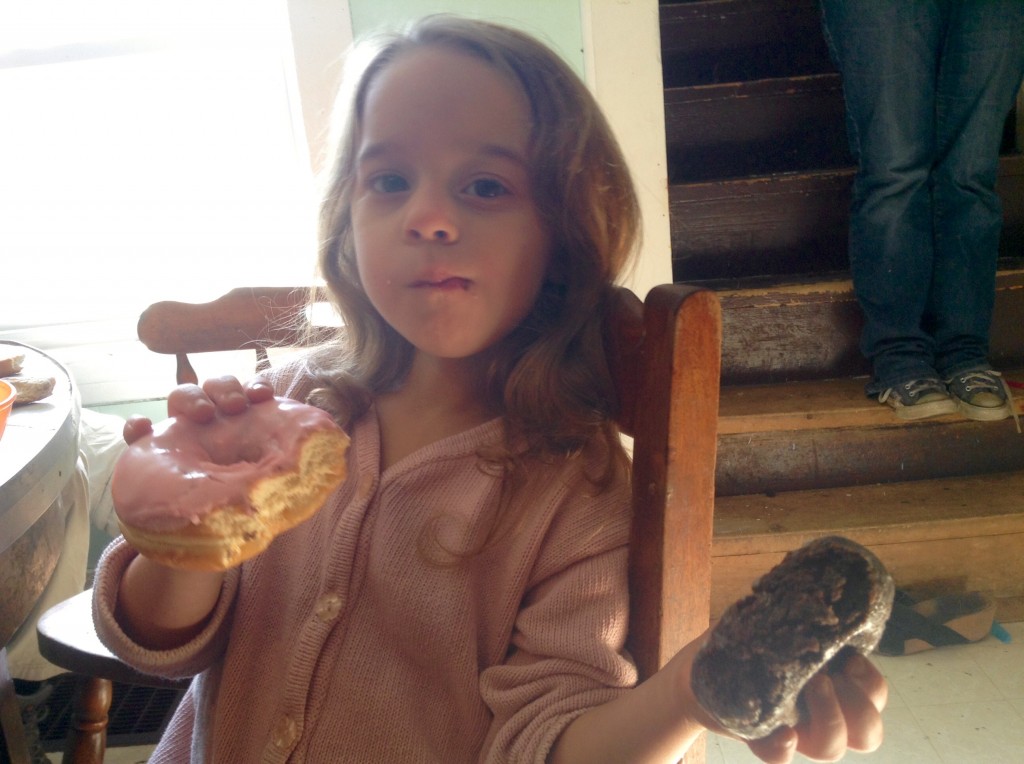 and ice off the wading pool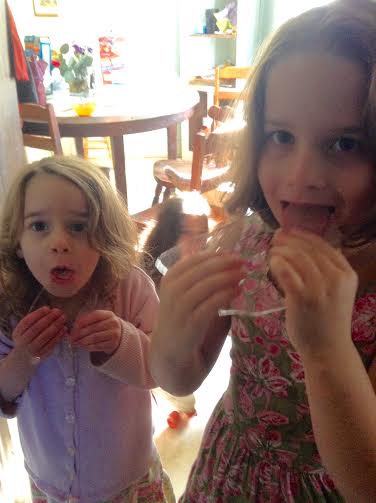 MONDAY
SPINACH TOMATO TORTELLINI SOUP; QUICK GARLIC CHEESE BREAD
This meal had such promise. The soup (recipe from Damn Delicious) was very fast to throw together, but it would have tasted much better if we had eaten it right away. But I made it in the morning and let it simmer all day, out of soup habit, and by the time we ate it, tortellini entropy had set in, and the spinach was not a pleasant color. I'll make this recipe again, but I won't overcook it.
And next time I won't BURN IT *sob*. So depressing. I kept telling myself I couldn't really taste the burn, but people who can't taste burn don't have to say things like that to themselves.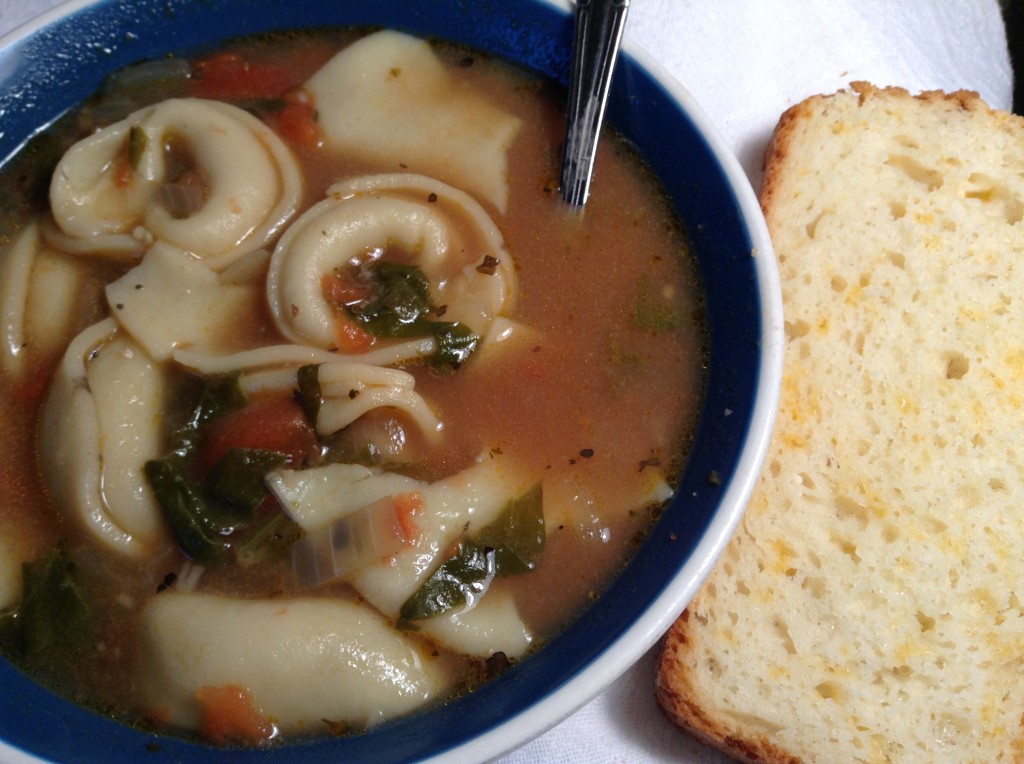 The quick garlic cheese bread was quick, and it was bread. I know it was also garlic and cheese because I put those ingredients in with my own two paws, but you sure couldn't taste either garlic or cheese. It's good to know there is a quick bread that doesn't taste like dessert, but I'll keep looking for a different recipe.  And someday, oh someday, I will master the art of Mixing Batter All the Way Down, so I don't get Surprise Flour.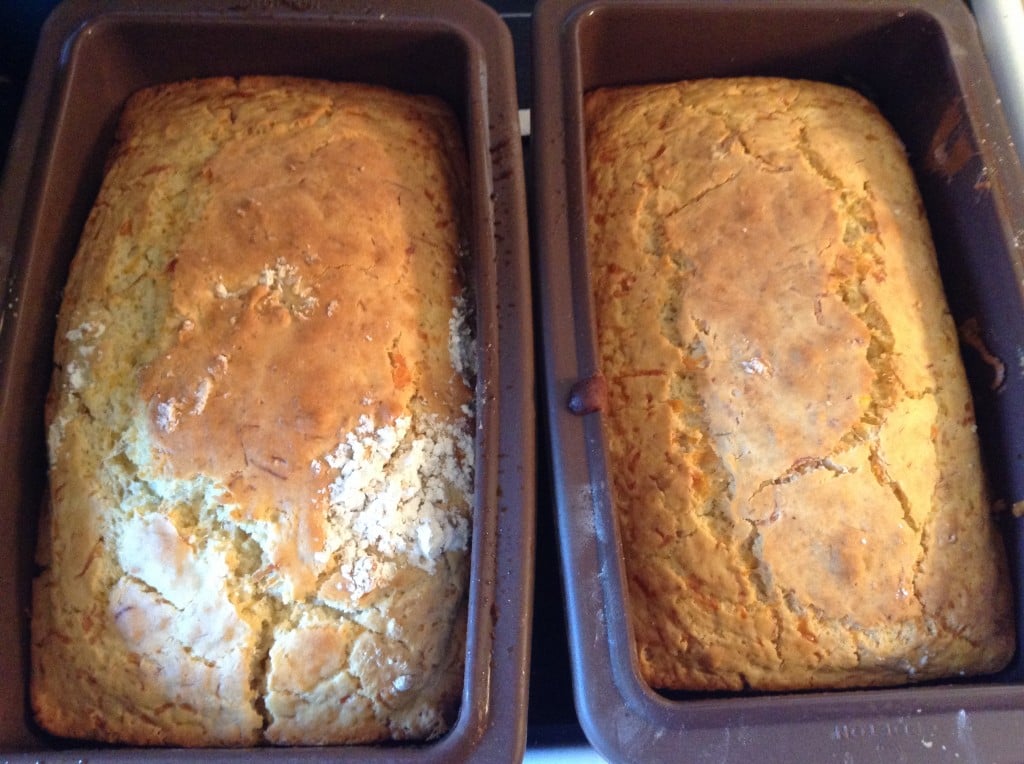 So these are my new silicone pans! They were $2.99 at Aldi. All my loaf pans are rusty and gross, so I thought this would be a good time to find out if silicone is really so great. So far so good! The loaves popped right out, no trouble. My hope is that some kind of horrible petrochemical leeches into our food and we all turn into monstrous hybrids, half human, half Aldi loaf pan.
TUESDAY 



AMAZING SQUASH PORK FOOD
Either I invented something amazing, or I was very, very hungry on Tuesday.
Acorn squash mashed with butter and brown sugar,
topped with raw red onions,
topped with pulled pork,
topped with barbeque sauce,
shoved into my face with unseemly groaning noises.
Yeah, I was probably just hungry.
WEDNESDAY
NACHOS; RICE
According to local son Moe Fisher, "They were so good! I ate until I almost puked!" No picture was available at publication.
THURSDAY
PIZZA
We tried Aldi pizza dough for the first time. It stretched pretty well, and it tasted okay.  Kind of tough, but I never know if that's a bad thing, or just a style of pizza dough. Anyway, it was cheap! I know you can make your own pizza dough, but I don't feel like it. We make four extra large pizzas.
Oh, that reminds me, I saw an unspeakable thing at Hannaford (which is where I usually buy pizza dough) in the pizza ingredients section:
Bacon Dust Vegetarian Pizza Dough.
Yes. That is what it said. With those words together in one line on the label, like they actually meant something edible.
I tried to find a picture of it, but the closest I could come was this: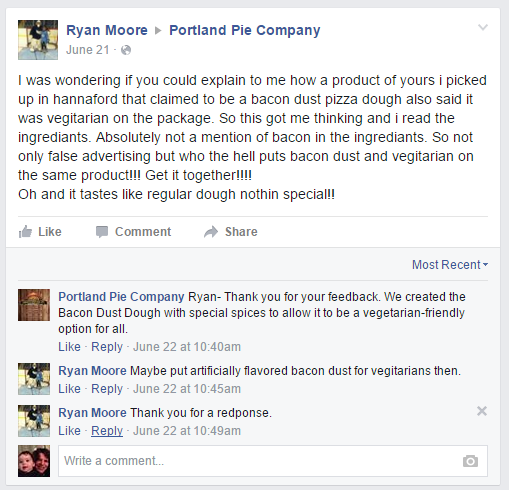 Does it make me a jerk that I didn't blank out the guy's name? It's only because I think he's a hero, that's all.
FRIDAY
SHAKSHUKA; CHALLAH; SWEET PEPPERS and HUMMUS
NYT:
Shakshuka may be at the apex of eggs-for-dinner recipes, though in Israel it is breakfast food, a bright, spicy start to the day with a pile of pita or challah served on the side. (It also makes excellent brunch or lunch food.) It's a one-skillet recipe of eggs baked in a tomato-red pepper sauce spiced with cumin, paprika and cayenne. First you make that sauce, which comes together fairly quickly on top of the stove, then you gently crack each of the eggs into the pan, nestling them into the sauce. The pan is moved into the oven to finish. Shakshuka originated in North Africa, and like many great dishes there are as many versions as there are cooks who have embraced it. This one strays from more traditional renditions by adding crumbled feta cheese, which softens into creamy nuggets in the oven's heat.
I've never made shakshuka before, but I've been assured it's delicious, especially if you are drunk. Does it count if I wish I were? Here is the recipe we're going to use.
Since some of the kids have the day off school, we're going to seize the opportunity of actually being home, and make some challas to go with it. Here is a recipe for making the dough in your bread machine. (I don't think that your bread machine will braid it for you, though, so you should do that part yourself.)
In the bucket of the bread machine, in this order, put:

1 1/2 cups warm water

1/2 cup oil
2 eggs

6 cups flour (I used bread flour – not sure how important that is)

1/4 cup sugar

1 1/2 tsp. salt

Make a dent in the top and put in

1 1/2 tsp. bread machine yeast

 

Set it to knead the dough.  Watch the dough ball — it should be smooth and elastic and not stick to the sides.  Add water or flour if necessary.

When the dough is done, divide it into four pieces.  Roll three pieces into snakes and braid them together, pinching it together at the ends.  Take the fourth piece, divide it into three, and braid it, too — then lay the smaller braid on top of the larger one.

Grease a baking pan and sprinkle it with corn meal.  Lay the loaf in the pan, cover with plastic wrap or a damp cloth, and let it rise in a warm place until it's almost double in size.

Beat 2-3 egg yolks up with a little water and brush the egg wash over the loaf.  Sprinkle it with poppy seeds.

Bake uncovered in 350 oven for 20 minutes until the loaf is a deep golden brown.

You can slice it or tear it into hunks.
***
Okay, I probably wouldn't have chosen a new recipe and homemade bread for Friday if I had remembered that we're having a Hobbit birthday party on Saturday, but there it is. We are using a few ideas from An Unexpected Cookbook: The Unofficial Book of Hobbit Cookery.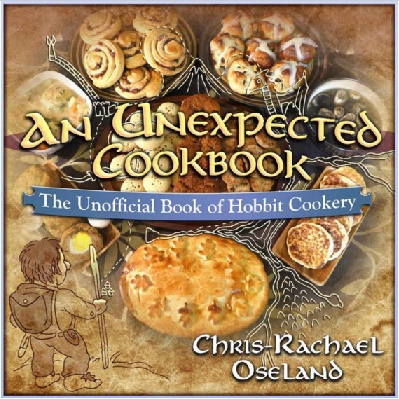 You know I'll let you know how it comes out, whether you care or not.
***
Last week, I skipped the InLinkz button, because it was giving me grief, and I didn't think there was much demand for it anyway; but I'd be happy to put it back if people want. What do you guys think?  I'll keep up the Friday food posts either way.
Don't forget the question of the week!