Gregory Popcak and I were chatting the other day. He's thinking of writing a second, revised edition to his book Holy Sex!: A Catholic Guide to Toe-Curling, Mind-Blowing, Infallible Loving.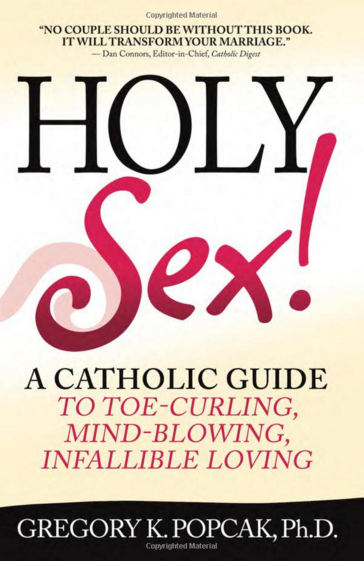 If you have read it, are there things you would like to see included in any future editions (certain problems addressed, topics discussed, sections refined)? Even if you haven't read it, are there things you would like to see addressed in a book that's intended to help people live the Catholic vision of sexual love in a healthy way and overcome problems and struggles in a faithful manner?  
Let me know in the comments, and I'll pass it along to him. Please don't be a jerk. Criticism is fine, but keep it factual, not personal, please!
I will admit, I haven't read his book in a long time, so I'm not sure if I remember exactly what's in it. My own suggestion for an expanded topic: a clear discussion about what kind of intimate behavior is moral when you're abstaining — or at least a guide for how to judge your behavior. Some couples keep a strict hands-off policy, which may or may not work for them, and some couples think that's everything's okay as long as no one reaches orgasm.
I do cover this topic in my book, The Sinner's Guide to Natural Family Planning, in the chapter called (heh heh) "Groping Toward Chastity." I said that there are a few things which are always off limits; that we're not supposed to try to make each other orgasm; that some behaviors are acceptable for some couples and not for others; and that we must remember that we speak through our bodies, so we should pay attention to what we are saying to each other when we do what we do with each other. I don't know if there's really a better answer than that, but I'd like to hear more opinions about it, anyway. In my experience, priests have no idea what to say, other than keep praying and go to confession if you think you  need to.
Oh, and I always associate the phrase "toe-curling" with sudden, severe pain, like when the baby latches on wrong. That might be just me. "Mind-blowing," I'm okay with.  
NB: It will be ten thousands times easier for me to pass along your comments if you leave comments HERE, rather than answering on Facebook or Twitter or via email. I understand that it's a hassle, but if your goal is to really reach Greg's ears, then that's the way to go! Thanks.